Like many retailers, Target (NYSE:TGT) has seen its share price decline over the past few months. Among investors, fears are that the US consumer is currently tapped out, and spending will decline as a result. However, these fears seem to be overblown and have resulted in Target becoming undervalued, especially when compared to its historical valuation. Target also has a long history of paying dividends and of dividend-growth, with 46 consecutive years of annual dividend increases. Target's last declared quarterly dividend was for $0.43 per share, which equates to a 2.70% yield at current prices.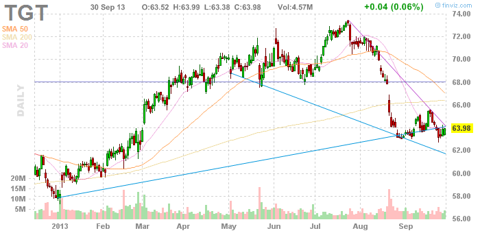 Target's Core Growth Focus: North American Retail Segment
Unlike its larger rival Wal-Mart stores (NYSE:WMT), Target is extremely focused on its North American retail operations, with relatively little international exposure. While some may count this as a negative, others may consider it a positive. Target is often seen as an "upscale" discount retailer, which may be a difficult concept to transfer overseas, and hence a reason for Target's lack of international growth.
Target has successfully differentiated itself from its main rival Wal-Mart. While Wal-Mart is mostly focused on "value," Target is often seen as a more trendy shopping destination. This is seen in customer demographics, with the median Target shopper being younger and more affluent.
One area where Target has successfully transferred its concept is Canada. Target currently has 68 stores opened in Canada, with similar sales and ROI trends as new US based stores. However, on an EBITDA basis, Target's Canadian operations have actually been a net negative, as the company is still in growth mode. The company has noted that it is driving to increase incremental sales in this segment and increase penetration of its REDcard customer rewards program.
Valuation
On a pure TTM PE ratio basis, Wal-Mart appears to be slightly cheaper than Target. While both stocks were trading in line for most of the year, this trend broke around late April. Do note that both stocks are relatively cheap, as a 14X to 15X PE ratio is well below the average S&P 500 stock PE ratio.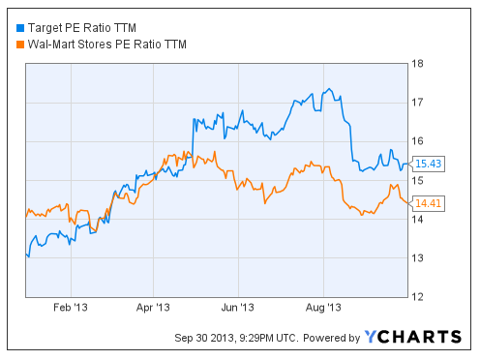 However, while widely used, the PE ratio tends to ignore debt. In addition, EPS tends to be a noisy metric, with many factors and one-time items. An overall better metric for determining a stock's valuation is via its enterprise multiple, which is simply its enterprise value divided by EBITDA. While some may argue otherwise, EBITDA is a hard metric to fudge with and hence is a good meter for a company's profitability. As shown below, Target's enterprise multiple is well below Wal-Mart's. Indeed, Target's valuation is incredibly cheap, basically implying a 20% discount when compared to Wal-Mart.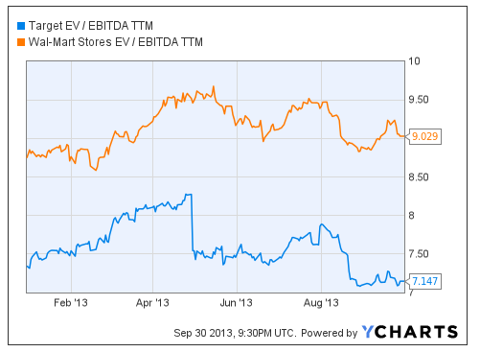 Share Buybacks and Dividend-Growth
Target appears to know that its stock is cheap, hence it has bought back massive amounts of stock. Since 2007, Target has typically reduced its total shares outstanding by an average of 4.5% per year. As of Q2 2013, Target had around 630M shares outstanding, which is 2.2% lower than the year-end 2012 share count of 645M and on-track for a similar 4.5% decline for FY 2013.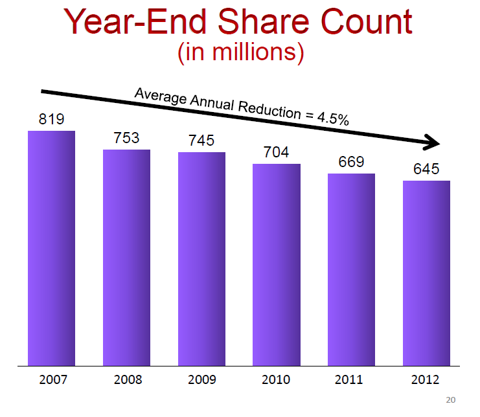 While Target's current sub 3.00% yield may appear low, its dividend growth rate certainly is not. Over the past 10 years, Target's annual dividend increases have averaged nearly 20%. This past June, Target rewarded its shareholders with a 19% increase in its dividend to $0.43 per share from $0.36 per share. The company has noted that, along with share buybacks, its dividend will be the primary method for returning capital to its shareholders.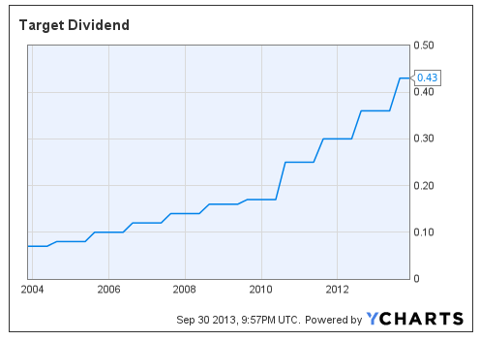 FCF and Payout Ratio
On an EPS basis, Target's payout ratio appears to be a relatively high 67%. However, this metric may not be the best for determining Target's dividend sustainability. On a TTM basis, Target has generated over $6.60 per share in free cash flow, or FCF. This is well above the current annual dividend of $1.72 per share. Do note that Target does use its FCF for other items, such as capex.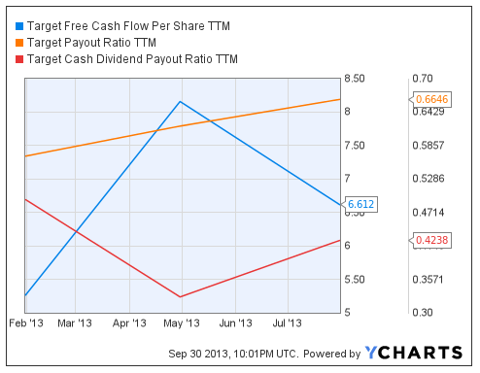 Conclusion
For long-term investors, Target appears to be a solid hold. Target is most certainly cheap. However, the company may struggle in Q4 2013 as pessimism in the retail sector grows. With the turmoil in Washington causing a government shutdown, investors may get an opportunity to buy Target at even more of a discount. If a resolution for the impasse is found, Target will likely see an outsized bounce.
Disclaimer: The opinions in this article are for informational purposes only and should not be construed as a recommendation to buy or sell the stocks mentioned. Please do your own due diligence before making any investment decision.
Disclosure: I have no positions in any stocks mentioned, but may initiate a long position in TGT over the next 72 hours. I wrote this article myself, and it expresses my own opinions. I am not receiving compensation for it (other than from Seeking Alpha). I have no business relationship with any company whose stock is mentioned in this article.