Fragrance and beauty product retailer Ulta (NASDAQ:ULTA) posted second quarter results driven by strong comparable store sales gains. Revenue surged 25% year-over-year to $601 million, easily exceeding consensus estimates. Earnings-per-share was also strong, jumping 30% year-over-year to $0.70. Year-to-date, the firm has burned through about $14 million in free cash flow (CFO less capex) after it invested heavily in opening new stores.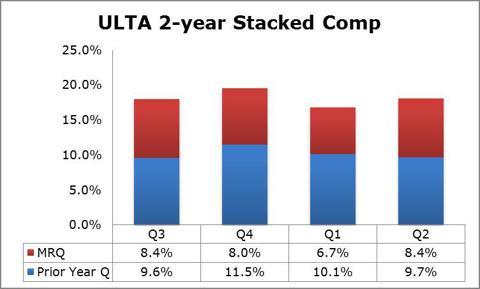 Click to enlarge
Image Source: Company Filings
After same-store sales advanced "just" 6.7% year-over-year during the first quarter, growth reaccelerated at Ulta despite an increased number of locations (and risk of cannibalization). Same-store sales soared 8.4% year-over-year during the second quarter on top of a 9.7% sales gain during the same period last year. Management noted that Ulta gained market share during the second quarter and was confident it would continue to win share with the combination of robust comp sales growth and new stores.
On the cost side, we saw solid performance from the gross margin line, as the measure increased 50 basis points year-over-year to 35.3%. This positive performance was attributable to occupancy cost leveraging as well as some gains from a superior merchandise mix. On the other hand, SG&A rose 40 basis points year-over-year to 22.4%. Management suggested that growth investments were responsible for this increase, though we believe the startling 27% year-over-year increase seems a bit high. We'll keep an eye on SG&A to make sure the firm doesn't continue to see its costs outpace sales growth.
The one negative readily apparent from the quarterly report was the surge in inventories, which rose 46% year-over-year to $461 million. Inventory buildup can be an issue, particularly when inventory growth exceeds sales growth. At some point a company must clear out older inventory, and that can often be accompanied by lower gross margins and revenue. Management claims much of the inventory build is for the new high-end in-store boutiques, and from what we gather, the firm seems content with its current inventory levels. While this, coupled with 120 more stores than a year ago, does make some inventory growth reasonable, we remain cautious at the moment.
Looking ahead, the firm anticipates comparable store sales growth of 5-7% during the third quarter driving total sales growth of 21-23% and earnings per share of $0.71-$0.74. Both figures are slightly below consensus estimates, but not meaningfully below.
Valuentum's Take
After surging on results, shares now trade above the high-end of our fair value range. Though sales and earnings performance was strong, we are worried that the firm's inventory build could weigh on profitability in the future, but more importantly, we think the Street is overestimating Ulta's long-term growth potential. We aren't interested in adding the company to the portfolio of our Best Ideas Newsletter at this time.
Disclosure: I have no positions in any stocks mentioned, and no plans to initiate any positions within the next 72 hours. I wrote this article myself, and it expresses my own opinions. I am not receiving compensation for it (other than from Seeking Alpha). I have no business relationship with any company whose stock is mentioned in this article.