The Wall Street Journal reported this week that Royal Dutch Shell (RDS.A, RDS.B) plans to sell its 106,000-acre position in the Eagle Ford Shale. Shell told the Journal that its Eagle Ford holdings did not meet the company's targets for size and profitability. The Journal reported that the company will continue to operate its ~150 producing wells in the play while allowing potential buyers to review technical data on the holdings.
Earlier this month, Shell also confirmed that it plans to sell its 600,000 acres and 45 producing wells in the Mississippian Lime play in Kansas.
The two announcements follow a $2.1 billion after-tax impairment charge that Shell disclosed in its second-quarter earnings release:
Upstream earnings included a net charge of $1,845 million, including impairments of $2,071 million, predominantly related to liquids-rich shales properties in North America, reflecting the latest insights from exploration and appraisal drilling results and production information.
The statement in the press release did not go unnoticed with investors and analysts as it unambiguously indicated that the massive write-down was related to a worse than initially expected asset performance in the asset category that just recently seemed to provide promise of profitable growth and salvation from low natural gas prices.
The confirmation of both divestitures by Shell sheds additional light on technical and economic challenges that shale formations present even to those operators who have indisputable technical capabilities and vast financial resources.
Shell's Eagle Ford Properties
So what exactly are the assets that Shell is offering for sale in the Eagle Ford?
Eagle Ford watchers would immediately recognize that Shell is referring to its Harrison Ranch lease, a large contiguous block of acreage that the oil major signed in 2010 in a rumored $1 billion transaction (the deal propelled Daniel Harrison III, the owner of the ranch, to Forbes' list of the world's billionaires - Mr. Harrison holds position #1,268 on the list, as of September 2013). The high price paid for the acreage is understandable once one takes into account that the Harrison Ranch is the largest single lease block in the Eagle Ford providing immediate critical mass and operational advantages to the acquirer. The deal's price, approximately $10,000 per acre, was not out of line when compared to several other transactions in the Eagle Ford that occurred during the same time period. It is important to note that the acquisition took place well before the "new paradigm" for natural gas prices in the U.S. became apparent. Natural gas was still viewed as the primary drilling objective in the Eagle Ford.
The acreage straddles Webb-Dimmit county line and is located primarily within the Eagle Ford's condensate window. Essentially all the wells drilled by Shell on the acreage have been categorized as "gas" wells. Production mix to date, on a cumulative basis, has been approximately 27% condensate and 73% liquids-rich gas.
In total, Shell has drilled at least 120 Eagle Ford wells on the property. The map below shows that certain parts of the acreage are developed on fairly dense patterns (what appears in many cases to accommodate at 8+ wells per section drilled off multi-well pads). Certain other portions of the block seem to be delineated but not yet developed. It is not clear how homogeneous the block is in terms of well productivity. In total, since the acquisition of the lease through June 2013, Shell's wells have produced a total of 2.4 million barrels of field condensate and 40 Bcf of liquids-rich gas (both figures are gross).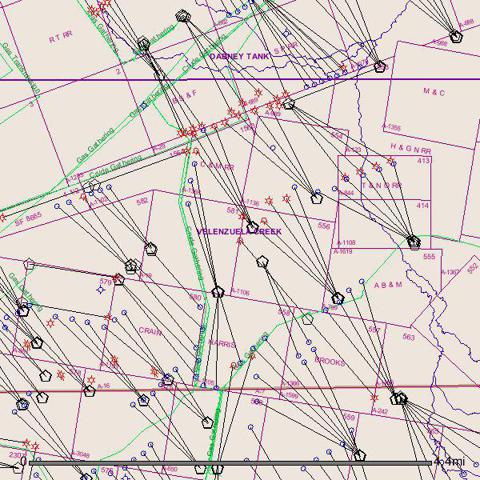 Click to enlarge
So why is Shell selling what appears to be a sizeable, contiguous and delineated acreage position (which may also be held by production or have continuous drilling provisions)? Challenging economics appears to be the reason. While Shell's initial investment in the lease acquisition, geo-science and operating infrastructure are at this point sunk costs, incremental drilling economics must be compelling enough to justify capital allocation. My review of the historical performance of 100+ Shell wells indicates that drilling returns at the well level may have fallen short, at least so far, of what one would think would be a competitive return in the context of a horizontal resource play. Only a small percentage of wells are likely to "pay out" within the first two years.
While well results tend to improve as operating knowledge accumulates, Shell's decision to turn the reins over to another operator is understandable. In fact, given the quality and size of the acreage position, it would not surprising if the divestiture generate intense interest, at least at the inquiry level.
Disclaimer: Opinions expressed herein by the author are not an investment recommendation and are not meant to be relied upon in investment decisions. The author is not acting in an investment advisor capacity. This is not an investment research report. The author's opinions expressed herein address only select aspects of potential investment in securities of the companies mentioned and cannot be a substitute for comprehensive investment analysis. Any analysis presented herein is illustrative in nature, limited in scope, based on an incomplete set of information, and has limitations to its accuracy. The author recommends that potential and existing investors conduct thorough investment research of their own, including detailed review of the companies' SEC filings, and consult a qualified investment advisor. The information upon which this material is based was obtained from sources believed to be reliable, but has not been independently verified. Therefore, the author cannot guarantee its accuracy. Any opinions or estimates constitute the author's best judgment as of the date of publication, and are subject to change without notice.
Disclosure: I have no positions in any stocks mentioned, and no plans to initiate any positions within the next 72 hours. I wrote this article myself, and it expresses my own opinions. I am not receiving compensation for it (other than from Seeking Alpha). I have no business relationship with any company whose stock is mentioned in this article.