LinkedIn (LNKD) is currently trading around its peak value, and it showed more than 100% appreciation in its price since the start of the year. The current price is almost five times its IPO price of $45 in 2011. Investors have started to wonder if LinkedIn has achieved its fair valuation and question whether stock will rise further or not. Facebook (FB), which is also trading at its peak, has a similar story. Meanwhile, news of a Twitter IPO is a delight for tech savvy investors, as Twitter is well prepared and wary of all the mistakes Facebook experienced during its IPO.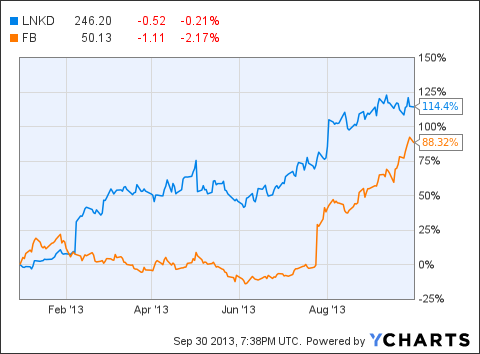 LinkedIn has been at the helm of innovation in the online recruitment industry. It has launched products such as Sponsored Updates and University Pages in the last two months. The company is looking to expand its user base to include the young generation, and therefore it reduced the user's minimum age to 14 years. In our last report on LinkedIn, we discussed the potential impact of these initiatives on the overall business. The main source of its revenue is still the Talent Solution segment, where it charges a subscription fee for providing access to its database to recruiters.
Talent on its way
The share of revenue Talent Solutions contributes is rising from 42% in 2010 to 54% in 2012. This is the business with the greatest potential impact on the staffing and recruitment industry. Its focus is generating revenue from corporate and third party recruiters, who are looking to access LinkedIn's vast directory database. It has different products, such as recruiter and job postings, which earns revenue from its subscription model.
Within Talent Solutions, the core product is recruiter, which allows recruitment professionals to find and contact suitable LinkedIn members. In a survey by Jobvite, 94% of the recruiters use or plan to use social media for their hiring, up from 78% in 2008. Out of social media, 92% of the recruiters have hired through LinkedIn, much higher than the next best, which is Facebook at 24%. While LinkedIn has Company Pages, Facebook offers Facebook for Business where businesses can create their pages to direct hiring, employee referrals, and brand building.
The company has indicated that the target addressable market in talent acquisition and staffing service is $27 billion in 2013. These include revenues from both job postings and recruitment agencies that use job portals for hiring. With revenue of $523.58 million from Talent Solutions in 2012, this represents around 2% of the addressable market.
Talent Solutions revenue grew by 101% year over year in 2012. Let's assume two cases, with 100% growth and 50% growth in Talent Solutions and estimate the segment's revenue share in 2013.
Bull case: If we assume a growth rate similar to last year of 100% in Talent Solutions, its revenue will be $1.05 billion in 2013. This could take its share to around 3.9% in staffing service.
Bear case: Taking 50% growth, Talent Solutions revenue will be $785.37 million, which take its share around 2.9%.
Whichever case it may be, LinkedIn will definitely increase its share in talent acquisition and staffing services to around 3%-4% in 2013 from 2% in 2012. We believe that LinkedIn has superior features such as InMail and premium search, which will give it a competitive advantage over traditional recruitment sites.
While LinkedIn has been increasing its presence in staffing services, one of its peers Monster Worldwide (MWW), parent of monster.com, is losing sleep over growing competition in the industry. According to Alexa, monster.com has a global rank of 511th, in comparison to LinkedIn, which is ranked 10th globally. The company has been exploring strategic alternatives in 2012, and is now hinting at rolling out new initiatives. However, it is unclear what these new initiatives would be. The company's revenue declined by 10% year over year in 2012, and its earnings declined from profit of $53.8 million in 2011 to a loss of $258.72 million in 2012.
It's very difficult for monster to survive in this industry with its outdated technology. The recruiters are targeting platforms such as mobile devices due to the rising popularity of these devices among job-seeking candidates. The best chance for monster to compete with the likes of LinkedIn is through targeting mobile platforms and social media, by having presence on these platforms through apps.
Twitter to go public
Twitter filed for IPO with the SEC on Sep 12, 2013. This could likely be the biggest tech IPO since Facebook's IPO in May 2012. Twitter is expected to list on NYSE and could be valued around $10 billion. The IPO is expected to happen at the end of this year or the start of next year. Unlike Facebook, which offered $16 billion worth of stock, Twitter may sell only 50 million - 55 million shares, priced around $28-$30.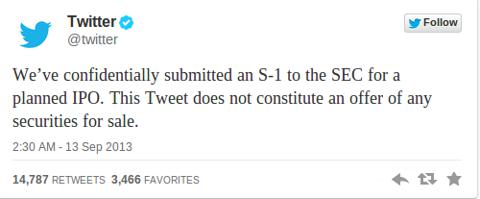 (Source: Twitter)
Twitter is avoiding all the mistakes Facebook committed during its IPO. By keeping all the cards close to its chest, it is avoiding any hype before its IPO. Twitter hasn't officially declared which bank will lead its offering nor has is stated which exchange its stock will trade on.
Under the JOBS act, any company with revenue less than $1 billion can confidentially file for IPO without disclosing its financials to the public. Thus with revenue less than $1 billion, Twitter hasn't disclosed its financials as compared to Facebook, which declared its financials three and half months before its offering. Twitter will publicly release its earnings 21 days before its IPO, and it will avoid unnecessary hype surrounding its IPO. We think that Twitter may avoid overpricing its shares or offering too many shares in contrast to Facebook's mistakes that caused its stock price to decline soon after its IPO.
Valuation
LinkedIn recently proposed a public offering of Class A stock worth of $1 billion on Sep 3, 2013. The company intends to use proceeds for financial flexibility and strengthening its balance sheet. The company is planning to sell 4.17 million shares at a closing stock price of $240.04 as on August 30, 2013.
The high valuation of its stock gives it tremendous opportunity to raise more than double the amount it raised in its IPO with half the number of shares. The company is sitting with $873 million cash and cash equivalents as of the second quarter of 2013, and it has a very healthy liquidity position, with a current ratio of 2.30. The company's cash will swell up to $1.87 billion after the stock sale, while the shares outstanding will increase to 116.27 million shares. After the stock sale, cash per share will rise to 16.08 from 7.79 in the second quarter of 2013. Cash per share is the percentage of a company's share price that is accessible for spending on research and development, acquisitions, and paying down debt. Thus, with no debt, LinkedIn is likely to use these proceeds for new product development and acquisitions.
| | | | | | | |
| --- | --- | --- | --- | --- | --- | --- |
| Company | Users (2012) | Market cap | Revenue (2012) | Revenue per user | Earnings growth rate % | Forward P/E |
| Facebook | 1.06 billion | $117.99 billion | $5.09 billion | $4.80 | 35.80% | 50.47 |
| LinkedIn | 202 million | $27.55 billion | $0.97 billion | $4.80 | 73.00% | 112.24 |
| Twitter | 200 million | $10 billion | $288.3 million | $1.44 | - | - |
(Source: Yahoo!Finance, eMarketer, Twitter)
LinkedIn may be having a very high forward P/E, but it has justified it with high earnings growth of 81% in 2012. Also, it's forward P/E is 112.24 in comparison to its current P/E of 937.98, which signifies high growth in its earnings in the next year. Going forward, analysts continue to estimate its earnings growth to be 73% in 2013 and 42% in 2014. On the other hand, Facebook is going steady with a growth rate of 35.8%, and thus it has a P/E of 50.47. Twitter may not have disclosed its earnings report yet, but it looks like it may have a cheaper valuation than these two tech companies.
Conclusion
LinkedIn may have a high valuation, but it has strong fundamentals to back it up. Its Talent Solution segment continues to gain strength as hiring through social media continues to increase. It has offered to raise $1 billion, which will improve its balance sheet and indicates a possibility of acquisitions in the coming years. Twitter has also emerged as a strong player, and recently filed for IPO. It has witnessed high revenue growth and may become a strong competitor in the advertisement space to both Facebook and LinkedIn.
Disclosure: I have no positions in any stocks mentioned, and no plans to initiate any positions within the next 72 hours. I wrote this article myself, and it expresses my own opinions. I am not receiving compensation for it (other than from Seeking Alpha). I have no business relationship with any company whose stock is mentioned in this article.
Additional disclosure: Fusion Research is a team of equity analysts. This article was written by Rohit Gupta, one of our research analysts. We did not receive compensation for this article (other than from Seeking Alpha), and we have no business relationship with any company whose stock is mentioned in this article.