Let's see here: This small-cap insurance company has a Dividend Yield = 2.8%, 1 year Dividend Growth = 50%, Payout Ratio = 22.9%, EPS Growth= 22.4%, Price/Book = 0.6, and it's an Analysts' Darling. Sounds easy to like, right?
But it's boring…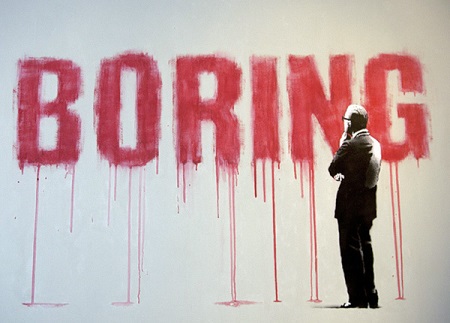 …which is the only reason I can think of that it doesn't get the respect of, say, large cap insurance companies like AFL or TRV. But, that's ok, I like boring.
So, who is this masked man?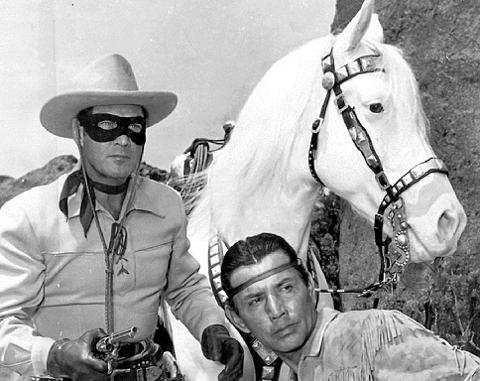 No, not that man: Horace Mann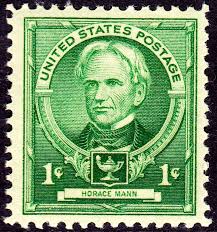 Or, more to the point, Horace Mann Educators Corporation (NYSE:HMN), a multi-line insurance corporation that occupies an enviable niche: It provides insurance and financial services to educators. The company offers a full line of insurance and financial products to teachers, school administrators and their families. Products include retirement annuities and health insurance to school districts. The company is the largest multi-line insurance company focused on the nation's educators. It offers annuities, auto, home and life insurance through an exclusive sales force of more than 800 distribution points. The intriguing thing about targeting educators is that from an insurance company's point of view their risk-profile is hard to beat. Educators as a group are true to their stereotype, i.e., a remarkably stable and risk-adverse population. It would be hard to come up with a more attractive clientele for any insurance company. And that's Horace Mann's entire clientele. Let's not forget, too, the startup of Obamacare (as soon as the government gets up and running again) will be a boon to the insurance industry generally.
Fundamentals
To borrow a Kai Ryssdal's catch phrase, "Let's do the numbers" (data from S&P), and quite strong numbers they are:
| | |
| --- | --- |
| | Horace Mann Educators Corporation |
| Market Cap | $1.22B |
| P/E | 9.8 |
| PEG Ratio | 0.7 |
| P/Book | 0.6 |
| P/Tangible Book | 0.7 |
| Annual EPS Growth | 22.4% |
| Return on Equity | 8.3% |
| | |
| Financials | |
| Receivables Turnover | 7.7x |
| Debt/Capital | 0.1x |
| Interest Coverage | 9.2x |
| | |
HMN is one of the least leveraged companies in the multi-line Insurance group.
After two years of decline, net cash flow was up 75.1% for 2012.
Dividends
The Q3 2013 dividend of $0.195 was paid per ex-dividend date of 13 September. This was the third consecutive payment at this rate. The dividend was raised from $0.16 (+17.9%) for Q1 2013. This was but a single quarter after the previous raise from $0.13 (+18.8%) for Q4 2012. Dividend payments had been held steady at $0.105 from 2003 to 2008, but they have increased annually for each of the last 5 years.
| | |
| --- | --- |
| Dividend Yield | 2.79% |
| 1 year DGR | 50.0% |
| 5 year DGR | 13.2% |
| Payout Ratio | 22.9% |
With HMN's cash flow growth rate of +3.18% (71%tile of industry), book value per share growth rate of +14.03% (92%tile of industry) and low payout ratio, dividend growth should be readily sustainable going forward.
Recent Price Performance
HMN's stock price recently (July, 2013) set a multi-year high. It had fallen slightly from that high in August, but found support at its 50 moving average and has picked up again through September. Currently its price is 0.9% under the late-July high.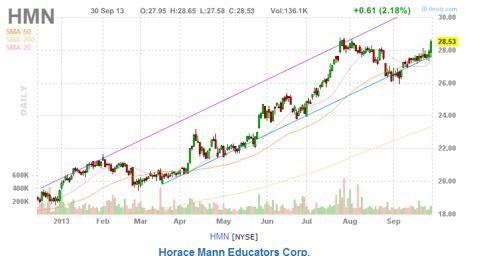 It's currently (mid-day, 30 September) 4.9% above its 20day SMA, 3.5% above the 50day SMA and 22.4% above the 220day SMA.
Recent performance compares quite favorably to its industry (insurance) and sub-industry (multi-line) peers:
| | | | |
| --- | --- | --- | --- |
| | HMN | Insurance | Multi-line Insurance |
| 3 months | 14.5% | 8.8% | 11.5% |
| 6 months | 33.9% | 15.7% | 24.2% |
| 12 months | 52.8% | 34.3% | 42.0% |
Analysts' Opinions
A spectrum of analysts is bullish on HMN. The StarMine Equity Summary Score is a very bullish 9.9 on its 10 point scale. Zacks Investment Research (via NASDAQ's analyst research tab) reports 3 analysts following HMN: 2 rate it a strong buy and 1 rates it a buy, with a consensus target price of $30. Value based ratings range from a high of 93% (based on Peter Lynch's methodology) to a low of 50% (James O'Shaughnessy's methodology).
Summary
HMN is a solid dividend payer with outstanding prospects for future growth and sustained dividend growth. The stock price is just a squeak below its multi-year high at the time this writing, but even at current prices does not appear to be dangerously overpriced. Cautious investors might want to put it on a watch list and wait for a correction, but I would be willing to buy at current price (see that Peter Lynch rating above). I've been long HMN since the late-August price dip at $26.70, and have been considering increasing my position.
Disclosure: I am long HMN, AFL. I wrote this article myself, and it expresses my own opinions. I am not receiving compensation for it (other than from Seeking Alpha). I have no business relationship with any company whose stock is mentioned in this article.