Omega Healthcare Investors (NYSE:OHI) makes a great cornerstone investment for long-term oriented income investors who place value on high and recurring dividends. Omega's shares are going through a prolonged correction right now despite improved H1 2013 performance figures: Why not purchase this high-quality REIT with stable free cash flows at an initial yield of 6.2%?
Investors who desire regular, long-term dividends can gain exposure to the US healthcare facility market which profits from convincing long-term demand drivers. Medical treatments continually improve and increase the life expectancy for people. Baby boomers are expected to retire. Further, the US are exposed to demographic growth, as opposed to other high-income Western countries, which adds to the long-term prospects of the US healthcare market. Increasing demand for nursing care is virtually certain with 70% of Americans above the age of 65 predicted to need care services at some point in their life.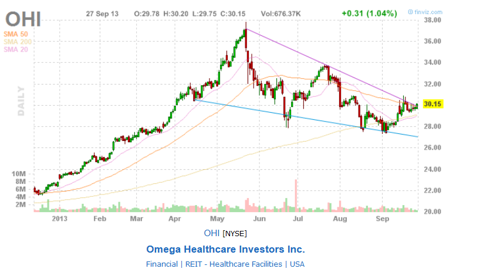 Click to enlarge
Geographically diversified portfolio with high occupancy rates
Omega owns 477 healthcare facilities in 33 states and leases properties to 46 local operators/healthcare providers. Facilities are spread out across the United States providing investors with a diversified real estate portfolio: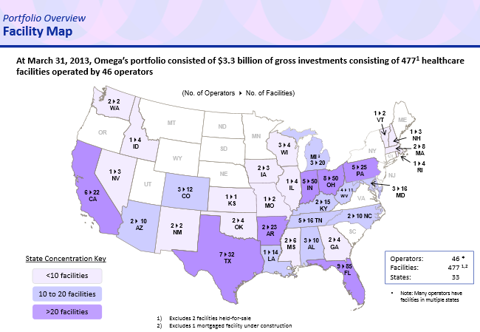 Click to enlarge
Omega has achieved a meaningful turnaround regarding its occupancy levels. Omega's occupancy rate, an important industry KPI (key performance indicator), has been below the industry average from 2001-2008. In 2009, Omega began outperforming the industry average and has done so consistently for four years in a row: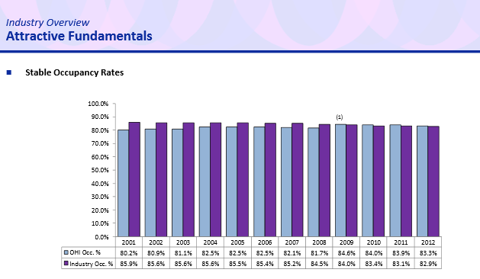 Click to enlarge
Growth driven portfolio strategy
As of June 30th, 2013, Omega Healthcare holds about $3 billion in assets on its balance sheet, of which $2.4 billion relate to investment properties. To build on its existing property portfolio, Omega added $35 million in new investments in 2013 and invested $10 million in capital renovation projects. In order to accommodate expected demand growth for senior care facilities, Omega has pursued a disciplined expansion strategy over the last 10 years steadily adding to its real estate portfolio. From 2004-2012, new investments averaged $296 million a year bringing the total amount of invested capital to $2.7 billion.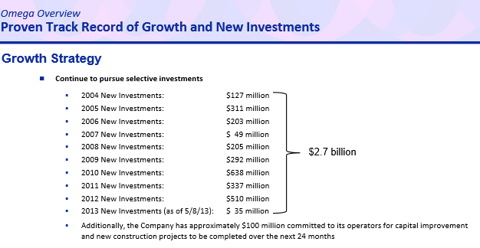 Click to enlarge
Financial performance
In light of Omega's solid financial performance in both H1 2013 and the previous years, investors should consider taking advantage of the recent correction in Omega's share price. Q2 2013 performance numbers were strong on a variety of metrics: H1 2013 diluted EPS increased 41% compared to H1 2012.
In terms of cash flow, Omega achieved a reported FFO/share of $0.53 in Q2 2012 which compares to $0.70 in Q2 2013 (+32%). The total reported FFO was impacted by a non-recurring interest refinancing adjustment/gain. The adjusted quarterly FFO came in at $0.62 per share compared to $0.53 in Q2 2012 (+17%). Reflecting on strong EPS and FFO growth in 2013, Omega did not disappoint shareholders: The common stock dividend was increased to $0.47 per share, up from $0.46 per share in the previous quarter.
Dividend track record
Omega has an outstanding track record in increasing its quarterly distributions to shareholders. In 2009, Omega paid $0.30 per quarter for a total annual dividend of $1.20. Omega raised its quarterly payout to $0.47 in Q2 2013 with two consecutive hikes in Q1 and Q2 2013. Considering only full-year dividends from 2009-2012 and 2004-2012, Omega has grown annual dividends by a compound annual growth rate of 12% since 2009 or 10% since 2004; all throughout a major real estate and financial crisis.
Investment opportunity
Omega operates in an industry that is poised for above-average growth based on increasing rates of retirement for baby boomers and longer life expectancies for all age cohorts. Omega shares allow investors to gain exposure to a well-diversified US real estate portfolio and access to a truly great dividend record. Consistent new capital spending ensures a growing portfolio and recurring free cash flow that backs Omega's dividend. The recent consolidation in Omega's share price, despite convincing Q2 2013 results, represents an opportunity to pick up shares at an initial dividend yield of 6.24% with prospects of increasing contributions.
Disclosure: I am long OHI. I wrote this article myself, and it expresses my own opinions. I am not receiving compensation for it (other than from Seeking Alpha). I have no business relationship with any company whose stock is mentioned in this article.