NQ Mobile (NYSE:NQ), a Chinese mobile security provider and app developer, has been of the better performing stocks of 2013. Year to date the stock so far has returned over 250%. This coincides with the tremendous run-up of many other Chinese Internet companies such as QIHOO (NYSE:QIHU), YY Inc (NASDAQ:YY), Ctrip.com (NASDAQ:CTRP), Vipshop (NYSE:VIPS), and Dangdang (NYSE:DANG). However, looking at a few recent press releases from NQ, it would appear the company is purposely releasing them with the sole intent of trying to pump up the stock price. A lot of the information in these press releases is either claiming old news as new developments for the company or irrelevant.
Music Radar
On September 13, 2013 the company announced the release of its Music Radar app, which helps identify songs like Shazham or SoundHound. The press release stated, "The app is now available in China for both Android and iOS platforms, with plans for expanding the service into other countries in the near future". That day the stock went up over 8% in part due to the news.
While releasing a Chinese version of Shazham does seem to be a positive development for NQ, the problem is that its Music Radar app was already released many months before the press release date. Also the app is actually available in other countries outside of China too. You can see and try the app for the iPhone or iPad yourself even if you are outside of China: .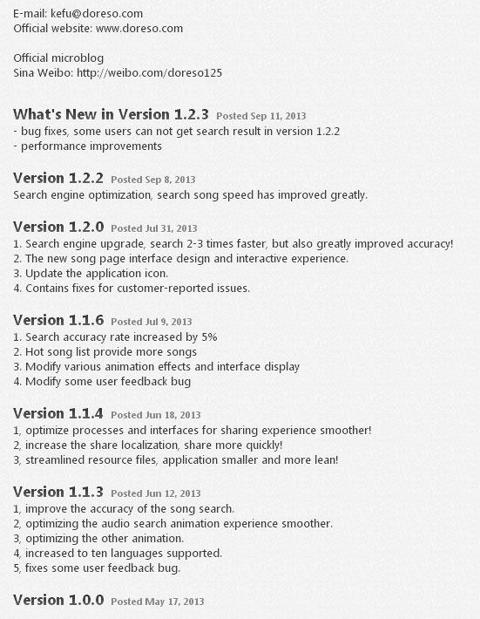 Click to enlarge
If you view the Music Radar app from the iTunes software on a PC or Mac and look at the change log, you can see it says it was first released on May 17, 2013 for iOS, almost four months before the press release. With only nine total ratings from users and five total reviews for the app though, it appears Music Radar has not been very popular on iOS during its first four months since launch.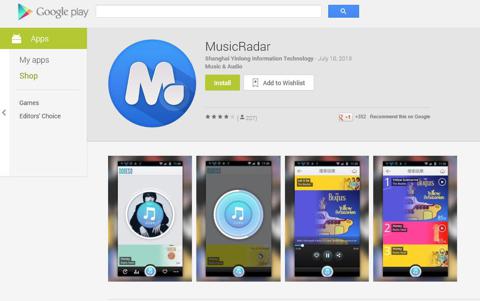 Click to enlarge
In addition, the Music Radar app for Android was also released a while ago. On the Google Play Store there's a Chinese version and an English version available, both of which can also be installed outside of China. The July 10, 2013 date shown on both pages is actually when the app was last updated. The release date is earlier than that.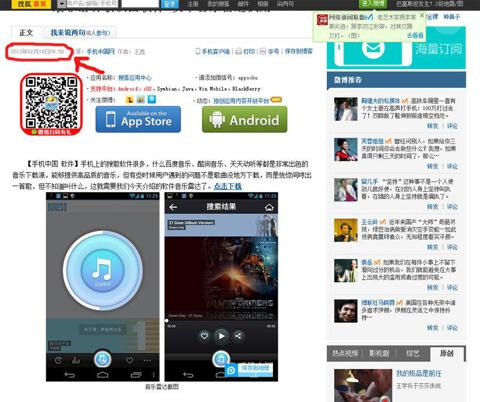 Click to enlarge
The data on the app found of SOHU shows Music Radar was already available on February 19, 2013 if not earlier. This is almost 7 months prior to the press release claiming the release of the app.
Meanwhile based on the data from the Google Play store, the total number of downloads for Music Radar appears to be underwhelming. Total installs for the Chinese version is only between 1,000 to 5,000. The English version faired better with between 50,000 to 100,000 installs but still far behind other music identifying apps.
Also seeing how NQ claimed that the Music Radar app was released for the Chinese market in their press release, it would seem strange that the Chinese version has so few installs.
Based on the facts, it appears NQ Mobile was actually announcing the release of an already available product that came out many months ago with limited success as a new development for the company. The rise of the stock from the Music Radar news seems highly unwarranted.
Preload Deals with Huawei, ZTE and Lenovo Smartphones
On September 26, 2013 NQ announced it had preload deals for its mobile security software for Huawei, ZTE and Lenovo smartphones. It stated, "NQ Mobile, a leading global provider of mobile Internet services, today announced that it has entered into broad contracts with Huawei, ZTE and Lenovo to preload mobile security solutions onto the manufacturers' smartphones".
Signing pre-installation deals with the some of the top Chinese global smartphone brands does sound very positive for the company. Except this appears to be again old news from the company being purported as something new.
If you refer to NQ Mobile's 20-F (2012 Annual Report) filed on April 19, 2013, under Pre-installation it states:
Pre-installation in mobile handsets is another important user acquisition channel. We have formed strong collaborative relationships with many handset manufacturers, including HTC, Huawei, Lenovo, Motorola, Nokia, Samsung and ZTE to pre-install our products on different types and models of their mobile phones. As of December 31, 2012, we had cooperative agreements with more than 10 handset manufacturers.
So NQ Mobile already had preload deals with Huawei, ZTE, and Lenovo in place at the end of 2012. This is further confirmed by a NQ investor presentation in 2012, which showed ZTE and Huawei were pre-installation partners almost a year ago already.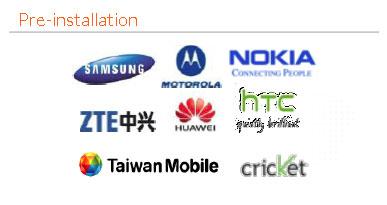 Once again it would appear NQ is taking old news and reporting in a way that some investors would see it as a positive new event for the company. Those that read just the headline of the press release would seem likely to believe NQ had no prior pre-installation deals with these companies and just recently signed new partnerships with them.
Press Releases on Combating New Malware
On September 25, 2013 and then again on September 27, 2013 NQ Mobile had press releases on how its security software was able to combat new strains of different Android malware. While it is nice to let investors know its product works, those press releases seem irrelevant and are just merely fluff. We don't see other antivirus companies such as Symantec (NASDAQ:SYMC) or AVG (NYSE:AVG) coming out with a new press release every time their software is able to eliminate new viruses. Being able to combat new threats is pretty much expected of antivirus software.
CFO Change and Raised Revenue Guidance
One actual new significant development for NQ Mobile though in the past month is announcing a change in CFO on September 20, 2013. Their current CFO, Suhai Ji, was replaced with KB Teo, who was actually the lead investment banker for the IPO of NQ Mobile (known as NetQin at the time). The company also chose to bundle that news together with raised revenue guidance for Q3 of 2013. It stated they are "now expects third quarter 2013 revenues to exceed its previously issued guidance range of $50-$51 million" but not did provide any new figures.
From the headline of the press release, "NQ Mobile now expects revenues to exceed the top end of its guidance range of $50-$51mm for Q3 2013; appoints KB Teo as Chief Financial Officer", the revenue guidance was placed in front while the abrupt CFO change was tacked on at the end. In my opinion the news of raised guidance was bundled together with the sudden CFO change in order to reduce any possible negative impact on the stock price.
Shady Past Business Practices?
Looking further back in March of 2011 when NQ Mobile was still called NetQin, the company was actually accused by China Central Television (CCTV), the Chinese state owned television broadcaster, of some highly unethical business practices.
Their report said that NetQin was secretly infecting their own users with viruses and then charging them to remove the virus. The claim was when users downloaded the NetQin mobile security app it would also secretly install an app from Feiliu which contained the viruses. Later the NetQin app would then report to the user it detected a virus (the one it had secretly installed) and ask them to pay 2 RMB for a software upgrade in order to remove it. CCTV also stated that the CEO of Netqin, Lin Yu, was classmates with the CEO of Feiliu.
NQ Mobile had actually invested in Feiliu back in February of 2010 and then later in November of 2012 NQ Mobile ended up acquiring all of Feiliu, which was later renamed FL Mobile. So there does seem to be a long history between the two companies.
Short Interest Continues To Rise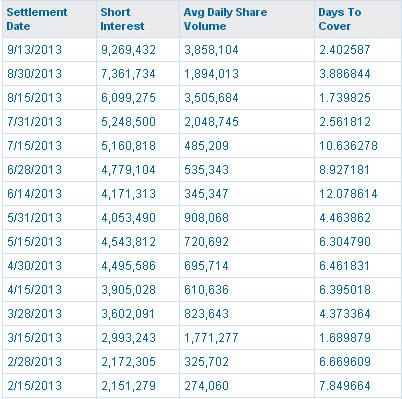 While the stock price of NQ Mobile has gone up tremendously this year the short interest continues to rise further and further. As of September 13, 2013 there are 9.27 million shares shorted, around 30% of the float. With many other Chinese Internet companies such as QIHOO and Ctrip.com, the shorts continue to cover and short interest has been steadily declining as their stock prices ascends higher. However the opposite is happening with NQ.
I asked some contacts of mine to see if they can shed some light on the matter. Based on what they told me, it appears a large portion of the short interest is from one or two hedge funds located in Asia, most likely based in Hong Kong. It seems they are so confident in their short position in NQ they are just shorting more shares as the stock price goes higher.
Conclusion
While on paper the growth reported by NQ looks impressive, investors should still remain very cautious of the stock due to some red flags. The company seems to be releasing press releases regularly with the sole intent of moving up the stock price, even going as far as rehashing old events as new positive developments. Meanwhile the short interest continues to grow larger and larger, and there has been a recent sudden CFO change.
Disclosure: I have no positions in any stocks mentioned, but may initiate a short position in NQ over the next 72 hours. I wrote this article myself, and it expresses my own opinions. I am not receiving compensation for it (other than from Seeking Alpha). I have no business relationship with any company whose stock is mentioned in this article.