I've been writing about J.C. Penney (NYSE:JCP) since the beginning of the year. Each article has the same theme: JCP isn't going to make it, so either short it or get out. The signs were there. As I put it in March of this year:
J.C. Penney is doing everything short of walking into your living room and executing short trades for you.
I'm going down the JCP road again, not to beat a dead horse (I swear), but to try and open investors eyes, which can sometimes be blinded while going long a failing company and/or trying to catch a falling knife.
Let's have a look at JCP's 6 month chart: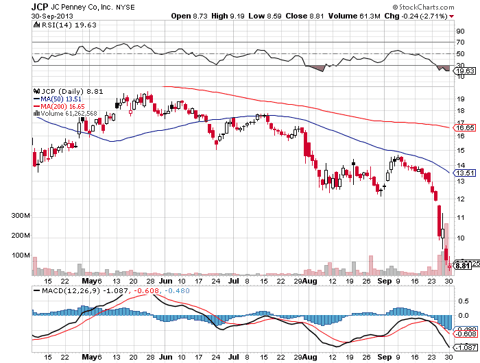 Click to enlarge
Keep your seats, folks. No need to attend your local day trading seminar at your town's convention expo for $59.99 a day to figure this chart out. This chart has an old school technical trading term for it, and that term is: "all hell is breaking loose". (also, "The plane has crashed into the mountain", or "The ship is taking on water").
This article isn't going to be much different in the sense that I still recommend JCP as a short or avoid, but it isn't going to focus on the fundamentals of the company itself (as I've beat that argument to death); it's going to point out, in clear detail, the trail of dead that JCP is leaving behind. This article should serve as tough love for JCP longs, and hopefully it will open the eyes of the remaining longs.
Recent Chronology of People Bailing On JCP - Follow the Lead
8-27-13 - Bill Ackman
It's reported that Bill Ackman, who I am a large fan of, led the pack in taking his lumps with his JCP investment. It was reported that Ackman's Pershing Square liquidated his 39 million share position to Citi (NYSE:C), who went on to offer them to market at $12.90. Ackman took almost a 50% loss, but saved himself about another 40% that he would be in the hole if he was caught holding just a month later.
As a Bill Ackman fan, I thought this was the right move. Ackman generally gets a lot of flack from retail investors, who see him as fish food for the bigger "sharks" like Soros and Icahn due to him telegraphing his fund's moves publicly. In my recent article, "4 Lessons You Can Learn From Bill Ackman", I pointed out that his stake in JCP was one of the few things that I disagreed with him on:
As you can see, in addition to Herbalife, Ackman has been involved in failing retailer J.C. Penney in 2012 and 2013. I've spent the better part of the year following a lot of Ackman in the news, and while I don't always agree with some of the moves he's made (namely with JCP - as you can read here), I respect his style and think that there's a couple lessons the average retail investor can learn from Ackman.

I didn't agree with Bill Ackman on J.C. Penney, but do still agree with him on Herbalife. As stated before, this isn't about his decisions as a trader, it's about why I respect him and what you can learn from him.
9-13-13 - Steven Roth
Just a couple weeks later, it was announced that Vornado CEO Steven Roth resigned from the JCP Board of Directors, and that Vornado reiterated that it was going to liquidate all of it's holdings after it had started to do so in March of 2013.
9-19-13 - Vornado Realty Trust
As stated, Vornado then bailed out of its remaining 13 million shares via Citi, who offloaded them at a price of $13.10 a share to investors who are now over 35% underwater.
And indeed, Citigroup Inc.C -0.78% launched the offering late Thursday, seeking $13.05 to $13.10 a share, according to marketing materials reviewed by The Wall Street Journal. The deal is slated to price tonight or early Friday morning. It's unclear what Citi paid-the bank bought the entire block and is re-offering it to investors in its role as underwriter of the deal-but Penney's latest close would value the offering at $176 million.

While Vornado's exit comes as no surprise, it marks the latest shuffling of J.C. Penney's investor base, with hedge fund firm Pershing Square Capital Management LP cashing out and firms such as Glenview Capital Management LLC and Hayman Capital Management LP disclosing sizable stakes.
9-26-13 - Mark Sweeney
Nothing like a nice, boring 8-K with absolutely zero editorialization as to circumstances to make a corporate accounting chief resignation stink like the company is going under. Here's the entire clause about Sweeney in the 8-K, in it's one sentence obligatory glory - try not to doze off:
Effective September 20, 2013, Mark R. Sweeney, Senior Vice President and Controller, left J. C. Penney Company, Inc. (the "Company").
Ah, that's some good ole' fashioned muck polishing!
9-30-13 - Rick Snyder at Maxim Group
Rick Snyder had a price target on JCP of $22 (obligatory pause for laughter). On Monday, Ricky got wise and - although not waiting for the absolute last minute - amended his statements to prevent himself from looking like a big league bonehead:
The formerly bullish J.C. Penney analyst said the investment firm's thesis that customers would return to Penney stores when it returned to discounting has been incorrect.

Lost sales and higher interest expense are a combination that make J.C. Penney stock susceptible to very small changes in sales estimates. Snyder estimates Penney's interest expense will be about $380 million this year, up from $227 million two years ago before the transformation started.

Part of the thesis assumed that the cash burn would abate as customers returned, but last week Penney said it expects to have $1.3 billion in cash and untapped credit by the end of this year, down from $1.5 billion it said it would have on Aug. 20 when it reported second quarter results.

Maxim also reduced its sales estimates for the year and beyond, due to the weakness in the overall retail environment in 2013. "We see nothing that would indicate that the overall environment should improve going forward," Snyder said in the report this morning.

"We believe that J.C. Penney shares are extremely risky," Snyder said.
9-30-13 - Perry Corp
Perry Corp., that names rings a bell with JCP. Why?
Because about a month ago they came out and said they were buyers of JCP. They came out in a 13/D on Monday and disclosed that they had slashed half of their position. It's looking like the recently disclosed dilutive financing is taking its toll on the institutional investors that aren't shorting it against the box.
Conclusion
As I stated in my last article about JCP taking on some dilutive financing, the stock remains a sell, short, or simply avoid at all costs. I hope that this condensed look and analysis of how many people have jumped ship in the last month can help to give some longs more perspective on exactly where the "smart money" is positioned on JCP.
Sometimes, the shorts just get it right. Sometimes, companies fail. It's nice to think that everyone will get a last minute bailout deal that prevents it from going under, but companies like JCP that exist in the past have been marked for years now. It'll be sad to see an iconic name go under, but JCP remains a risk of total loss at this point.
Best of luck to all investors.
Disclosure: I have no positions in any stocks mentioned, and no plans to initiate any positions within the next 72 hours. I wrote this article myself, and it expresses my own opinions. I am not receiving compensation for it (other than from Seeking Alpha). I have no business relationship with any company whose stock is mentioned in this article.