I was recently talking with a friend of mine that was telling me about their child's first month in college and I couldn't help but fondly remember my college days (time has a way of making most memories fond). They continued by telling me of their child's student housing accommodations (this is where any similarities between my dormitory and their child's student housing parted ways). This made me remember conversations with real estate people on the opportunities in student housing, which led to this article (not quite the six degrees of separation, but ...).
Education Realty Trust (NYSE:EDR) is one of America's largest owners, developers and managers of collegiate housing. EdR is a self-administered and self-managed real estate investment trust that owns or manages 67 communities in 24 states with more than 37,000 beds.
While any student housing REIT can boast of beds and schools, what sets this REIT apart is their history:
The predecessor of EdR was founded in 1952. A simple construction company, Allen & O'Hara soon became one of the nation's most successful developers when they began working with another company founded in Memphis that same year, Holiday Inn.
The company soon expanded and, in 1964, they introduced the "student hotel concept" to the market. The four-person-suite was an innovation in college housing design. The company developed the 1,328-bed Granville Towers at the University of North Carolina in Chapel Hill which they still manage today. It was the first "privatized" student housing project.
Since that first venture into student housing, the Company has pioneered many firsts in the industry.
First to introduce Individual Leases,
First to introduce Full-Service Off-Campus Student Housing Apartments with Amenities,
First to introduce the Co-ed Living Concept,
First to introduce Same-day Maintenance Service,
First Proprietary Computerized Accounts Receivable and Revenue Management System,
First "Dine Anytime" Food Service in its Residence Halls,
First to introduce "Community Assistant Program" for Off-Campus, Privatized Student Housing,
Largest Campus Revitalization Project in the Nation with a 3,516- bed Replacement Project at Indiana University of Pennsylvania
In 2004, the company's leadership created a real estate investment trust - Education Realty Trust . When EDR went public in 2005, it acquired Allen & O'Hara Education Services and Allen & O'Hara Development Company.
This REIT is no stranger to the industry and is in fact a pioneer in the industry (if not the creator). It may not be the biggest, but it sure as heck is one of the deepest. EdR has shown consistent strength in both the development and management of collegiate housing. With nine development projects in the current pipeline (and five just finished), the development depth is essential.
The Opportunity
The opportunity in student housing is a function of two variables:
Growth in enrollment, and
Reduced state appropriations for student housing.
Simply put: Supply and demand (yes, Econ 101).
In response to the growing opportunity within EdR's focus segment, the following is a visual of their asset growth profile:
One area of growth that I am also optimistic about is EdR's On-Campus Equity program, or ONE Plan. This is, essentially, a public/private partnership between the REIT and a university for on-campus housing. By the end of 2014, EdR's portfolio will include $340 million of these on-campus assets or about 20% of the current portfolio on a gross asset basis.
It is never enough to merely grow, you have to grow in the right places. The key is choosing those universities that will continue to have favorable supply and demand dynamics.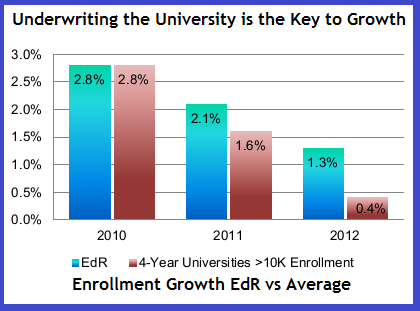 In the end, however, a company must "show the money" to the investor. Education Realty has been doing just that.
While the above chart shows that EdR's FFO/sh has been recovering, I think it is useful to view it in the "bigger picture" context - with net operating income ("NOI") and FFO.
What this chart shows me is that NOI and FFO have "normalized" at higher levels and FFO has become larger as a percentage of NOI (FFO margin increase). This creates a more sustainable platform for dividends and growth.
Of course, financial flexibility is vital in order to take advantage of opportunities, continue growth and development as well as withstand market pressures. A REIT needs to be able to service their debt and, when necessary, borrow more.
Education Realty has a well laddered debt profile, with each year's maturity reasonable and manageable.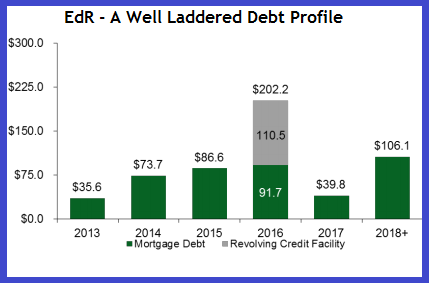 EdR today announced its leasing results for the 2013-2014 academic school year.
EdR's same-community portfolio opened the 2013/2014 lease term 94.1% occupied compared to an opening occupancy of 91.1% in the prior year. In addition, same-community net rental rates increased 2.0% over the prior year.


"We are excited about the strong results we achieved this leasing season," stated Christine Richards, senior vice president and chief operating officer. "With our high quality portfolio and the focus of our strong management team, we were able to deliver industry leading leasing results. These impressive results will support strong same-community NOI growth, which, when combined with the 16% increase in assets from the delivery of our 2013 developments, will produce very favorable year-over-year Core FFO growth for our shareholders."
Given their leasing success and their occupancy rate, I expect to see continued growth in their NOI and FFO and, therefore, dividends. I would, however, like to see the company control their operating expenses better and keep a positive growth margin going. The REIT saw a 200bp narrowing of their operating margin in the first half of this year. Growth must occur in both the same store and new build communities. EdR has to focus more on expenses and positive occupancy gains (higher occupancy at higher rates) to continue to propel NOI/FFO growth. The increase in both occupancy and rate within the same store portfolio (table above) bodes well for the REIT and their financial focus.
Valuation
The players in this industry are predominately EdR, American Campus Communities (NYSE:ACC) and Campus Crest Communities (NYSE:CCG). For comparison purposes, I have also listed Equity Lifestyle Properties (NYSE:ELS), UMH Properties (NYSEMKT:UMH), Sun Communities (NYSE:SUI) and UDR Inc (NYSE:UDR). The rationale behind these additional firms is they are also "housing sub-sector" type REITs - with the exception of UDR, which has been used as a proxy for similar sized apartment REITs.
The first thing that stands out is that EdR trades at a premium FFO multiple - almost nosebleed territory. Why the heck would I even look at this REIT you ask (given I have argued valuation time and time again)? The answer, move two columns to the right, the one labeled FFO/sh growth. EdR has grown FFO multiple times faster than their peers. I will admit, however, that the valuation on Campus Crest is also compelling. The student housing sector also trades at a premium multiple to the other (non-student housing) peers, but the growth rate is higher and should continue to be given the favorable demographics of the sector.
The following chart shows the price of the group's equities (starting from campus Crest's public date):
EDR data by YCharts
Education Realty has outperformed their peers by a very comfortable margin over this time period. Year-to-date, however, the advantage goes to Campus Crest by nearly 2.5% plus the additional dividend:
EDR data by YCharts
Again, you might be asking why I am focusing on EdR not Campus Crest, given CCG's YTD outperformance. A quick look at the dividend and dividend yield on EdR also tells a compelling story relative to its student housing peers:
EDR Dividend Yield (TTM) data by YCharts
The first thing that comes to mind is that the dividend yield on EdR's stock has increased by such a wide margin relative to its peers because the stock has fallen out of bed. But then we recall the price charts, and we know this isn't the case. So what gives? The answer is straight forward:
EDR Dividend data by YCharts
Dividend growth. Those two words that so many investors love to hear. Measured and sustainable dividend growth (well, the beginnings of continued growth). Importantly, when it comes to potential investments, I look for both capital and dividend growth and will not sacrifice capital appreciation for dividend growth.
Bottom Line: While the P/FFO is lofty (mild understatement), the growth rate of FFO will bring the multiple back in line in a relative sense. Education Realty Trust sits at the head of the class in student housing and, in my opinion, has the right growth plan to stay there. With their financial stability and growth prospects in mind, I believe that Education Realty Trust is worthy of inclusion in an investor's portfolio.
Disclosure: I have no positions in any stocks mentioned, and no plans to initiate any positions within the next 72 hours. I wrote this article myself, and it expresses my own opinions. I am not receiving compensation for it (other than from Seeking Alpha). I have no business relationship with any company whose stock is mentioned in this article. This article is for informational purposes only, it is not a recommendation to buy or sell any security and is strictly the opinion of Rubicon Associates LLC. Every investor is strongly encouraged to do their own research prior to investing.