(Editors' Note: This article covers a micro-cap stock. Please be aware of the risks associated with these stocks.)
Readers of mine have by now realized my penchant for following smart money investors and trying to spot opportunities to get in early alongside them before many others take notice and cause a given stock to significantly appreciate. One prime example of this type of investor that I follow particularly close is Phillip Frost, #166 on the Forbes 400 list of billionaires. The reason for this is Frost's unparalleled track record of exponential returns for early stage biotech investors, the exact arena that I myself speculate in. Well, I spotted a thus far overlooked company of his that not only has The Frost Group LLC's backing, but also has received investments from Frost Gamma Investments Trust, Opko Health (NYSEMKT:OPK), and now, most recently, Musclepharm Inc (OTCQB:MSLP). The one company which has received strategic investments from all of the entities just named is Biozone Pharmaceuiticals (BZNE.OB). Biozone has a core competency as a revenue generating contract manufacture of high quality health and drug products. Its upside potential, though, lies in its patented QuSome technology. Opko signed a licensing agreement with Biozone for use of this technology almost two years ago, while just this month Musclepharm signed an agreement for access to this technology as well.
Shifting from Cancer Genetics to Biozone
In my last article for Seeking Alpha earlier this month, I discussed Cancer Genetics (NASDAQ:CGIX). In my analysis, I preferred the upside of Cancer Genetics when comparing the two companies. Part of this was due to Cancer Genetics market cap providing a high risk-reward investment scenario. Opko is a much more mature company, boasting a $3.5 billion market cap, making the rapid appreciation in share price which Cancer Genetics has enjoyed the past month more difficult.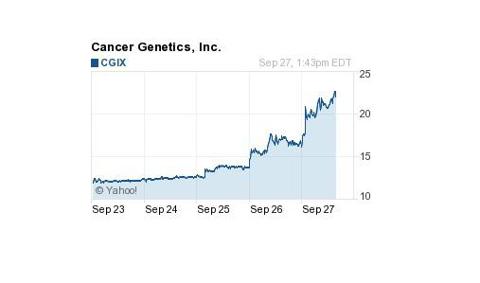 Click to enlarge
There is no question that Frost's pedigree is second to none, though, and I made that clear. Biozone has both of these appealing qualities as an investment: backing from multiple Frost entities; and seemingly on the ground floor in terms of upside potential. Now that Cancer Genetics has doubled in share price since I wrote about it, I think it is time to take profits from that investment and invest in Biozone.
Frost's Investor Acumen
As noted above, it is impossible to argue with Frost's track record. Opko Health , his most vocal investment, is up 76% this year alone, and Frost is again buying shares in the open market after a brief hiatus. His portfolio gets discussed often here on Seeking Alpha so I am not going to delve too much into it, but I can quickly reference three near triple-digit gainers from his portfolio this year alone. Frost's foundational success was founding and selling Ivax to Teva for $7.4 billion.
In the world of small-cap biotech investing, I do not think anyone can compare to Frost in terms of consistently generating multiples for early stage investors in his companies. For someone with his track record, though, what I find uncanny is Frost's ability to keep some of his investments in which he is seemingly most focused under wraps. I like to try and get in while he and his team are still focused on building under the hood, before the company can no longer contain itself and investors tend to start piling in.
Where Biozone Fits in with Opko and Musclepharm
The latest investment of Frost's to catch fire has been Castle Brands Inc, which has doubled in the past month. Castle Brands reminds me most of what I see potentially in the near future for Biozone Pharmaceuticals with regards to obtaining increased attention from more investors who start piecing together what I myself have just mapped out.
A quick scan of Biozone's most recent 10-K, which was just amended and re-filed on September 13, shows the following beneficial ownership table for shareholders owning more than 5% of the company's common stock:
Name of Beneficial Owner

Number of Shares Beneficially Owned

Percentage Beneficially Owned (1)

5% Owners:

OPKO Health, Inc.

4400 Biscayne Boulevard

Miami, Florida 33137

7,650,000

(2)

12.1

%

Daniel Fisher

36 Marlee Road

Pleasant Hill, CA 94523

6,650,000

10.5

%

Frost Gamma Investments Trust (3)

4400 Biscayne Boulevard

Miami, Florida 33137

5,260,681

(4)

8.3

%

Frost Group LLC

4400 Biscayne Boulevard

Miami, Florida 33137

4,871,133

7.7

%

Michael Brauser

3700 NE 27th Ave.

Lighthouse Point, Florida 33064

4,729,377

(5)

7.5

%

Barry Honig

4400 Biscayne Boulevard, Miami, FL 33137

5,542,654

(6)

8.8

%

Executive Officers and Directors

Brian Keller

3,587,500

5.7

%

Christian Oertle

525,000

0.8

%

Elliot Maza

3,587,500

5.7

%

Roberto Prego-Novo

2,939,467

(7)

4.7

%

All executive officers and directors as a group (4 persons)

10,639,467

16.9

%
The largest shareholder of Biozone in this table is Opko Health, which beneficially owns 7,650,000 shares equating to 12.1% of the company. Two Frost entities have significant ownership: Frost Gamma Investments Trust beneficially owns 8.3% while Frost Group LLC beneficially owns 7.7%. Having these three entities as large shareholders in any company immediately catches my attention for investment purposes. Opko Health in particular making an investment and entering into a licensing agreement with Biozone demonstrates to me that the highest level of due diligence and vetting must have been performed on the company.
It continues to get even more interesting, though. The latest press release that mentions Biozone in it was actually a Musclepharm press release at the beginning of the month. In its press release, Musclepharm announced it had made a $2 million strategic investment in Biozone Pharmaceuticals. Here is an excerpt from that release:
BioZone is a developer, manufacturer, and marketer of over-the-counter drugs and preparations, cosmetics, and nutritional supplements on behalf of health care product marketing companies and national retailers. BioZone also owns novel drug delivery platforms, including its QuSome® technology.
BioZone's "QuSome" technology enhances the absorption of topical and other drugs. MusclePharm is evaluating the QuSome technology in connection with nutritional supplements to determine the precise benefit of application and if the combination of Qusomes and nutritional supplements will enhance the absorption and speed of delivery of several MusclePharm products.
OPKO Health is an investor in BioZone. Dr. Phillip Frost, who serves as Chairman and CEO of OPKO Health, is a significant shareholder and advisor to MusclePharm.
Commenting on the announcement, Brad Pyatt, Founder and CEO of MusclePharm, stated, "Our investment and new business relationship with BioZone gives us the opportunity to add an important vertical manufacturing component into our business model. BioZone owns a state-of-the-art manufacturing facility and they have an outstanding reputation of placing great emphasis on quality control and FDA regulatory compliance. We look forward to working with their team."
Musclepharm is another big winner that is up 157% since it was announced that Frost led an investment in the company at $4/share on January 28th, 2013.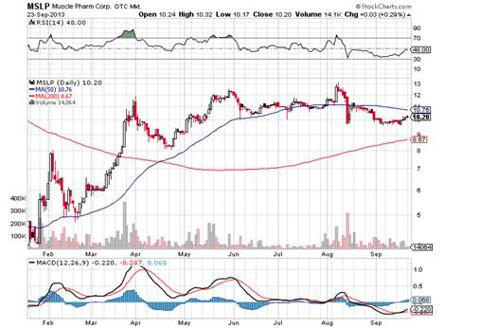 Click to enlarge
Frost's continued support of companies he chooses to become a significant shareholder in is unquestionable, most noticeably with his well-documented open market support of Opko. That is no different with Musclepharm, as The Frost Group, LLC made an additional $2.5 million investment in the company just last month. This latest investment by The Frost Group in Musclepharm was just prior to Musclepharm's investment in Biozone this month. Everything noted seems to paint the picture that Frost might have a bigger vision in place that entwines Opko, Musclepharm, and Biozone in some significant way.
Biozone's Revenue Base Limits Downside; Upside is in its Qusome Technology
Looking through Biozone's filings and its website tied everything together in terms of where Biozone may fit in Opko's, Frost's, and Musclepharm's plans. As noted before in Brad Pyatt's comments, Musclepharm has a state of the art manufacturing facility, and as a manufacturer the company has real revenues already. This is a great baseline to start from as a biotech investor. Most biotech companies' valuations are based on pie-in-the-sky type outcomes, facing binary events at some point along the line where the wrong outcome could completely crush the company's valuations as they have no underlying business with revenue. Having a real business with meaningful revenue relative to market cap like Biozone does can offset much of the downside risk. The arrangement now in place with Musclepharm will allow Biozone to capitalize on vertical integration as well, as Musclepharm could possibly be earmarking Biozone's state-of-the-art manufacturing facility for Musclepharm's line of nutritional supplements, a business that is on pace for ~$115 million in sales this year.'
With a current market cap of $55 million and the company on pace for $8 million in revenue for the year, there is clear downside protection here. Just valuing the manufacturing business alone the company would be trading at a reasonable 7x sales. The manufacturing business has upside as well, as starting production of products for Musclepharm would provide a big lift to this segment of Biozone. If Musclepharm shifts over the production of 15% of its booming supplement business to Biozone's manufacturing facility, it could add $10-15 million per year in revenue to Biozone's top line. This would have Biozone trading at 2.5-3x sales for just this segment.
The big upside here, though, is in Biozone's QuSome technology. This technology was originally developed as part of a Biozone initiated R&D program in conjunction with the late Dr. Danilo Lasic, then the world's leading authority on liposomes. According to the company, medical science had long recognized the potential of liposome molecules as a vehicle to deliver encapsulated drugs. Biozone, over a five-year period, discovered a self-forming liposome, trademarked QuSomes, which enhances the solubility and efficacy of topically applied ingredients. QuSomes are innovative, non-phospholipid liposomes suitable for cosmetic and drug formulation. The QuSome technology enhances skin permeation, reduces skin irritation and improves ingredient efficacy.
There must be something very innovative about the QuSomes technology and Biozone's ability to manufacture it for multiple different products. That is the only conclusion one can draw when both Opko and now Musclepharm strategically invest in the company for the purpose of gaining access to it. Opko has had its license to this technology for a year and a half, based on their licensing agreement being signed in February 2012. I do not think Musclepharm would invest 18 months later for access to the same technology if Opko was not seeing very encouraging results from an industry unique technology, based on similar investment groups being behind all of these companies.
Based upon analyst estimates, the royalty rate for Opko's licensing agreement with Biozone likely lies between 5-15%. Opko signed this licensing agreement almost two years ago, causing one to think they could be close to developing new products utilizing the Qusome technology. Biozone occurs no cost for such development and only stands to benefit big-time if one or more of these products enters potential multi-billion dollar markets.
Betting on the Right People
In continuing with the betting on the people theme here, I think there are two more important names to note from the above table of shareholders. Roberto Prego-Novo has served as Chairman on Biozone's Board of Directors since June 30, 2011. A quick look at his profile shows that Novo was a former Vice President for both Teva Pharmaceutical Industries and IVAX Corporation. As mentioned above, IVAX, which Frost originally founded, was sold to Teva for $7.4 billion. It appears that Prego-Novo was part of the close team that helped engineer the success of both IVAX and Teva along with Frost, and the fact that both Prego-Novo and Frost are now heavily engaged at Biozone should perk the interest of any investor looking to get in on their next venture.
One other shareholder in that table has also seemed to have a great deal of success as a strategic investor. Barry Honig just made a 13G filing outlining his holdings in Biozone on September 12, 2013. One particular investment success in another biotech company immediately came to mind when I saw this. I remember people similarly noting Honig's 13G filing for his holdings in Neuralstem (NYSEMKT:CUR) right before its stock took off, and it seemingly has not looked back. When his 13G filing in Neuralstem came out on August 15, 2012, the company's share price was $0.52. A month afterwards, the share price had almost tripled. A little more than a year later, Neuralstem now trades at $2.48/share as of yesterday.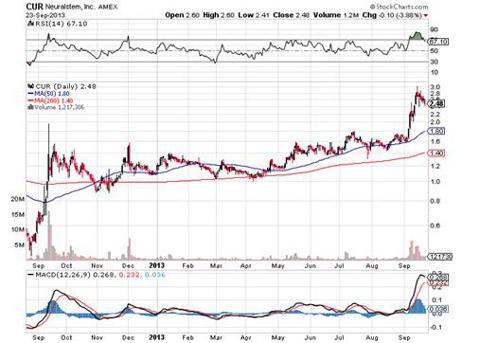 Click to enlarge
Risks
There are certainly risks to consider before making any investment in Biozone. The risks for this company appear to be clear: likely need to raise more capital at some point, the manufacturing revenue not growing as I project it will with the new Musclepharm relationship, or their innovative Qusome technology not panning out as I am predicting it will based upon both Opko and Musclepharm seeking access to it at different points along the line. These risks appear to be mitigated to me, as I do not think financing will be a concern with the Frost Group's backing, and will most likely be done at a higher stock price where it would be less dilutive for the company. With Musclepharm just now making an investment to obtain access to the Qusome technology, after Opko has had its licensing agreement in place with Biozone for 18 months ,one would think it must work very effectively.
The other risk to note is that Biozone just entered a settlement agreement in an outstanding lawsuit with a former employee on September 11, 2013. This could have been a big risk facing the company that has now cleared up. I also believe this was the reason for which the company was possibly trying to keep a tight lid on information and may start to open up more, beginning with this interview with President and Chief Scientific Officer Brian Keller.
For a more in depth understanding of the company and any additional potential risks you may see all of its filings here on the SEC website.
Conclusion
Investors like Frost, Prego-Novo, and Honig gain a track record for a reason. Companies like Opko and Musclepharm are already large successes for a reason. Having all of these names seemingly extensively involved in the same company could even be rare for a multi-billion dollar company, let alone one of Biozone's current size. While it appears that the company has been quietly trying to put everything in place without much ado to the public markets (possibly because of the outstanding lawsuit that was just settled), everything seems to be aligning for an early stage investor to be able to capitalize on a classic case of large upside potential versus limited downside risk. I do not think an opportunity such as this one, with so much tying together at seemingly just the right times, presents itself often. I intend to take advantage.
Disclosure: I have no positions in any stocks mentioned, but may initiate a long position in BZNE.OB over the next 72 hours. I wrote this article myself, and it expresses my own opinions. I am not receiving compensation for it (other than from Seeking Alpha). I have no business relationship with any company whose stock is mentioned in this article.