So it has been a while since I have written an article for Seeking Alpha. But more specifically, since I have written a compelling thought piece. So this time around I hope to impress the community with something thought-provoking. Hopefully it will feel as if I am telling you something you don't know.
Anyhow, in a previous article, I offered a fairly high, if not ridiculous price target on Apple (NASDAQ:AAPL). Given the fact that we have three months until the end of the year, it would be dubious for me to stand by my $774 target.
On the other hand, using that some proprietary forecast, I have had a lot of success predicting equity values between calendar year 2012 and 2013. Something very few can really boast about. However, I am not here to brag about past success, more specifically, I am here to reconcile the difference between the intrinsic nature of Apple's stock and the valuation that investors are willing to pay for the equity.
Fundamentals
Again, I really hope not to bore you with a discussion on fundamentals. It is clearly evident that Apple does exceptionally well when it comes to solvency and valuation ratios. However, let's take a quick run-down of historical and projected metrics.
Both hardware and software is being consolidated into three companies. Microsoft (NASDAQ:MSFT) recently acquired Nokia (NYSE:NOK), and Google (NASDAQ:GOOG) owns Motorola. There are nuances between the three separate ecosystems (Android, iOS, and Windows), but we cannot deny that the three companies are becoming increasingly similar. For this reason, I will make a financial comparison of Apple, Microsoft, and Google.
| | | | | |
| --- | --- | --- | --- | --- |
| Metric | AAPL | GOOG | MSFT | Best |
| Market Cap: | 438.6B | 300.75B | 273.15B | Apple |
| Employees: | 72,800 | 44,777 | 99,000 | Microsoft |
| Qtrly Rev Growth (yoy): | 1.00% | 20.00% | 10.00% | Google |
| Revenue (TTM): | 169.40B | 55.80B | 77.85B | Apple |
| Gross Margin : | 38.00% | 57.00% | 74.00% | Microsoft |
| EBITDA : | 55.87B | 17.00B | 30.10B | Apple |
| Operating Margin : | 29.00% | 24.00% | 34.00% | Microsoft |
| Net Income : | 37.75B | 10.94B | 21.86B | Apple |
| EPS : | 40.11 | 34.57 | 2.58 | Apple |
| P/E : | 11.65 | 26.13 | 12.71 | Apple |
| PEG (5 year expected): | 0.68 | 1.38 | 1.4 | Apple |
| P/S : | 2.53 | 5.36 | 3.6 | Apple |
Source: Yahoo! Finance
Apple seems to lead the way when it comes to price-to-earnings, price-to-sales, and price-to-earnings growth. Apple has a current ratio of 1.9, and $176 billion in total assets.
The intangible assets are worth $4.2 billion, receivable $11 billion, and inventory $791 million (period ending 9/29/2012). The vast majority of Apple's assets are liquid bonds/securities, fixed assets, or cash.
Apple's financial position isn't fully appreciated by the markets. Remember, in just a year or two, total assets will total above $200 billion. Currently the stock trades at a $438 billion market capitalization, so if anything, half of the market capitalization is already supported by collateral. This implies that value investors have a compelling thesis; it's just a matter of whether or not they can stand to watch Apple swing like a whipping post for a couple more years.
However, over the past 12-months, Apple's stock price has declined by 33.5%. This has been a real stinker. Investors put the stock up for sale once earnings stopped growing. After all, the price of the stock is dependent on whether it can or cannot compound earnings. The power of compound earnings is the primary driver for high multiples over earnings. Something Apple seems to be lacking much of.
In the comparison, we found that of the three companies, Apple had the lowest quarterly revenue growth at 1% year-over-year. This is… awful. In short, Apple grew at a slower pace than Microsoft in the most recent quarter. The short-term performance metrics indicates that Bing wins… Okay, enough jokes, Ballmer has done a decent job of consistently growing earnings. Something Tim Cook could take a lesson or two from Ballmer on.
However, to be fair, Apple recently launched its next generation product, and expectations by analysts are rising for the next fiscal year. Notice how I skipped the other stuff? Yeah, not that important, read the tables if you want. But in technology, compounded growth is king. We might be getting some of that back if analyst forecasts over the long-term are accurate for the aforementioned companies.
| | | | | |
| --- | --- | --- | --- | --- |
| Metric | AAPL | GOOG | MSFT | Best |
| Current Qtr. Growth | -11.60% | 14.70% | 5.70% | Google |
| This Fiscal Year Growth | -11.30% | 9.30% | 4.20% | Google |
| Next Fiscal Year Growth | 8.60% | 17.60% | 9.40% | Google |
| Past 5 Year Growth Rate | 72.80% | 19.51% | 11.50% | Apple |
| Next 5 Year Growth Rate | 14.53% | 15.00% | 8.70% | Apple |
Source: Yahoo! Finance
Far and away, over the short-term, Google is killing it at growth. Current quarter growth is estimated to be 14.7% for Google. Much of this high growth is supported by Google Play Store, and growth in international search ads. On the downside margins are being hit due to the transition over to mobile.
Amongst the three, Google has the lowest operating margin. Plus, if international tax loop holes are closed, margins may further erode due to taxation on earnings, which is something that Apple, Microsoft, and Google have been able to skirt around.
Putting this in perspective, Apple paid 2% in corporate taxes on $74 billion in overseas revenue. This was because of Ireland's tax code; however, if Ireland's tax loop holes are closed, international tech giants have a plethora of options. Despite this fact we cannot ignore the possibility of even broader tax overhauls on an international basis. For international taxation to be fully addressed, the issue would have to be taken to the United Nations. This may become an ever greater possibility considering the burgeoning budget deficits of G-20 countries.
Returning to the fundamentals, assuming there's no international coalition at the United Nations to close tax loopholes, the probability of Apple's earnings growth getting back on track becomes increasingly likely. Over the long-term, analysts on a consensus basis project that Apple will grow earnings by 14.53%, which is marginally lower than Google's 15% projected growth. The growth rates are projected over the next 5 years.
To be fair, the 14.53% growth rate is largely based on IDC's forecast for smart phone demand. IDC estimates 16% compound annual growth through 2017. Putting this in perspective, it seems that Apple is entering the latter stages of its growth phase.
Many have found criticism in trying to predict the future. Sure, typical extrapolation techniques cannot predict with 100% accuracy. There's increasing uncertainty over a longer time-frame, due to black swans. However, I will try to address the topic of black swans, economic cyclicality, and product obsolescence later in the article.
Overall, at the conclusion of our fundamentals section, Apple's undervalued, and is backed by a ton of collateral. Other would refer to this as margin of safety, but…using lending terminology has a bit of extra pizazz to it. Over the long-term, it's not hard to imagine Apple recovering which I will cover in more detail later in this article.
Technical & broad market analysis pertaining to Apple
I know, I know, looking at charts isn't exactly my cup of tea. Many in the investment community criticize technical analysis for being heavily gimmicky. I understand the criticisms against, it, but I cannot help but examine price as it can offer quite a few helpful insights.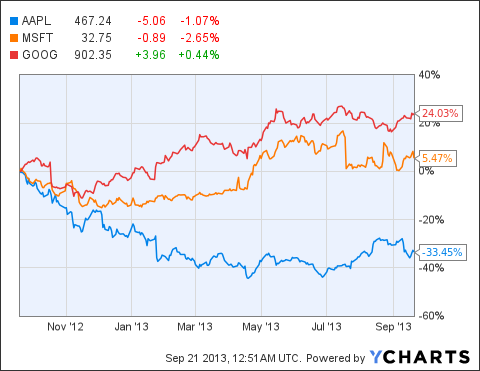 Source: Ycharts
Over the past year, it seems that Apple has lost the most value out of the three. Apple lost 33.45% from its valuation, whereas Microsoft added 5.47%, and Google added 24.03%. Many would argue that the favorable stock market environment led to these ridiculously high stock prices, and that we could be due for a super correction any day now.
However, before we make wild assumptions based on a number along a graph, and state with whatever statistical probability that xyz event may occur, let's look at the long-term price-to-earnings multiple across all S&P 500 equities.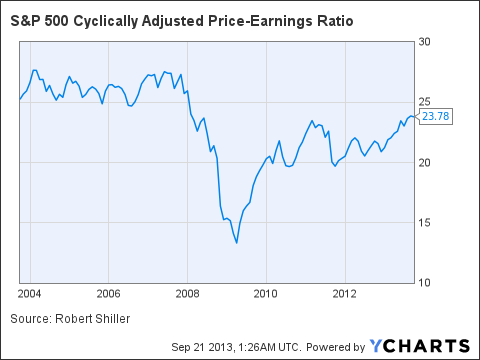 Source: Ycharts and Robert Shiller
Currently, the cyclically adjusted price-earnings ratio for the S&P 500 is 23.78. To be fair, the Standard and Poor's 500 can stay at a 27 cyclically adjusted price-earnings ratio for a number of years. Look at the 2004 to 2007 period for reference.
The current valuation is not high relative to how high the price-to-earning can go on a historical basis. Therefore, investors should not be worried of an imminent market crash that could wipe away half the value of stocks. Furthermore, based on the macro rotation out of fixed income into stocks, the probability of stock valuations diminishing becomes increasingly unlikely. Currently, half of all long-term treasuries are owned by the Federal Reserve. In the event of tapering, the Federal Reserve will end bond purchases, but it will not sell the bonds on its balance sheet onto the open market. Therefore, the injection of liquidity is here to stay, and with financial advisors urging clients to rotate a little out of depreciating bonds, and into stocks, it could not be hard to imagine further increases in the value of stocks.
This pertains to Apple, Google, and Microsoft as these three companies have a cumulative market capitalization that exceeds a trillion dollars. Any move in money flow, will only help, rather than hurt these three companies. Therefore, based on the rebalancing of portfolios from fixed income to stocks, we can only imagine even further price appreciation across the broader stock market.
However, I will also add that both Microsoft and Apple are well below the Case-Shiller cyclically adjusted price-to-earnings multiple. So if Apple and Microsoft were to trade closer to the average valuation for stocks on the S&P 500, we could expect appreciation anywhere from 50 to 100% from current levels.
Of course, what will drive the valuation of a stock is its ability to compound earnings. Because of this, the price of Apple and Microsoft will somewhat depend on whether or not they can capture market share from rivals in international markets. Furthermore, the market for smart phones continues to grow, so it is unlikely that Apple and Microsoft actually need to capture market share in order to keep earnings growth sustained. But any gain in market share along the way will only help these two companies.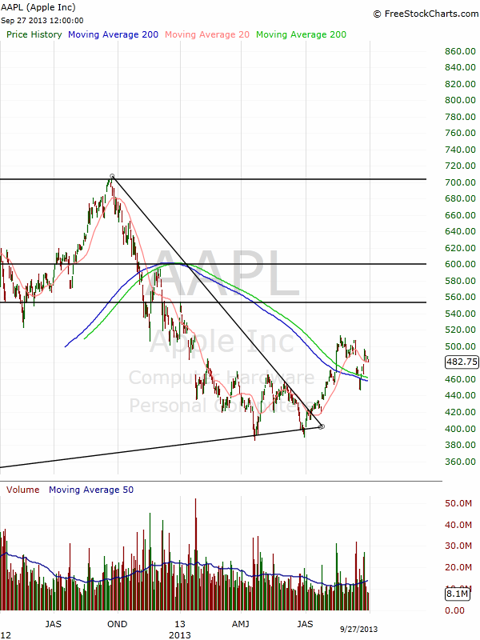 Click to enlarge
Source: FreeStockCharts
Upon close examination Apple has declined significantly from its $700 top to its current price level. The stock broke out of a symmetrical triangle formation towards the halfway market of calendar year 2013. Eventually the stock exploded above the 200-Day Moving Average as Carl Icahn's tweet helped to push investor sentiment in a more favorable direction.
Usually a break above a 200-Day Moving Average is indicative of a long-term trend reversal. The break out above the symmetrical triangle formation also adds further suspicion of a longer-term up-trend in the valuation of the stock.
The built-up hype leading to the news release of the iPhone 5S caused a bit of the "sell the news" effect on the stock. However, going forward, it's bound to be a volatile ride. Long-term investors in the stock should be fully aware of this fact. Longer-term volatility should eventually stabilize assuming the five-year beta measurement at 0.8 is indicative of the next 5-years. Again, there's always uncertainty, and the bear gang can always jump on our backs, so we got to be careful.
Moving on, I anticipate price resistance at $560, $600, and $700 per share. In this instance I'm not going to bother offering support levels. This is primarily because both my technical and fundamental analysis supports a buy-and-hold thesis. This runs contradictory to many in the investment community that treat Apple like a trading vehicle.
Since Apple stock is trading above the 20-,50-, and 200-day moving average on a price basis I remain optimistic. Furthermore, the volume on the chart is consistently declining. Declining volume is indicative of accumulation of shares by institutions. Apple is currently implementing a $60 billion share buyback that will end by 2015. However, at some point in the future, Apple may increase the size of its share buyback.
A decrease in the total supply of shares due to share buybacks will increase the value of the remaining shares, which is just basic economics. However, from the perspective of finance, the shares retired will increase the earnings per share metric, further supporting the bullish case on both the fundamental and technical side of the trade.
Macroeconomic trends pertaining to Apple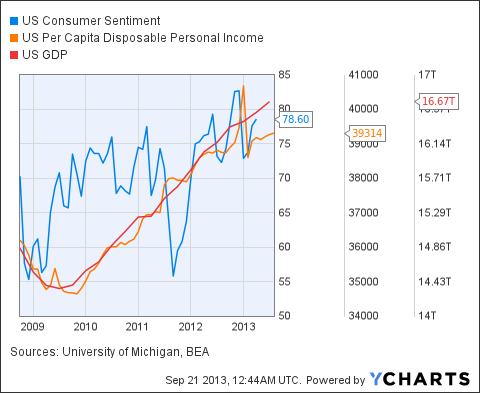 Source: Ycharts, University of Michigan, BEA
Probably the least entertaining aspect of investing is trying to keep an eye on larger macroeconomic trends that may not be closely correlated to company specific performance. To be more specific, I'm not going to use macroeconomic data to support buying or selling Apple stock. This is because Apple isn't very closely related to the performance of the global economy, at least not yet.
Over the past ten years Apple has been able to consistently beat aggregate GDP growth. However, when a product matures and stagnates, the revenue growth tends to be similar to the rate at which the broader economy grows. I don't think we'll reach this point of revenue growth equaling GDP growth when it comes to Apple for a very long time.
Over the past year investors have had a bit of a knee jerk reaction to the modest drop in per capita disposable income and consumer sentiment. Disposable income relates to how much money is left over after you pay for necessities like food, water, shelter, and gasoline. Consumer sentiment is the perception consumers have towards future spending.
On the aggregate, consumer sentiment is slightly down, due to the uncertainty in the political climate, along with the purchase of big-ticket items (such as cars and homes). Buying big-ticket items like cars and homes have a significant impact on the amount of money that a consumer can spend on clothes, electronics, and restaurants.
Over the past year, Ford (NYSE:F) was able to report double digit sales growth consistently in North America. The growth in demand for cars is well above aggregate GDP growth, and the rate at which employees are entering the workforce. It's likely that vehicle purchases were largely driven by households that are already in the labor force. Since households have increased spending on big ticket items, spending on discretionary goods will have to moderate on an aggregate basis.
A drop in consumer sentiment and spending should not be seen as a precursor to an economic recession. The difficultly of accessing credit has made it difficult for members of a household to borrow and purchase large ticket items. Therefore, the purchase of discretionary goods was elevated.
Also let's not forget that we have a terrible savings rate in the United States. So consumers who have a significant amount of money left over at the end of the month, that don't save, or invest, but rather spend have had a pretty sizable impact on retail sales for the past couple years. Going forward banks will eventually extend credit to less credit worthy consumers. This also means that high-earning white-collars fresh out of school, won't be seen in the mall, but rather settling down in a cookie cutter home in America suburbia.
The good news is that GDP has consistently improved. The lesson here for Apple shareholders is to ignore the short-term changes in consumer sentiment and discretionary income. It will not be a very reliable indicator of Apple's potential growth. However, weakening consumer data will have an impact on investor sentiment.
You'll probably see a panel of experts point out that because retail sales are down, that the economy is in turmoil, and the Dow should pull-back on the weak data. Regardless of how the media portrays consumer sentiment and spending, I want to reiterate that the fundamental strength of Apple's business remains strong.
Products, catalysts, and strategy
This is the part where I go into the qualitative aspect of the business, which is a whole lot of guess work! However, before you feel like jumping off the page and read a different article. I will offer a valuation target for the next 5-years, in the section following this one.
This month marked the release of the iPhone 5S and iPhone 5C. I made sure to stop by an Apple store, and poke the store associated with some questions. I found that almost all models of the iPhone 5S were sold by 3pm at the Chandler Fashion Center store. Furthermore, the only model that was left was the black iPhone 5S, for Sprint. Looks like Sprint customers bailed on the network, and switched their phone at the same time. Furthermore, it seems that Apple may have slightly over-estimated demand for iPhone 5S on the Sprint network.
The line for the Apple store prior to the 8am open extended past the mall entrance next to the Nordstrom main entrance. The line was approximately 200 yards long, if not more. To put this in perspective, it would take Usain Bolt at least 20 seconds to clear the distance of the Apple line.
Looking specifically at the iPhone 5S product, the consumer reviews were exceptionally strong. Some got really technical over the processor specifications, and whether Intel would stay in business. The Verge rated the iPhone 5S an 8.8 out of 10. Anand Lal Shimpi over at AnandTech was heavily impressed by the innovation that went into the 64 bit A7 processor.
However, one thing remained fairly consistent about the reviews. Almost every Apple iPhone 5S product review hinted some sort of disappointment over the size of the screen. Apple, unlike its competitors, doesn't seem to be concerned over the form factor at 4 inches. The iPhone 5S feels extremely small compared to my Samsung Galaxy S, so small I could flip the phone around my hand as if it were a pencil. Plus, the iPhone 5S is ridiculously light when compared to my Samsung Galaxy S3. The iPhone 5S is made of a high quality metal and glass exterior, which has way more sex appeal when compared to the plastic covers found on a Samsung Galaxy S3 or S4.
This next generation of iPhone included a fingerprint sensor, a larger aperture camera, better battery management using a co-processor, 64-bit A7 processor, plus an iOS overhaul. Sure, it's not like we saw a transition that was as powerful as the move from iPhone 3S to 4, but at least the iPhone 5S was enough to keep the mob of Apple lovers coming back for more. Currently, every model of the iPhone 5S is completely sold out online.
In addition Apple released the iPhone 5C. The device is similar to the iPhone 5S, but is differentiated enough to be called an entry-level iPhone product. The iPhone 5C doesn't come with a fingerprint sensor, uses the original iPhone 5 camera, and runs the A6 processor. So it's about the same as the iPhone 5, but comes in a plastic package. Plastic is the new low-end, and hopefully Samsung (OTC:SSNLF) gets with the program, and attempts to release a metallic phone, like HTC did with the HTC One.
On the other hand, Samsung gets away with a plastic exterior by mass producing phone/tablets, or what some call a phablet. In fact, Samsung's overly humongous screen cannibalizes the demand for smaller tablet devices in the Android ecosystem.
In recent quarters, Apple had a hard time sustaining demand for tablet devices. This is why Tim Cook is a little hesitant to release an iPhone with a 4.5 to 5 inch screen. If I were in Tim's position I would want to give the iPad Mini enough of a market to grow in. Releasing a phone with a bigger screen may end up cannibalizing the demand for the iPad Mini.
The iPhone 5C looks to be a serious success. As of September 22, the supply for iPhone 5C is completely depleted on Apple's website. Furthermore, Apple was able to raise guidance for the full quarter on September 23rd reassuring investors that Apple will be able to reach the top end of the guidance range. Going forward, we can only imagine even further green shoots in international markets. But, before we get too excited, let's re-examine some fundamental characteristic of the business.
Currently, Apple has been struggling to grow revenue. This was because Apple's release of a low-end, low-margin tablet device (iPad Mini). The device was aimed at keeping lower-end devices from taking away market share. The primary culprit would be Samsung's Galaxy Tablet, and the Amazon Kindle Fire. The flattening gross margins had an immediate impact on revenue. After all, a mark-down on price will have to be offset with greater unit sales. We haven't seen unit sales for the iPad Mini grow enough to offset the cannibalization of the larger iPad device. On the upside, the iPad Mini 2 is expected to be released in a couple more weeks, according to CNBC. Things may turn around for the tablet division, as pent-up demand for these devices should be able to boost unit sales.
Demand for digital content continues to grow at a feverish pace (25% year-over-year growth in the third quarter). Many have argued that if Apple loses market share, it could lose the support of the developer community. In response to retaining market share, Apple released a low-end tablet and smart phone device. That way it can maintain the growth of the Apple user community, and at the same time capture a larger percentage of the total addressable market in emerging economies.
In conclusion of this section, the market for tablets is being invaded by larger form factor smart phone devices. In response to this changing market dynamic, Apple has opted to keep the iPhone at a four inch form factor. Going forward, Apple's growth will be heavily dependent on whether or not it can effectively rollout its iPhone 5C in mainland China and India. Apple reported a 14% year-over-year decline in Greater China sales. Given enough time, the tables may turn in China. The good news is that the Chinese upper-class already acknowledges the Apple brand. Even so, winning the top 1% of China is hardly anywhere near close to success. With Apple tying up the loose ends for a deal with China Mobile (NYSE:CHL) (China's largest carrier), things could brighten up for the good folks at Cupertino.
Forecast
Here comes the juicy part of this research note/report/article, whatever you want to call it. The forecast is proprietary and part of the reason why I keep it that way is because I haven't figure out a way to come up with a short-hand way to represent the hundreds of calculations I make over the course of the algorithm. Plus, the mathematic notation for some of the stuff I do doesn't even exist.
I'm going to offer an upper and lower-bound representation of where prices may go. In the past, I only offered one price for every time frame. But, upon further testing, I found that the price targets were only right for a single moment in time (maybe Nano-seconds), and didn't offer an exact range for how the stock would trade for the whole duration of a year. So while I may offer a price, it often gets pierced and tends to stay above or below it for extreme amounts of time. After all, markets aren't set in stone, they fluctuate, so as a result, I have altered the way I calculate equity prices to include the fluctuating nature of equity markets.
I'm willing to assume low single digit growth rates over the short-term, with a longer-term assumption that growth will compound at a 16% rate. I believe that Apple will at some point generate revenue growth that will be similar to the projected unit growth for smart phones. Furthermore, disruptive products along the way will add to the company's long-term growth rate, meaning that the EPS forecast will be a conservative one. I am willing to give smart phones 20 years before they become obsolete, implying that I anticipate stagnant/declining growth rates after the year 2030. Given the fact that the first personal computer was first introduced in the early 1980s, and eventually stagnated by 2012, 20 years is a reasonable number to work with. After all it took 40 years for the original tower computer to become obsolete.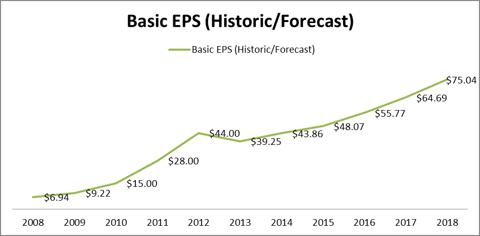 Click to enlarge
Over the past five years Apple has been able to consistently grow earnings. However, in 2013 the company started to struggle due to product cannibalization, competition, and lack of a new product category. However, going into fiscal year 2014, I anticipate a bit of a bump in its earnings per share because of a potential deal with China Mobile.
Over the past year, the iPad Mini caused gross margin figures to drop, but given enough time, the iPad Mini will offset the drop in gross margin with additional unit sales. The same effect will most likely occur with the iPhone 5C.
For the market of tablet and smart phone devices to sustain growth at astonishing rates it would be wise to anticipate that despite the hit on margins the two aforementioned devices will have, given enough time, the net earnings will eventually stabilize and grow. I expect normalization of earnings per share by the end of 2015. Following that, I expect the earnings per share figure to grow to new all-time-highs by the fourth quarter of 2016. It would take until the fourth quarter of 2016, because of the release cycle of next generation iPad and iPhone devices in the 3rd or 4th quarter.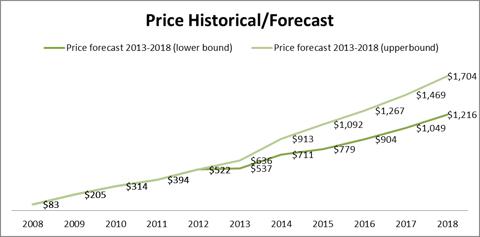 Click to enlarge
Currently my price target for Apple is $537 to $636 for calendar year 2013. At the time of writing (September 29th), Apple trades at $482.75. I believe that by year end, Apple stock should be able to appreciate by 11.24% to 31.74%. However, for the valuation to reach the upper-end of the spectrum, the company would have to post some fairly phenomenal earnings, which would alter investor sentiment drastically enough to cause a late-year price surge.
Given the boost in guidance and the so-far decent success of the iPhone 5S, the value of the stock has been able to improve, albeit modestly over the past week. New products may not necessarily have as much of a hoped for impact until calendar year 2016, which makes me a little conservative on my expectations. I expect 2014 will be a much better year for Apple investors due to earning per share stabilization due to share buybacks, and improving unit sales of its low-end products. Investors should anticipate profit margins to continue to decline, but at the same time expect revenue growth to outpace the decline in margins, going forward.
Conclusion
After reading this abnormally long article, I first want to congratulate you for your patience, and second I hope to have accomplished my goal of writing a compelling thought piece for the Seeking Alpha community.
The technical analysis indicates that the stock could be in for a long-term up-trend. Fundamentally speaking, Apple is undervalued just by looking at the amount of assets on the balance sheet. Assuming investors continue to pile into the stock market, it will only be a matter of time before the price of the stock reflects the fundamentals. More importantly though, the price of the stock is heavily dependent on whether or not Apple can compound its earnings growth. In this instance, I believe that Apple will resume earnings growth by 2016, and this will in turn push the valuation back over $700 per share (basically its all-time highs).
Some things have me a little concerned going forward, however. I believe that Apple's high margins could be hit if a global coalition were formed against tax havens. This would drastically increase the cost of taxes on Apple's income statement, which would reduce the amount of cash returned to shareholders.
Others have pointed out product obsolescence as another reason for concern. I, on the other hand, find this to be a negligible risk factor as wearable computing doesn't have enough utility to cannibalize smart phone devices yet. I also want to add that it took 40 years for the first tower PC to stagnate due to a disruptive product category. So while I'm not willing to time an exit on smart phones based on the 20 year outlook I have, I am also smart enough to realize that product obsolescence is not likely over the next five to ten years.
In summary, the conclusion has been simple all along: buy Apple. The phone is cool too, so buy that as well.
Disclosure: I have no positions in any stocks mentioned, and no plans to initiate any positions within the next 72 hours. I wrote this article myself, and it expresses my own opinions. I am not receiving compensation for it (other than from Seeking Alpha). I have no business relationship with any company whose stock is mentioned in this article.