The House and Senate have been unable to reach an agreement over a bill to fund the government and avoid a shutdown, and with that said we wanted to focus upon areas within the stock market to buy on this dip that many are expecting. We want to be buyers of quality names who are operating at the top of their game and can be considered among the generals within their sector or the general market. Those names usually avoid the biggest blows and tend to lead the way higher once the storm has cleared.
There is no need to get greedy, we want to stress that this could be a multi-day event and that one needs to pick their entry points judiciously while also spreading out their buys over two to four transactions. Buy in increments of half or quarter positions just incase this gets uglier than the politicians are indicating right now.
Chart of the Day:
This chart only shows the Federal debt through the end of 2012, but the picture it paints tells the story of why we are where we are. In recent years the deficits have gotten out of control due to two wars, increased spending on social programs and tax revenues falling due to a major economic recession. Lowering spending would help, but so too will a good economy as tax revenues reinflate and more workers pay taxes because they have jobs or find better jobs.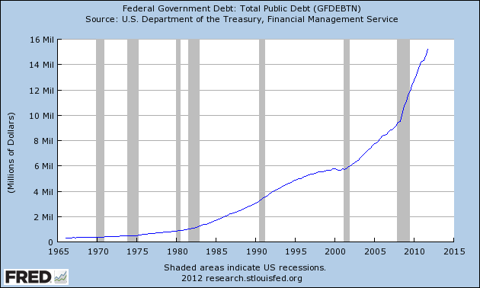 Source: FRED
We have economic news today and it is as follows:
ISM Index (10:00 a.m. ET): Est: 55.0
Construction Spending (10:00 a.m. ET): Est: 0.4%
Auto Sales (2:00 p.m. ET): Est: N/A
Truck Sales (2:00 p.m. ET): Est: N/A
Asian markets finished mostly higher today:
All Ordinaries -- down 0.22%
Shanghai Composite -- CLOSED
Nikkei 225 -- up 0.20%
NZSE 50 -- up 0.16%
Seoul Composite -- up 0.10%
In Europe, markets are also mostly higher this morning:
CAC 40 -- up 0.65%
DAX -- up 0.47%
FTSE 100 -- down 0.46%
OSE -- up 0.13%
Technology
With the government shutdown and no one knowing when we will get back to business as usual here in the United States, we think that the areas to focus on in the technology sector are those companies which have proven in recent quarters that they have the lead in monetizing the mobile web. Chief among them is Facebook (NASDAQ:FB) and, to a lesser degree, Baidu (NASDAQ:BIDU) which has exposure to China and is clearly in the lead there as it pertains to mobile advertising. Historically these dips have been good long-term buying opportunities and outside of the government shutting down due to political reasons, what has changed since these companies last updated investors? Not a whole lot, and certainly not anything negative which would impact either company's shares. We like these names here on a pullback and would focus upon these generals of the most recent tech rally in order to potentially capture outsized returns as the market rebounds.
Most people are talking about Facebook right now, but there is a bull market in the Chinese internet stocks as well and Baidu is one of the names leading the charge. It is up over 55% since we first highlighted the name.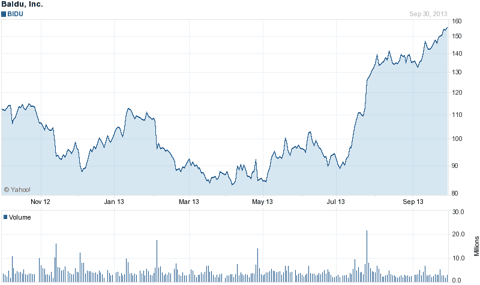 Source: Yahoo Finance
With the potential Alibaba IPO coming down the pipeline in the next few months we think that regardless of what happens today that all internet stocks are poised for a bounce on that action. Particular attention should be paid to the Chinese names such as Baidu ahead of that event as investors will look for various vehicles to play the highly anticipated IPO.
Biotechnology
We have constantly highlighted the biotechnology sector this year as the index has outpaced the market and we have seen numerous big drug approvals and nearly as many big deals reached (both M&A deals as well as joint ventures). Rising through all of this has been Celgene (NASDAQ:CELG), which recently crossed the $150/share threshold. We made the mistake of checking out of the stock earlier in the year as we called an intermediate high and walked away for a while, but over the past few months have been bullish again. Any pullback due to investor pessimism relating to the government shutdown should be viewed as a gift as this is one of the must own names within the biotech sector. The company has some great offerings and looks poised to dominate in its focal points for years to come, but if investors are worried about the risk associated with owning just one company within the sector then we would recommend the iShares Nasdaq Biotechnology ETF (NASDAQ:IBB) or the SPDR S&P Biotech ETF (NYSEARCA:XBI). The iShares Nasdaq Biotechnology ETF has a good bit more liquidity and gets you exposure to a wider spectrum of names, but the SPDR S&P Biotech ETF is focused upon larger names. Either way, we are buyers on dips and think that the sector offers gains to both our readers focused on long-term gains as well as those looking for short-term ideas.
This chart should help investors visualize the risk/reward these names offer. We are bullish the sector, but it all boils down to how much risk one is willing to take here.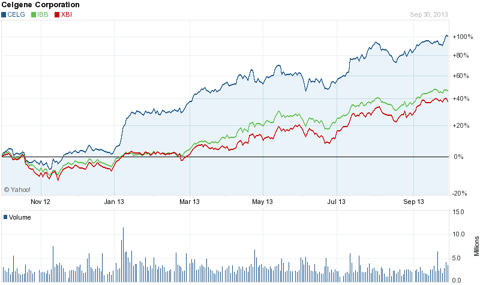 Source: Yahoo Finance
Disclosure: I have no positions in any stocks mentioned, and no plans to initiate any positions within the next 72 hours. I wrote this article myself, and it expresses my own opinions. I am not receiving compensation for it (other than from Seeking Alpha). I have no business relationship with any company whose stock is mentioned in this article.