It has been 2.5 years since I first, somewhat reluctantly, took the helm of our investments and about half that long since I began to investigate dividend-growth investing. This quarter represents significant milestones for us and the portfolio.
The only purpose for my investing is to create a growing income stream, allowing us to live in retirement from the income of the portfolio, without needing to withdraw the principle of our investments for living expenses. In order to achieve this goal, I have quarterly targets of contributions, growth, and income from dividends that I expect the portfolio to generate, on average.
For the past year, after each quarter, I have adjusted the spreadsheet to reflect the current balance, and it tallies from now until retirement, making the same average assumptions of contributions, 5% in annual share price growth and 4% in annual income from dividends. It is amazing the difference in the end result a few thousand dollars now makes over 20 years, and the numbers continue to be very encouraging.
Milestones
1. My husband is 16 days older than I am. He is certain that this makes him significantly wiser, considering all that one learns in those first weeks. Regardless, we both turned 45 this quarter. Yikes! That means there is officially fewer than 20 years left until retirement. Of course, exactly when one actually retires can vary greatly, and hopefully is under one's control, but I admit to some panic at the realization it's no longer more than years until we may need the income from our portfolio. I am keenly aware of the need for our portfolio to grow, as well as how quickly the time can go, and find myself increasingly urging the younger generation to make saving a priority.
2. The portfolio received its 100th dividend this quarter, from Cineplex Inc (OTC:CPXGF) or [TSE:CGX] Yeah! The very first dividend the portfolio received was the newly reinstated Ford Motor payment, before I had heard of DGI.
3. In the first quarter, the portfolio breached the $100,000 mark, a very exciting prospect since 2.5 years ago it was under $10,000. This quarter the registered retirement account breached that milestone on its own, even without any contributions. It is actually possible our portfolio could double for the fourth time, just within this year. (Though I do not know how likely that will be, do not really have the expectation that it will, and in no way will I feel I have failed if it does not double until spring).
I really enjoy celebrating each tiny milestone of progress and it drives home yet again, that benchmarking to anything but your own goals and needs is foolishness for a self-directed dividend-growth investor. Would you consider my progress a failure just because my total return rate did not match the return of an index?
How are we doing on our goals?
Speaking of benchmarking; Despite a flexible end-game goal, I do have specific quarterly targets for contributions, dividends and growth expected in the portfolio each quarter and no update would be complete without comparing to your goals.
Due to a car accident our contributions were suspended for the entire quarter. Fortunately no one was critically injured and all will fully recover, with time. This event exemplifies a primary and very real risk to the success of our portfolio: the inability to contribute the planned contributions, which are fundamental to meeting our goals. Since I knew how difficult our substantial contribution plan would be to execute, and how helpful an influx of cash could be, I included some extra strategies in the plan to help shore up portfolio value in case of such an event.
Some of these strategies include:
-using special account treatments to the best tax advantage,
-maximize retirement fund contributions to create a tax windfall, and
-purchase rental property with borrowed funds, which pays its own expenses to create future windfalls for the portfolio, when sold.
I did not expect an event that would suspend our contributions would come quite so quickly in our young portfolio's lifetime, but that only serves to demonstrate how precarious life is. We had the option of replacing the totaled 2005 Civic with something that would not have required additional funds, leaving our contributions intact but decided to take the opportunity to upgrade. Though he spent the last six months test driving dream mid-life-crisis cars, hubby settled on a comfortable 2012 Jetta. Thanks to using the above mentioned tax windfall strategy, which approximated our entire year's contributions, the portfolio remains on track while our contributions should be able to restart next month.
As is typical, growth over the summer months has been paltry and not met targets. However, growth for the first quarters exceeded the annual target, so the portfolio is still on track.
The lack of contributions has affected our quarter-over-quarter dividend growth more than anything else. I was expecting growth of dividends of 30%+ (last quarter's dividends were 38% more than the previous) but this quarter I will have to be content with 23%. I view this as a bit of a warning. This reflects not only not having the additional funds to invest, but also decisions made in the previous quarters to buy companies with price appreciation and higher dividend growth instead of dividend yield as their primary function. A quick glance at the portfolio shows a higher percentage of funds allocated to these types of companies. This is why I continue to include the term 'transition' in the title of this update. As my portfolio grows, so will my understanding of what core dividend growth companies look like and how much should be allocated to secondary positions. Meanwhile, I am still waiting for an advantageous entry point for several of my hoped for future core positions like Walgreen (WAG), General Mills (NYSE:GIS), Proctor & Gamble (NYSE:PG) and Colgate-Palmolive (NYSE:CL). It is appropriate for a portfolio with a longer time horizon to contain some of these names, but maybe not quite so many.
Activity this quarter
Without contributions this quarter my purchasing slowed down dramatically. Conveniently, before that happened, I had a renewed focus on learning to more fully evaluate companies and discussed that in my Flight to Quality article. Most of my actions this quarter relate more to focusing on evaluating the companies I already have and taking advantage of buying opportunities in them.
Enbridge (NYSE:ENB) has been one of my longest holdings, about 2 years now. I sold half of my very large position in January, and in April another half just over $46, (still own 1/4) as I felt the stock price had run ahead of the company. The FAST Graph demonstrates this clearly. Keyera Corp. (OTC:KEYUF) or [TSE:KEY] also an energy infrastructure name, owned for one year, shares a similar FAST Graph. For safety reasons, I sold KEY at $61 and moved the funds sideways into a similar company, Inter Pipeline Ltd. (TSE:IPL) at just under $23. It is a much smaller company, but is a favorite among Canadian analysts.
Enbridge and Keyera will once again become core names, once the share price is more reflective of fundamentals. Though the share prices of the large pipeline companies have fallen, the valuations have not been righted enough for me to consider moving back. Meanwhile I am earning a larger dividend with Inter Pipeline Ltd (ENB div: 2.9%, KEY div: 4.15%, IPL div: 5.12%) and have enjoyed a small share price increase. Additionally there has been a recent dividend raise. On September 3, Inter Pipeline Fund converted to a Ltd company. On September 9, IPL announced the September dividend (ex-div Sept. 19, payable about Oct. 15) raised from 9.5 cents per share to 10.5 cents per share, about a 13% increase (annually from $1.14 to $1.29). It sounds like we will have a positive future together, but the outsized position, my second largest, has me watching carefully for the time to move back to the larger names. The comforting long-term chart, FAST Graph and monthly dividends are encouraging.
Keyera FAST Graph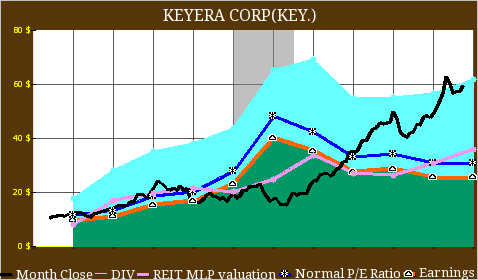 Inter Pipeline FAST Graph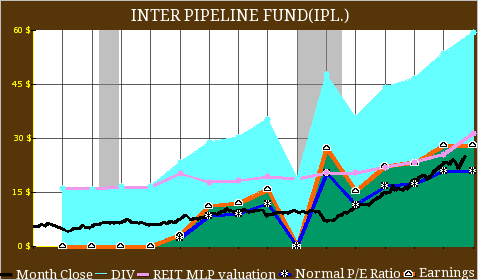 ALA and FTS
Selling Altagas (OTCPK:ATGFF) or [TSE:ALA] reflected my own misunderstanding about the company itself, as I purchased it as a 'utility', and that is only a part of the business, but I am not disappointed in my actions, as not understanding a company is a good enough reason to not own it. Industry analysts are extremely positive about Altagas, but I am obviously missing something with this company and do not see the future strength of this company reflected in the current fundamentals. In order to have at least one utility I allocated half of the sale towards Fortis (OTCPK:FRTSF) or [TSE:FTS], one of the most respected utilities in Canada. However, with a rising interest rate environment (which is why I purchased such a small position in FTS), and potential tax loss selling for mutual funds affecting the share price, I am reevaluating holding this company. I am thinking of selling as it is hanging around my purchase price, saying "thank you" for the one dividend payment and moving on to better opportunities until the utility sector is more in favor. Since I would not recommend this stock to anyone, I am wondering why am I still holding it. I doubt it will be on the books for the next update. What are your thoughts for the hammered utility sector?
Visa
When the court case for Visa's (NYSE:V) fees hit the evening news, I sold my position first thing in the morning for an 18% gain. I was sure the stock would take a temporary hit no matter what the decision, and I expected to buy back at a lower price. This is a stealthy strategy I have successfully employed to increase dividends in the past, increasing shares without needing more funds. However, several days later the stock price was still climbing after an impossibly shallow dip, so I repurchased my shares at a higher price. The very next day started the price drop I was expecting. If nothing else, it proved I was correct. The only costs for this action were a couple percent of gain lost but I learned yet another valuable lesson. The only problem is that I am not yet entirely sure which lesson it was: "Don't game your system." or "Don't second guess your decisions, but give them time to play out." What do you think?
Other actions
I took the opportunity of the interest rate and tapering scare to deploy the rest of the proceeds from my Altagas sale to double my holdings in Bell Media (NYSE:BCE) as planned. Bell and Telus (NYSE:TU) are core holdings for Canadian dividend investors and I waited for the second bounce to jump in.
I also took the opportunity to double positions in the two largest Canadian REITs, RioCan (OTCPK:RIOCF) or (TSE:REI.UN) and H&R REIT (OTCPK:HRUFF) or (TSE:HR.UN) as well as, very recently, Johnson & Johnson (NYSE:JNJ).
I had been debating between Wal-Mart (NYSE:WMT) and Walgreen for several months while examining the companies and waiting on an entrance point. I finally decided: Both! WMT was the first purchase.
Current Portfolio
| | | |
| --- | --- | --- |
| Company | Symbol | %of Portfolio |
| McDonald's | MCD | 8.47 |
| Inter Pipeline | OTCPK:IPPLF | 6.38 |
| Ford Motor | F | 4.49 |
| Canadian Na. Rail. | CNI | 4.40 |
| TD Bank | TD | 3.92 |
| Johnson & Johnson | JNJ | 3.78 |
| Bell Media | BCE | 3.74 |
| Agrium | AGU | 3.69 |
| Enbridge | ENB | 3.63 |
| Visa | V | 3.37 |
| Coca-Cola | KO | 3.35 |
| Crescent Point Energy | CSCTF.PK | 3.29 |
| Western Union | WU | 3.25 |
| Chevron | CVX | 3.21 |
| Cineplex | OTC:CPXGF | 3.08 |
| RioCan REI | OTCPK:RIOCF | 2.99 |
| Telus | TU | 2.92 |
| Royal Bank | RY | 2.81 |
| AFLAC | | 2.71 |
| H & R REIT | OTCPK:HRUFF | 2.65 |
| Scotiabank | BNS | 2.50 |
| Textainer Group | TGH | 2.32 |
| Philip Morris | PM | 2.29 |
| Intel | INTC | 2.02 |
| Walmart | WMT | 1.95 |
| Fortis | OTCPK:FRTSF | 1.32 |
The summer and my fabulous extended vacation to visit my family is over. I am back watching the markets being buffeted by many macro economic factors. However, after the research, I feel much more confident in the companies I am holding, and have written action plans for those I plan to ditch at an appropriate time.
This quarter, I have learned not to be in such a hurry to purchase more and varied companies, but focus on what I have, take my time, and not second guess myself too quickly. Meanwhile, I am still sitting on about a comfortable amount of cash awaiting deployment. My only regrets are not buying more WMT, or initiating a position in WAG on their end-of-August dips, but who knows, maybe there will be an October lull.
Let the contributions, and purchasing continue!
Disclosure: I am long F, ENB, CNI, TGH, CSCTF.PK, CVX, JNJ, TD, RY, BNS, V, WU, AFL, KO, MCD, PM, OTC:CPXGF, INTC, BCE, TU, OTCPK:RIOCF, OTCPK:HRUFF. I wrote this article myself, and it expresses my own opinions. I am not receiving compensation for it (other than from Seeking Alpha). I have no business relationship with any company whose stock is mentioned in this article.
Additional disclosure: FAST Graphs used by permission from Chuck Carnevale.