We were quite surprised to see investors pile into the oil names ahead of this government shutdown, but it appears to us that it was the smart money rotating into names that should experience less of a pullback should the ongoing negotiations in Washington reach a gridlocked status. Volatility is a hedge fund manager's best friend, and in reality it can be both a trader's and buy and hold investor's best friend too if utilized appropriately.
So with many figuring that a government shutdown would result in a major pullback, we want to focus this morning on some of the names we think readers should be focusing on snatching up should the markets head lower because of Congress's inability to arrive at a deal. Many of these names have been big winners with charts that have simply gone straight up, so an artificial pullback is an ideal buying opportunity.
Currently the futures are higher, but this is our list in preparation for a pullback.
Also of importance is that the US Dollar Index did in fact hit a new 52-week low earlier this morning, but has since recovered and is trading above 80 again. We continue to watch that measurement.
Chart of the Day:
We have been bearish of RBOB Gasoline since its highs, but we are seeing it fall far below where we anticipated it would settle. The three-month chart paints a disappointing picture for anyone who is bullish gasoline.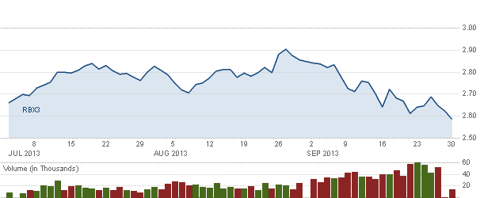 Click to enlarge
Source: CNBC
Commodity prices this morning are as follows:
Gold: $1291.30/ounce, down by $35.70/ounce
Silver: $20.74/ounce, down by $0.968/ounce
Oil: $101.47/barrel, down by $0.86/barrel
RBOB Gas: $2.5936/gallon, down by $0.0346/gallon
Natural Gas: $3.631/MMbtu, up by $0.071/MMbtu
Copper: $3.267/pound, down by $0.056/pound
Platinum: $1380.30/ounce, down by $32.10/ounce
Oil & Natural Gas
A LNG Play
Long-time favorite Cheniere Energy (NYSEMKT:LNG) hit a new 52-week high yesterday of $34.55/share before backing off a bit before the close. This has been a big winner for readers and as natural gas prices continue to remain low while foreign natural gas prices remain high it stands to reason that the company shall continue to attract investor capital and have its shares bid up. We have used the company over the years to show us where exactly the market was headed as it has been a risk-on stock in the past and led the way...both higher and lower. The price action yesterday indicates to us that the top names in the oil and natural gas E&P sector might be headed higher before they move lower, but this is a name to watch for guidance and a possible trade.
Two Names in the Permian That Look Attractive
One of our favorite long-term plays right now is Rosetta Resources (NASDAQ:ROSE), a stock which we have successfully led readers in and out of as it has traded within the $40-50/share range over the past year or so but have since recategorized as an investment rather than a trade. We have always liked the management team, and its most recent move paves the way for further upside in the shares now that the company has a second quality play to develop. That may turn out to be an understatement moving forward because that Permian acreage is mostly in the Delaware Basin, a very promising prospect according to numerous sources within the industry. If that purchase of acreage turns out to be half as successful as the Eagle Ford assets it purchased, then Rosetta Resources has some room to run. The company did a secondary to pay for the Permian acquisition, but we think that after the most recent consolidation that this stock is poised to head higher with minimal sell-offs caused by profit-taking.
Every move sideways has been a time to accumulate, the most recent sideways action is the result of some negativity coming from analysts, so it could be setting us up to climb a newly constructed wall of worry. We are watching this one closely.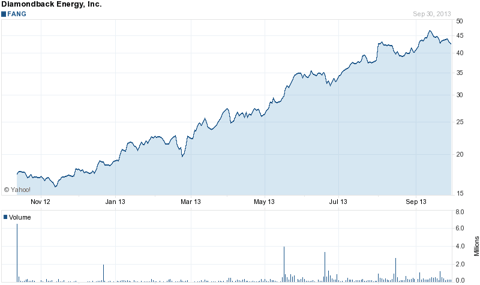 Click to enlarge
Source: Yahoo Finance
Also in the Permian Basin is Diamondback Energy (NASDAQ:FANG), which has had one of the more spectacular runs post-IPO of any E&P play we can remember in recent history. The run has been fueled by the rise in oil prices, success in its exploration programs and an ability to keep the balance sheet clean thus far. Recently the shares have run into a bit of a rough patch as one analyst lowered the rating on the company to a 'Hold' from a 'Buy' and basically stated the opinion that Diamondback's acreage might not be the cream of the crop or that it needed to work on the drilling techniques in order to deliver results more in line with some of the top producers in its play. This name has been on a tear, but with the most recent pullback due to analyst comments and the potential for further pullbacks if the politicians in Washington cannot work out a compromise, we think that the company's shares could very well fall into a very attractive buying range in the not-too-distant future.
With a Multi-play Company Expecting Good Results
Carrizo Oil & Gas (NASDAQ:CRZO) is a name we have had our eye on, and when we were set to write about it Jim Cramer had the CEO on his 'Mad Money' television show so we decided to revisit the name later. Well the shares have been strong ever since, taking part in this industrywide rally caused by rising oil prices and speculation on merger and acquisition activity. The reason we like Carrizo is because it has exposure to multiple plays across the country with excellent economics.
The move higher here over the past 11 or so months has been relentless and really a thing of beauty. Every pullback has been a buying opportunity, so if you see one it might be best to take advantage of it.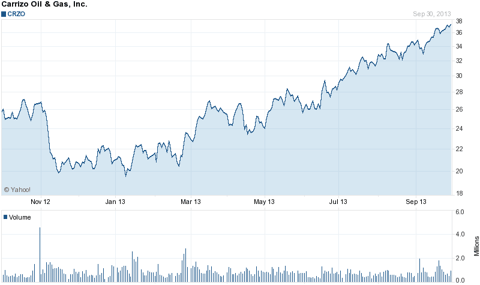 Click to enlarge
Source: Yahoo Finance
Our focus is mainly on the Eagle Ford, Utica and Marcellus shale plays with the belief that the Utica could provide significant upside for the company over the next 12-18 months if what we believe to be true about the southern portion of the Utica holds true. Recent results from other companies point to the southern acreage holding the potential for strong production and if Carrizo's acreage turns up the same type of results we think that 20% upside is possible. This is another one of those long-term plays in the sector.
A Play on the Bakken, M&A
With large European names scouring North America's most prolific shale plays, it has been our opinion that the Bakken, Eagle Ford or Utica would provide the target for these desperate buyers. Oasis Petroleum (NYSE:OAS) has provided investors with some excitement as it has continued to consolidate the play, but in doing so it has also forced investors to consider whether the company has made itself more of a takeover target or less so. It is a tricky question, but in our experience in the commodity business it appears to us that the company has only increased its attractiveness to larger suitors and possibly could bring names to the table that previously would not have been interested. A $100 billion market capitalization company does not want to waste the resources to purchase a $1-2 billion market cap company, but a $4-6 billion market cap is far more attractive.
Disclosure: I have no positions in any stocks mentioned, and no plans to initiate any positions within the next 72 hours. I wrote this article myself, and it expresses my own opinions. I am not receiving compensation for it (other than from Seeking Alpha). I have no business relationship with any company whose stock is mentioned in this article.
Additional disclosure: Author does own GPOR, which owns shares in FANG.