Caterpillar (NYSE:CAT) is down 17% since reaching a 1-year high in February 2013. In July, the world's largest manufacturer of mining and construction machinery reported a disappointing Q2 2013 EPS of $1.45 down from $2.54 last year: a minus of 43%. More importantly, analyst consensus estimates of $1.70 a share were underperformed adding to already high levels of uncertainty and anxiety in the mining industry. The decline in share might offer an opportunity to anti-cyclical investors who believe Chinese GDP growth will return to the long-term trend line.
Thesis
Shares of farm and construction machinery companies have contracted over the last two years when signs of a slowing Chinese economy became apparent. Since then all players across the mining industry from Peabody Energy (BTU) to Freeport-McMoRan (FCX) and Barrick Gold (NYSE:ABX) are feeling the pinch: Mining projects are shelved, capital expenditures are adjusted, cost saving programs are initiated and a strategy of share buybacks is executed. You have to offer the shareholder something if the market does not allow you to deliver. The theme of creating value for shareholders through internal measures is likely to continue for a few quarters before improving macroeconomic data could boost stock prices of the entire mining and construction sector. Restructured companies such as Caterpillar will emerge leaner and with a more competitive cost structure once China rebounds. Caterpillar's CEO and Chairman Doublas Oberhelman indicated on CNBC a few month back that Caterpillar's current focus is cost reductions.
Famed short-seller Jim Chanos, founder and managing partner of Kynikos Associates, revealed a short-position in Caterpillar earlier this year as he expects capex adjustments to cut deep into Caterpillar's profitability. His short thesis is also driven by Caterpillar's greater dependence on the Chinese construction sector as the company derives more than 60% of its revenues outside of the United States. Caterpillar's short thesis falls with a rebound in commodity prices and economic activity in China similar to the resurgence of the mining sector in 2008/09.
Lower share prices are not only hurting Caterpillar. Deere & Company (NYSE:DE), a superbly run farm and construction machinery company with impressive free cash flow growth, is also hurting. While Deere is less dependent on the Chinese market than Caterpillar in terms of revenue generation, Caterpillar represents a leveraged play on a Chinese construction rebound.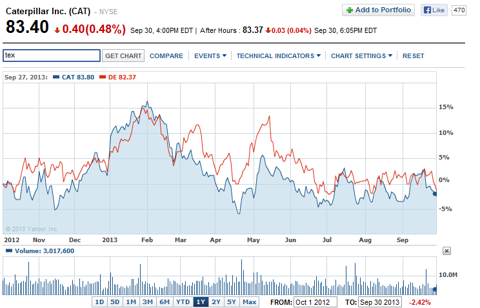 Lower profitability already priced into shares
The market currently assigns Caterpillar a forward earnings multiple of 11.56. Caterpillar has corrected its revenue and EPS estimates for 2013 in July 2013: Revenues are expected to decrease to $56-58 billion compared to $65.9 billion in 2012, driven by a reduction in dealer machine inventories. 2013 EPS is projected somewhere around $6.50 per share giving the stock a 2013 P/E ratio of 12.83.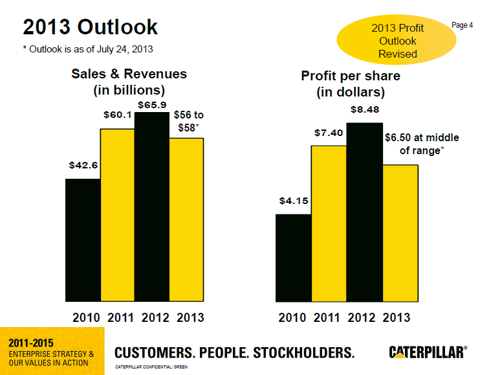 Even with a revised sales and profit outlook Caterpillar can be an interesting investment. Despite battling inventory problems Caterpillar is still the world's largest manufacturer of earth moving equipment with global operations. The cyclicality of Caterpillar's business model is not new information. The table below indicate that the sector group consisting of Caterpillar, Deere and Terex (NYSE:TEX) trade at fairly reasonable multiples compared to each other and their respective fundamentals. Caterpillar fetches only slight premiums to Deere and Terex based on P/E and P/S ratios.

Shareholder remuneration
Investors also get a 2.88% dividend and gain via an ambitious share buyback plan that helps to support the share price. Caterpillar purchased $1 billion of shares in Q2 2013, and I expect the same amount to be have been deployed in Q3 2013. The share buyback program leaves another $1.7 billion in authorization, which I expect will be deployed in Q4 2013 and Q1 2014.
Conclusion
The mining sector in general faces unusual amounts of uncertainty due to a slowdown in key market China. One cannot expect that the leading manufacturer of mining equipment will escape those developments and occasional mistakes in inventory forecasts occur. However, inventory management issues are much less severe than a lack of product acceptability. While being active in a cyclical industry, Caterpillar's products are still sought after by all major mining companies. At the end of the day, Caterpillar delivers world class products that have solid market acceptance.
Cycle-driven demand swings are part of Caterpillar's business and the company can react quickly with capex adjustments to faltering sales figures: Caterpillar has actually proven it can do so at the beginning of the financial crisis in 2008/2009 when pessimism about future economic prospects peaked: Caterpillar's shares quoted at $23 in March 2009, and managed to climb to $115 a share in April 2011. A plus of nearly 400%.
Caterpillar's high reliance on China makes shares in the company a leveraged play on a rebound in China's mining industry. Anti-cyclical investors who believe in a rebound of economic activity might want to take a closer look at Caterpillar. Share repurchases and dividends backed by strong operating cash flow limit the downside risk.
Disclosure: I am long DE, CAT, FCX. I wrote this article myself, and it expresses my own opinions. I am not receiving compensation for it (other than from Seeking Alpha). I have no business relationship with any company whose stock is mentioned in this article.