Ford (NYSE:F) is leading the U.S. automaker comeback. Recently, I penned an article stating my case for being bullish on Ford - claiming that the trend of possibly having the number one sedan in the U.S. in 2014 could telegraph new highs for the stock. Today, my argument got a nice shot in the arm.
Ford has been a great investment vehicle since 2008, when it hit its lows in the midst of the financial crisis. Since its low in 2008, Ford is up over 600%. In the short term, it's also provided 70.6% returns for those that have invested in the company over the past 12 months and 8.7% returns in the last three months.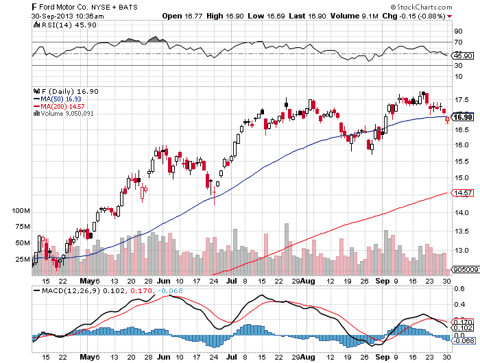 The crux of the argument in my past article is as follows:
Should the economy not deteriorate, we're likely to see a barn burner of a U.S. sedan competition in 2014. If you're betting on Ford here, you're looking for the company to achieve the "next level" of success in their comeback. Giving Camry a serious run for its money would constitute a major catalyst for both the company and its stock.

Should they find success and go number one with the Fusion in 2014, there's no doubt in my mind that Ford is going to be pressing to all-time highs for shareholders. I'm reaffirming bullish on Ford.
So, naturally, I've somewhat tied the success of the company to its short term momentum with the Fusion; the vehicle that is likely to be...well...the "vehicle" that will catalyze Ford's continued growth and success.
This past weekend, my argument got a nice shot in the arm when it was reported by the Detroit News that the Fusion could reach 300,000 sales this year - a number that trumps its previous year's production by about 25% (Fusion sold 241,263 in 2012) :
Sales of Ford Motor Co.'s Fusion midsize sedan could eclipse 300,000 this year as the automaker claws away at the lead of segment frontrunners Toyota Motor Corp. and Honda Motor Co. while still maintaining much of its pricing power.

Buoyed by the extra cars being produced at Flat Rock Assembly Plant, which should hit dealer lots sometime next month, the Fusion will assuredly set an all-time annual sales record for the model.

"Three hundred thousand sales is definitely attainable," said Alec Gutierrez, senior analyst at Kelley Blue Book, in a telephone interview. "On paper, in terms of design and aesthetics, they are on par or better than their competitors. The last piece of the puzzle was supply issues."

The Dearborn automaker is likely to have sold about 225,000 Fusions through September, according to projections. Automakers will report monthly results on Tuesday.

The previous annual record for the Fusion, which first went on sale for the 2006 model year, was 248,067 in 2011. During the past decade, the only Ford nameplate to top 300,000 annual U.S. sales on more than one occasion was F-Series pickups.
This news should be exactly what Ford bulls want to see. If you're betting on this company now, chances are that you're investing based on the already thunderous growth, and hoping for continued growth in the coming years. This news should do well to affirm that Ford has growth traction in 2013, and that they're likely to carry that over into 2014.
As you can see, so far through 2013, Fusion is on breakneck pace to beat its 2012 numbers by a significant amount.
Rank
Car
July
2013
YTD
% Change
July
2013
% Change
#1
Toyota Camry
242,406
- 0.6%
34,780
+ 16.3%
#2
Honda Accord
218,367
+ 18.8%
31,507
+ 10.0%
#3
Nissan Altima
197,321
+ 7.4%
29,534
+ 11.0%
#4
Honda Civic
191,120
+ 1.9%
32,416
+ 29.6%
#5
Toyota Corolla/Matrix
183,435
+ 4.6%
24,463
+ 3.5%
#6
Ford Fusion
181,668
+ 13.4%
20,522
- 12.0%
As contributor David Zanoni just wrote about, Ford is also bolstering their Oakville assembly plant, another nod to serious growth (even though the plant is in Canada). His full (very well written) article is here, and worth a read if you're invested in Ford. David writes:
In a response to growing global demand for fuel-efficient vehicles, Ford Motor Co. has invested $700 million in its Oakville assembly plant in Canada. The investment will increase manufacturing capacity to meet increased consumer demand in North America and beyond. New models will be manufactured at the plant with a focus on quality, fuel efficiency, smart design, and value. This investment demonstrates Ford's response to its positive sales momentum.
(click to enlarge - courtesy Ford.com)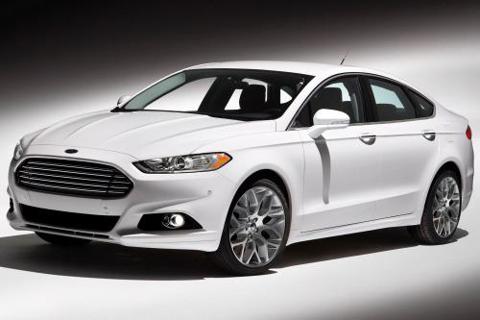 I'm not a car guy - and as I've noted in past articles, was never a Ford guy. However, that's one nice looking machine that Ford has manufactured for 2013. For the first time in years, Ford's line of vehicles look like they're ready to compete - as opposed to the early 2000's, where they looked like they were rolling off the assembly line already ready for the scrap heap.
The main risk with Ford, and all automakers, lies in overseas sales and the state of the economy overseas. Risk lies in the fact that the entire European auto market (sans Britain) is largely tied to the European economy, which is like trying to balance an elephant on the head of a pin.
However, on the heels of this new Fusion news, I confidently reaffirm my bullish position on Ford. As they continue to effectively manage their production overseas, and as they are likely to increase their dividends, I'm confident that the Fusion will continue to keep the Ford ship headed in the right direction. Best of luck to all investors.
Disclosure: I have no positions in any stocks mentioned, and no plans to initiate any positions within the next 72 hours. I wrote this article myself, and it expresses my own opinions. I am not receiving compensation for it (other than from Seeking Alpha). I have no business relationship with any company whose stock is mentioned in this article.