Royal Dutch Shell (NYSE:RDS.A)(NYSE:RDS.B) is one of the largest and most recognizable companies in the world. One of the five oil super majors, Shell does business in over 100 countries. Shell is a major player in Oil, Natural Gas, Chemicals, and Biofuels. While they have historically derived revenue from oil, Shell believes that natural gas is a key component of meeting future energy needs. With a sizable position of its energy mix allocated to gas, Shell is more diversified than many of its competitors. Shell has rewarded long term shareholders with an annual compounding rate far greater than the S&P 500. With many major projects nearing completion, this trend seems poised to continue. Shares of Shell with reinvested dividends should be a core holding in nearly any long term portfolio.
Fundamentals
Shares of Shell seem attractively valued at current prices. Shell currently trades at a P/E of 8.76 for the A shares or 9.18 for the B shares. This, in turn, gives Shell an earnings yield of 11.42% or 10.89% depending on your share choice. Shell's dividend yield is 5.48% on the Class A shares and 5.23% on the Class B shares. Management at Shell has stated that the dividend will increase as earnings increase. This is in contrast to many companies commitment to raising the dividend each year regardless of earnings changes. Shell's balance sheet is healthy as the debt to equity stands at .19 and the coverage ratio is 41.9. This ensures that Shell would be able to meet their obligations even if a catastrophic event were to befall the company.
Despite these many positives, Shell has some of the worst margins of any major oil company. While this may sound entirely negative, if Shell is successful in improving their abysmal profit margins, they can dramatically grow their EPS without any increase in revenue. Shell generated $467.9 Billion in revenue in the past 12 months. As seen in the revenue chart below, this is more than Exxon Mobil (NYSE:XOM) or any other energy company. However, comparing this to the net income chart shows the effect of Shell's poor margins. Shell's net income is less than that of BP (NYSE:BP) and Chevron (NYSE:CVX), two companies that it generates far more revenue than. Therefore, if Shell can get their margins to competitive levels, they will be the most profitable integrated energy company. Since Shell has an excellent management team in place, it is almost certain that they are searching for ways to correct their margins.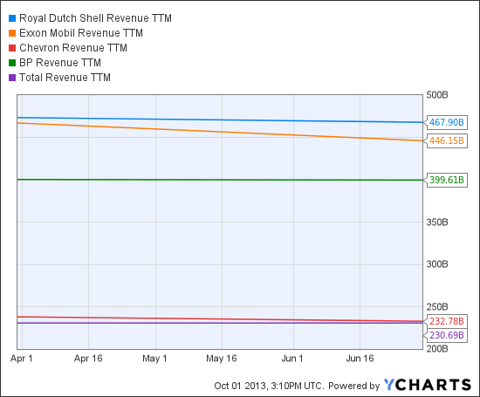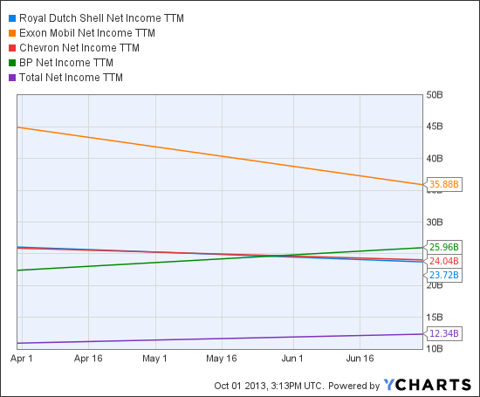 The Future
In the short term there are several negative catalysts surrounding Shell. To start, Shell's revenues are expected to stay flat for the next few years. This is because the demand for oil and natural gas is driven by economic growth and many developing countries have seen growth rates slow. However, any growth slowdown in the developing world is only temporary, and in the long run it is likely that rates return to what we are accustomed to seeing. Shell is also having difficulty profiting from some of its shale oil fields. They were recently forced to write down the value of their shale fields by $2.1 Billion. They have also announced that they intend to sell off their stake in the Eagle Ford Shale. Shell currently has around $24 billion invested in shale oil and gas. However, due to the strength of Shell's balance sheet and the scope of its operations, it will be able to endure additional write downs or losses on sale should they occur.
This short term slow down presents an excellent buying opportunity for long term investors. With short term growth prospects limited, many have lost interest in Shell. By buying now, investors will be paid a large dividend to wait until cash flow begins pouring in from projects that are currently in development. One such project is the world's first floating liquefied natural gas facility. Currently liquefied natural gas is found at sea and then transported to facilities on land where it is processed. This floating facility will reduce costs by enabling Shell to process natural gas where it is found, without the need to build pipelines. Also, this facility will allow Shell to unlock natural gas resources that would previously have been impossible to access due to the cost and environmental impact of pipelines. With the high expectations Shell has for natural gas, this project will play a key role in their future once gas production begins around 2016. Shell's has four other major projects in development. These projects are also expected to be completed by or around 2016. Shell is well positioned for higher earnings in the future.
A or B?
There always seems to be confusion surrounding the two classes of Shell stock. As a joint Anglo-Dutch company, Royal Dutch Shell has shares listed both in London and the Netherlands. The Class A shares are listed in the Netherlands and the dividends are subject to a Dutch withholding tax of 15%. Class B shares are listed on the London Stock Exchange and are not subject to a withholding tax. Class A shares and Class B shares have equal ownership rights. Determining which share class to purchase depends primarily on whether or not you plan on reinvesting dividends.
If you plan on reinvesting dividends, the best decision is to purchase Class A shares and enroll in Shell's Scrip Dividend Programme. The Scrip Programme enables RDS.A shareholders to receive their dividends in shares of Shell rather than cash. This allows investors to circumvent the Dutch withholding tax. Before purchasing the Class A shares, check with your broker to make sure they support the Scrip Programme.
If you do not plan to reinvest dividends and you hold your shares through a traditional brokerage account, you have two choices. First, you can simply purchase the Class B shares to avoid paying withholding taxes. Additionally, you could purchase the Class A shares, pay the withholding tax, and then reclaim these taxes when you file your tax return with the IRS. This option requires slightly more work, but it will boost your returns in the long run.
If you do not want to reinvest dividends and you hold the stock in a tax deferred account, you are best served by purchasing the Class B shares. You cannot recover withholding taxes from tax sheltered investments, so the Class B shares make the most sense.
To summarize, investors should buy Class A shares and enroll in the Scrip Dividend Programme unless they are holding the shares in a tax deferred account AND they do not want to reinvest dividends.
Conclusion
For investors with a long term focus, Shell is an excellent choice. It is a leader in a durable industry that will continue to churn out profits for the foreseeable future. With new projects nearing completion and margins with plenty of room for improvement, Shell seems poised for stellar returns. Management has stated that it is committed to sharing profits with share owners so increasing dividends can be expected if earnings grow. Investors looking to outperform the market for decades to come should purchase Royal Dutch Shell.
Disclosure: I have no positions in any stocks mentioned, and no plans to initiate any positions within the next 72 hours. I wrote this article myself, and it expresses my own opinions. I am not receiving compensation for it (other than from Seeking Alpha). I have no business relationship with any company whose stock is mentioned in this article.