Debt Ceiling Simmering In Background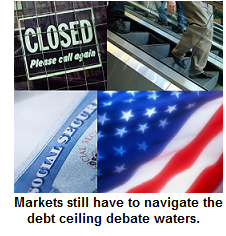 As we noted last Friday, and again Monday, the markets thus far have not been tipping a doomsday hand as the budget talks have dragged into shutdown territory. The Wall Street Journal reminds us there are still political scripts that will be followed in the weeks ahead:
Although a partial government shutdown isn't expected to last very long, uncertainty over what it might mean for the economy, and worries about continued political dysfunction ahead of talks to raise the debt ceiling over the next few weeks, has been weighing on sentiment. Colin Cieszynski, senior market analyst at CMC Markets, said a market bounce on Tuesday may not be sustainable over the short term. "We could still see quite a bit of volatility over the next several weeks, because you still have the debt ceiling talks, and that could drag on," he said. "Politics are pretty unpredictable."
ETF Leaders Open To Bullish Outcomes
The table below shows exchange traded funds (ETFs) that have established bullish trends relative to the S&P 500 on a weekly time frame. The list is not waving "convert to 100% cash" flags. We would not expect to see the Brazil Small Cap ETF (NYSEARCA:BRF), European Small Caps (SCZ) or U.S. Small Caps (NYSEARCA:IWM) outperforming the S&P 500 if market participants believed the political posturing in Washington would derail the global economy.

Small Caps Leading In Convincing Manner
If you are looking for market leaders, reviewing ETFs relative to the S&P 500 makes sense. The market's pricing mechanism told us to be open to bullish outcomes prior to the Fed's "surprise" non-taper statement earlier this month. Similarly, the recent demand for small caps provided an economic vote of confidence as of Monday's close (see chart below).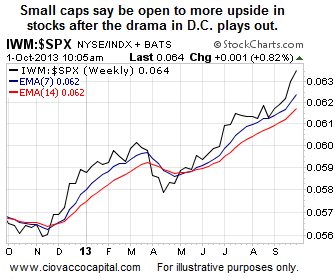 Technology Provides Second Vote Of Confidence
All things being equal, when technology stocks outperform, it sides with the risk-on case. The convincing leadership from QQQ has been in place for some time.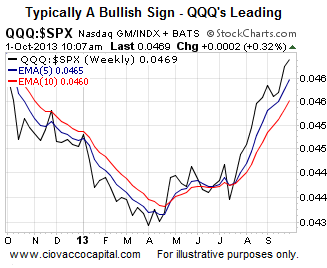 Emerging Markets Trying To Complete Turn
The most favorable conditions for investors occur when the global economy is healthy, rather than just the U.S. economy. For the first six months of 2013, concerns about economic growth in emerging economies was reflected in the weak relative performance of EEM. As shown in the chart below, EEM has seen demand pick up in recent months, which bodes well for global growth.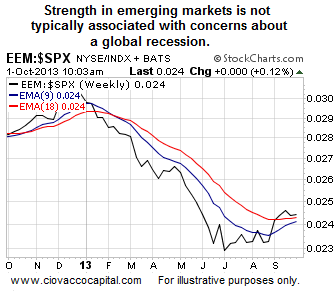 European Concerns Begin To Diminish
Despite the governmental uncertainty in Italy, the Italy ETF (NYSEARCA:EWI) appears in the leadership table above. When markets show leadership in the face of bad news, it often foreshadows better economic and political days ahead. Similarly, the EAFE ETF (NYSEARCA:EFA) has outperformed in recent weeks while concerning news continued to flow from Italy.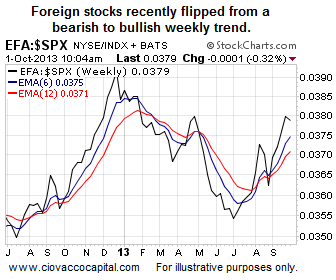 Investment Implications
We noted on September 26 the message from the ETF universe was that bullish undertones remained, even in the face of an impending budget battle. While we have to respect the upcoming debt ceiling debate may provide a catalyst for ongoing volatility, the message from the ETF leadership table above is be open to bullish outcomes in the weeks and months ahead.
Core Holdings Remain Unchanged
Our market model has recently called for a reduction of risk, which means we have increased our money market balances. However, the model has not called for hedging (NYSEARCA:SH) or adding exposure to fixed income ETFs backed by Treasuries (NYSEARCA:TLT) or a diversified basket of bonds (NYSEARCA:AGG). We continue to have exposure to broad U.S. vehicles (NYSEARCA:VTI), technology (NASDAQ:QQQ), and small caps. Our allocations also include emerging markets (NYSEARCA:EEM) and exposure to more developed foreign economies.
Disclosure: I am long VTI, IWM, QQQ, EEM, EFA. I wrote this article myself, and it expresses my own opinions. I am not receiving compensation for it (other than from Seeking Alpha). I have no business relationship with any company whose stock is mentioned in this article.