Arch Coal (ACI) is among the leading U.S. coal companies, with coal reserves of more than 5 billion tons. Lower natural gas prices, weak economic conditions and a hostile political environment towards coal usage have taken a toll on the stock price in recent years; ACI's stock is down 41% year-to-date. The ongoing tough business conditions for the coal industry are likely to prevail in the short term. However, in the long term, I believe the situation for the coal industry will improve as coal demand strengthens and coal prices recover. ACI has been taking the correct measures to pass through the ongoing tough business environment, and remains a good investment opportunity for long term investors. I reaffirm my bullish stance on the stock.
ACI has been taking the right measures by focusing on reducing its operating costs and capital expenditures (CapEx) to survive the prevalent tough times for the U.S. coal industry. To support its bottom line results in the current situation, ACI has been making efforts to lower its costs in Appalachia and Western Bit regions. ACI anticipates the cost for Appalachia operations will fall by nearly 2% to $65.5-$69.5 per ton, while the cost of Western Bit will reduce to $24-$26 per ton from $24-$27 per ton in the current year. Also, earlier, ACI announced to reduce its CapEx by $20 million in the current year. Since 2011, ACI has reduced its CapEx by 45%. In the upcoming year, 2014, ACI is expected to save nearly $10 million through selling assets, and general and administrative costs savings. These measures by the company will support its bottom line results and preserve the company's cash balance in the current business environment.
To improve its financial flexibility and boost its liquidity, the company also opted to sell some of its non-core assets. In the last quarter, 3Q2013, ACI sold its Canyon Fuel subsidiary for $423 million in net proceeds to Bowie Resources. I believe this transaction bodes well for the company, as it boosts liquidity, and will result in cost savings in the future. With the completion of the sale, ACI's cash balance increased to $1.3 billion. Also, the transaction is likely to result in cost savings of nearly $200 million in capital and administration expenditures from 2013-2017. As the transaction generated cash and increased the total cash balance to $1.3 billion, ACI will not be faced with cash flow problems in the near future. Also, the company does not have any long term debt maturity in the near term.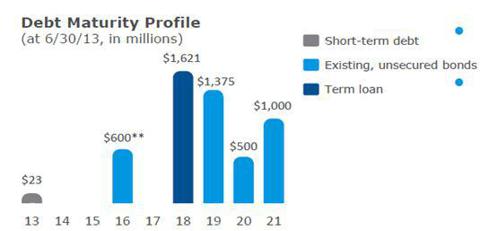 Source: Presentation Slides
Met coal markets have shown signs of improvement as of late. The met coal benchmark price for 4Q2013 settled at $152 per ton, up 5% QoQ. Also, the met coal spot price has increased nearly 20% since July 2013. As the Chinese and European economies are showing signs of improving, I believe met coal prices will further strengthen, which will bode well for the company's future financial performance. As coal producers rationalize their coal supply, we will see a further recovery in coal prices. ACI has already announced plans to reduce its production by 2 million tons annually.
Conclusion
ACI has been undertaking the correct measures needed to survive through the tough business conditions prevalent in the coal industry. With the completion of its subsidiary sale, ACI's cash balance stands at $1.3 billion and there is no long term debt maturity until 2016, which is why the company will not have any cash flow problems in the near term. Also, the company has been working to lower its operating and capital expenditures, which will bode well for the company's future earnings. Therefore, I believe ACI remains an attractive investment opportunity for long-term investors to play a coal market rebound, as the stock is trading at depressed valuations.
| | | | |
| --- | --- | --- | --- |
| | P/S | P/BV | EV/Revenue |
| ACI | 0.25x | 0.30x | 1.40x |
Source: Yahoo finance
Disclosure: I have no positions in any stocks mentioned, and no plans to initiate any positions within the next 72 hours. I wrote this article myself, and it expresses my own opinions. I am not receiving compensation for it (other than from Seeking Alpha). I have no business relationship with any company whose stock is mentioned in this article.