Growth has been slow to come to the U.S. economy. The sub-prime crisis and the recession that set in between 2007 and 2009 was a huge setback for the entire business community. The number of business bankruptcies during 2008 to 2010 was close to 35,000. Although the recession was 'officially' over in 2009 the process of recovery has been painfully slow. Between 2000 and 2012, the annual GDP growth rate has been a mere 1.8% on average.
But, the good thing is that things are finally looking up in basic industries like housing and auto as the pent-up demand is unleashed. This could be taken as a forerunner for a more widespread and deep-rooted economic recovery in the times to come. Analysts are predicting that before long the GDP growth rates would go back to the normal 2.5% to 3.5% levels.
Taking the right call
Once the process of recovery is set in motion, we are bound to see new businesses cropping up and many older companies emerging from their hibernation. These could be quite tricky times for investors in identifying good propositions for parking their money. It is always easy to back the established names but matured companies have limited potential for returns, especially considering traditional indexes like the S&P and the Dow skirting all-time highs. For the truly discerning long-term investor, the objective should be to identify the underdog off the radar that has the potential to rise above the others.
A name that could fit and prove itself is WPCS International (NASDAQ:WPCS). Once a superstar company back in '07, WPCS is now a 12-year old company that provides engineering services in communication infrastructure. The economic downturn has not been kind to WPCS. In fact it has shredded the company and the stock, but it is now making an all-out effort to turn around its operations and the recent success that it has had suggests that it is a candidate for the long haul.
Operations
WPCS currently has about $42 million in annual revenue and 250 employees. Its operations span three continents - North America, Asia, and Australia. It executes from five operating centers and operates along three business lines - wireless communication, specialty construction, and electrical power.
Electrical power is WPCS' largest business accounting for around 46% of total revenue. The company offers an array of value-added services that include deployment of building communications technology for voice and data, life safety, security and HVAC. Wireless communication is the other big business line accounting for 42% of revenue. WPCS specializes in radio frequency engineering and engages in design and deployment of various kinds of wireless systems. Specialty construction is a small segment accounting for 12% of revenue and involves customized services for the energy sector.
The company's services find use in public utilities, education, military, transportation, hospitals, energy companies, government entities and other industries. One especially important factor is WPCS' technology independence, meaning it does not rely on other suppliers for its technology. This makes its solutions more cost effective for its clients.
Emerging in a new avatar
After surviving the Great Recession during which WPCS had to downsize its business significantly with its market cap shriveling to almost nil, if the company is ever going to make a comeback it would be now. It has recently made some senior management changes including the replacement of the erstwhile President and CEO and has brought on board new project managers to improve efficiency.
Under the new leadership WPCS is eyeing new business opportunities, changing its business model (more on this below), stepping up its bidding process for new projects, and at the same time exercising strict operating discipline in terms of execution and cost control.
These efforts have already started bearing fruit. Investors can get a feel of this from the company's return to a positive EBITDA in fiscal 2013. Albeit small but the positive $817.5k that WPCS posted in fiscal 2013 is a huge improvement over the EBITDA loss of $12.2 million in the prior year. The company has also lowered its net loss from $20.5 million in fiscal 2012 to $6.9 million in fiscal 2013.
Performance is likely to improve along these lines along with market conditions as the company starts to benefit from its current strategies and lean practices.
New business model
WPCS has its goals clearly defined. It wants to grow its business but not at the cost of sacrificing profits. The company has endured the recession and also its aftermath. Now as markets start opening up it wants to be selective about its projects.
In its 12-year operating history it has had enough experience with project delays to understand that merely taking on big projects is of no use unless they can be executed profitably. One infamous example is the Cooper project in its Trenton operations, a project recently completed that provided electrical infrastructure to the new Cooper Medical School of Rowan University. The project accounted for 15.5% of revenue in fiscal 2012 but the inordinate delays resulted in a loss of $6 million (page 23) from this project alone, 87% of its net 2013 loss.
But, the Cooper project is over and having learnt its lesson WPCS is now focusing only on projects that can be profitable even if small and less prestigious. Accordingly, the company has taken a hit in the top-line in its electrical power segment as it realigned the Trenton operations to be more compact aiming at efficiency. Revenue in this segment came down from $36 million in fiscal 2012 to $19 million in fiscal 2013, and was largely responsible for the company-wide revenue decline from $65 million to $42 million.
This looks like a big slide, but from a long-term perspective and given the opportunities before it, WPCS should have little difficulty in boosting its future sales. Its ability to pick out the right projects and avoid the wrong ones will be key.
The advantages for WPCS
WPCS' biggest advantage is that it is in a sector that has been depressed and is bound to grow soon. The importance of communications cannot be overemphasized. As old technology becomes obsolete with the advent of newer breakthroughs, organizations are bound to upgrade their infrastructure. There can be temporary setbacks or delays on account of budgetary constraints but the decision to opt for new age communications technologies cannot be postponed indefinitely.
The other advantage is that the market is still fragmented with no company enjoying a sizable market share. For example in the electrical power segment, which is likely to gather steam over the next five years and reverse its recession losses, none of the prominent players have individual market shares in excess of 5%. And this includes big names like Quanta Services (PWR), EMCOR Group, (NYSE:EME), etc. According to IBIS World, industry growth will come from the smaller firms and non-employers that were witnessing downturns during the recession.
WPCS in International Markets
Aside from the domestic market, the company also has operations in China and Australia where the respective governments are spending heavily on building and upgrading their internal infrastructure. WPCS derives around 30.5% of its annual revenue from its international operations.
China is a focus for the company as the government is increasing urbanization and building infrastructure to support power, water, transport, communications, education and healthcare. According to a report by McKinsey Global (see below), China has emerged as the world's biggest infrastructure investor. Australia along with other industrialized countries also occupy a prominent position in infrastructure spending.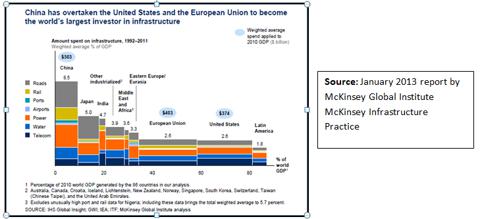 Backlogs and new projects
The change in business strategy by no means indicates that the bidding process has slowed down. On the contrary, management has significantly stepped up its bidding activities to increase its chances of more contract wins. And it looks like the company is achieving success with this.
Despite its focus on smaller projects, WPCS has managed to grow its backlogs from $23.6 million at the end of fiscal 2012 to $26.4 million at the end of fiscal 2013. The increase in backlogs is also an indication about the markets opening up and more business opportunities coming for the sector.
Since April, there have been even more contract wins. In July, WPCS announced new contracts to the tune of $5.4 million. On the domestic turf, these include projects for reputed names like Sutter Health, Convergint Technologies, Honeywell, ATS, California Pacific Medical Center, Holaday Parks and Siemens. WPCS has also won projects in Australia and China, which will increase the growth trajectory of its international operations.
Cost control
On account of the shift to more high-margin projects, there has been a marked decline in cost of revenue as a percentage of total revenue. It came down from $63.5 million or 97% of revenue in fiscal 2012 to $30 million or 70.8% of revenue in fiscal 2013.
Investor sentiment
The investor perception towards the stock has been very bearish and this is quite understandable given that the company is nowhere near its pre-recession levels when it was comfortably profitable.

But, the story is changing fast. WPCS has significantly reduced its working capital deficiency from $1.1 million in fiscal 2012, to just $484k in fiscal 2013. It has also strengthened its liquidity position by selling unprofitable operations and refinancing its debt. It has zeroed out its line of credit and issued secured convertible notes.
It currently has a debt burden of $3.72 million and, under the present circumstances, a sizable cash balance of $1.41 million on board. As it stands now, with WPCS swinging back to positive EBITDA and having sufficient liquidity to fund its growth plans under the new management, the story is likely to improve.
The recent all out effort put in by the company with the intent to make a solid turnaround has not gone completely unnoticed by long-term investors. The stock is up 22% in 2013.

If WPCS can continue with its profitability focus it can easily get back in the black and start generating free cash flow. This will attract more long-term investors over time. News of more contract wins can act as an additional catalyst for WPCS shares.
Small float, big rewards
WPCS has a very small float, which is about to start working its magic. With the current liquidity situation, another equity offering is nowhere in sight. With just 994k shares outstanding and a float of only 869k shares, the demand is likely to outstrip supply before long. That means a new higher equilibrium price.
The buying pressure on the stock could be intensified by traders who have shorted the stock and will soon have to cover their short positions. When WPCS was suffering from the dearth of projects and huge delays, shorting pressure built up as traders were convinced that WPCS' story was over and stock prices would continue their downward descent. This has culminated into a huge short interest ratio, which as a percentage of the float currently stands at 20.7%. But WPCS is showing no signs of going out of business.
This spells a high probability for a short squeeze. Any positive news coming from the company can hit the trigger.
The new old
The economic recession has forced thousands of smaller businesses like WPCS to file for bankruptcy and put many out of business for good. But, WPCS has managed to stay afloat and survive. As economic indicators start getting better, the company is now undertaking bold steps to reverse its fate. All its recent moves from securing its liquidity position to altering its business model to relentless cost-cutting speak of this intent.
The positive EBITDA in fiscal 2013 was a big turning point as it reflected that the company's moves are in the right direction and better days are coming. WPCS is a seasoned player in the engineering industry; as conditions improve in the U.S. and new markets evolve elsewhere across the globe, opportunities are bound to come across.
The shift to the new business model was timely as it will help WPCS pick out profitable projects. Management deserves credit for taking this stand while not fearing the inevitable revenue hit.
Long-term investors will gain from sticking with WPCS on account of its returns potential. The small float and high short interest ratio are icing on the cake.
Disclosure: I have no positions in any stocks mentioned, and no plans to initiate any positions within the next 72 hours. I wrote this article myself, and it expresses my own opinions. I am not receiving compensation for it. I have no business relationship with any company whose stock is mentioned in this article.