I had to see it to believe it, but it looks as though Carl Icahn, one of the world's most respected investors, is actually going through with pushing Apple (NASDAQ:AAPL) into a $150B buyback program. While the excess cash on Apple's balance sheet is likely excessive (and negatively impacts return on equity), such a large buyback - particularly if Apple heavily levers up to do it - is not likely to end well for the long term shareholders of Apple.
Buying High?
There's no denying that buyback programs make management look good, particularly as EPS (by virtue of a lower share count) ends up getting a significant boost. Unfortunately, while buybacks tend to create long term value when the shares are purchased near the trough of a business, such actions are destructive when shares are bought close to the peak. Unfortunately, while customers still line up each year to buy the next iteration of the iPhone, the profitability trend at Apple is clear: down.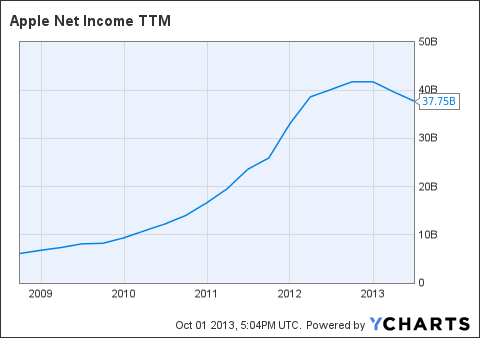 AAPL Net Income TTM data by YCharts
It seems clear that as R&D (and to some extent, SG&A) costs continue to outpace revenue growth, and as Apple's gross margin profile continues to come under pressure, the business is very uncertain. Add to this the fact that competitive pressures continue to mount and that Apple's entire business is wholly dependent on the whims and fancies of consumers. iPhones are popular today, tomorrow, and likely for the forseeable future, but can the company actually grow its profitability?
If the grosss margins/mix continue to trend unfavorably while opex rises and revenue growth stagnates, then the answer to this is a resounding no. In this case, Apple looks expensive at these levels, and levering up to buy back $150B worth of these shares just because Carl Icahn wants the company to do so could prove to be a fatal mistake.
But what if things go right for Apple? That is, what if revenue growth re-accelerates, net-income heads back up, and life is peachy? Well, then the buyback will have proven to have created value for its shareholders as the share price will likely trade meaningfully higher.
That's just it, though. While a gigantic $150B buyback would certainly create near-term buying pressure, it does nothing from a longer term viewpoint. If Apple's business improves, then the share price will trend upwards, and if the business gets worse, then the share price will ultimately collapse - with, or without, a buyback. The push for a buyback seems to me an attempt on Carl Icahn's part to drive upside to the shares in a fairly short timeframe. After all, he's here to make money like the rest of us, but he's got a hell of a lot more clout.
Why Are You Complaining, Then?
If I were an Apple shareholder with a 3-5 year time-horizon, I would not be particularly pleased with Icahn's push for Apple to spend $150B buying back shares. In fact, if I were an Apple shareholder, I would be happy that the balance-sheet is still clean-as-a-whistle with enough cash on hand to make sure that even in the toughest of times, the company can acquire/invest as necessary to pull itself out of any really difficult situation. If Apple loads up on debt (even at low interest rates), has a bunch of cash tied up overseas, and is seeing its FCF come under pressure, then there's much less of a guarantee that it can emerge from such a funk stronger/better.
Such a buyback is great for short term trader/speculators, but for long term investors, not so much. Is Apple's cash hoard huge? Yes. But who knows what the company could use it for? While buying back Apple stock is not the worst way to spend that cash, making sure that the company has enough dry powder in order to do what's necessary to fund the next leg of growth is more important.
Disclosure: I have no positions in any stocks mentioned, and no plans to initiate any positions within the next 72 hours. I wrote this article myself, and it expresses my own opinions. I am not receiving compensation for it (other than from Seeking Alpha). I have no business relationship with any company whose stock is mentioned in this article.