The recent weeks have seen one stock registering significant gains. Gains of 10% in one week ending Sep 27th and over 21% during the last month of September will be numbers that would delight any Yahoo investor. The story is not complete here. Yahoo Inc. (NASDAQ:YHOO) stock price has gained over 100% since Marissa Mayer took over as CEO last year. There have been numerous explanations, attributing the gains to a number of factors, some financial and others non-financial. Explanations are ranging from Yahoo's new focus on improving its core business of online advertising to aggressive acquisitions. We take a look at the current status of the company and give our explanation as to why the stock still has a fair amount of upside left.
We look at the Yahoo stock deriving its value from three underlying components:
Yahoo's core business of online advertising, search and display;
Value of Yahoo's Alibaba stake;
Value of Yahoo's stake in Yahoo Japan.
Yahoo Japan is a publicly listed company and the value of Yahoo Inc.'s 35% stake is easy to understand. The black-box in understanding the true value of Yahoo stock has been the company's stake in Alibaba. Alibaba, currently in IPO talks with NYSE, has analyst valuations ranging from $65 billion to as high as $150 billion. The only certain fact is that Yahoo's current stake in Alibaba stands at 24%, a significant holding, considering even the most conservative of Alibaba's valuation estimates.
Alibaba, the golden egg yet to hatch
Yahoo purchased a 40% stake in Alibaba way back in 2005 for $1 Billion, a small portion of Yahoo's total cash holdings at that time. Probably no one would have thought that Alibaba would soon become the golden egg among Yahoo's investments.
Supernormal growth every investor would love
We now look at the value of Alibaba based on numbers reported in Yahoo's annual filings since 2006. The company's revenue has grown from $180 Million in 2006 to $4.08 Billion in 2012. One look at the revenue growth chart below and most of us will be convinced that Alibaba is one of the fastest growing internet companies in the world.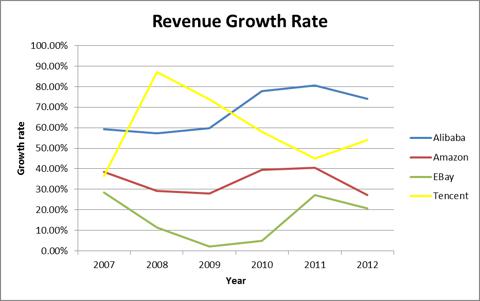 Click to enlarge Source: SEC filings of Amazon, EBay and Yahoo (for Alibaba figures). Annual reports of Tencent Holdings available at investor relation section (growth rate calculated from revenue figures in RMB)
Alibaba has registered average revenue growth of 67.89% per year for the last 6 years. To put that into perspective, Amazon (NASDAQ:AMZN), one of the fastest growing companies today, has grown at an average rate of 34% over the same period. The last two years have been even better for Alibaba. Revenues grew at an average rate of 77% over the last two years, making Tencent's average growth rate of 51% over the same period seem quite ordinary. For a comparison, Tencent is the fastest growing among publicly listed Chinese internet companies with a current market value of $97.5 billion.
Having seen that Alibaba is generating extraordinary growth, another important question in the minds of investors might be whether or not the company is profitable.
Alibaba: Profit margins any investor would love
The revenue growth of Alibaba, which has been stratospheric, seems even more extraordinary when we consider that the company has managed that at Net Income margins which are highest among similar companies. The current Net Income margin of the company, at 28.8%, is significantly ahead of EBay's (NASDAQ:EBAY) 17.8% with Amazon's margins nowhere in sight.
Considering the rapid growth of Alibaba group accompanied by industry leading margins we estimate the average value of Alibaba group. Our conservative estimate using a P/E multiple of 30, against EBay's P/E of 27.01 and Tencent's 42.15, puts Alibaba's current valuation at $75 Billion. Using the more aggressive Price to Sales ratio approach, we give Alibaba a P/S multiple of 15, against Tencent's P/S of 11.76, considering Alibaba's higher growth and profitability. The P/S approach gives us Alibaba's current valuation at $90 Billion. Our range of Alibaba valuation gives us an average value estimate of $82.5 Billion. The per share worth of Yahoo's 24% stake in the company, as per our estimates, ranges from $17.65 to $21.18, with an average value of $19.41 per Yahoo share.
Potential pitfalls in Alibaba stake valuation
The contract originally signed between Alibaba and Yahoo in 2005 makes it mandatory for Yahoo to sell half its stake in Alibaba as and when Alibaba group goes in for an IPO. Therefore Yahoo will have to reduce its stake in Alibaba from 24% to 12% at the time of Alibaba's IPO. This will cap the gain to Yahoo from Alibaba's post-IPO growth.
Other factor to be considered is taxation involved with Yahoo's stake sale. If we assume that Yahoo will sell its entire 24% stake at the time of the IPO, using our average estimate this will result in a cash flow of $19.8 Billion. This will lead to a tax liability of $6.72 Billion (Tax@35%, Initial investment- $1 Billion for 40% stake). Hence the net Value of Alibaba holdings will be $ 12.82 per Yahoo share.
Yahoo Japan: A significant contributor to Yahoo stock value
We now look at the contribution of Yahoo Japan to the value of Yahoo stock. Yahoo Japan, as per the Sep 30th close had a total market value of $32.55 billion, putting the value of Yahoo's 35% stake at $11.39 billion or $11.17 per Yahoo share.
Yahoo's Core Business valuation
The value of Yahoo's stake in Alibaba and Yahoo Japan gives us a value of $23.99 per Yahoo share. Yahoo's core business, though on a decline for the last few quarters, even today remains profitable. We use the relative valuation approach to look at the current valuation of Yahoo's core business after adjusting its profits for extraordinary items/non-recurring items. Yahoo's earning per share for the last four quarters, excluding one-time items, were $.30, $.34, $.32 and $.35 totaling up to a 12 month earning of $1.31.
| | | | |
| --- | --- | --- | --- |
| | AOL | GOOG | YHOO |
| Y/Y growth | 1.92% | 15.48% | -6.98% |
| 3Yr CAGR | -7.95 | 32.19% | 9.49% |
| Earnings TTM ($) | 1.3 | 34.63 | 1.31 |
The average industry P/E for our set companies comes to 25.74. Considering the declining state of Yahoo's core business we value the contribution of the core business at a pessimistic price-to-earnings ratio of 10 against an industry average close to 25. Yahoo's core business, as per our very conservative estimates contributes a value of $13.1 per share to Yahoo's stock price.
Conclusion
Having figured out the value of each of the components of Yahoo's stock, the total value per share of Yahoo, as per our calculations, is summarized in the table below.
| | |
| --- | --- |
| Yahoo Value broken up | Per share value ($) |
| Core business (Advertising, Display and Search @ conservative P/E of 10) | 13.10 |
| Alibaba stake average valuation ( pessimistic - $11.68 and optimistic - $13.97 ) | 12.82 |
| Yahoo Japan (from actual list price from Tokyo Stock Exchange) | 11.17 |
| Intrinsic Value | 37.09 |
Yahoo stock closed the last trading session(Sep 30th, 2013) at $33.17, registering a loss of 1.13% over the previous close. The stock has gained over 7% in the last 5 trading sessions(Sep 24th - Sep 30th 2013) and we won't be surprised to see the stock continue its climb at least to levels of $37 which, according to us, is a very conservative estimate.
Disclosure: I have no positions in any stocks mentioned, and no plans to initiate any positions within the next 72 hours.
Business relationship disclosure: The article was written by Virendra Singh - Equity Analyst at amigobulls.com. Amigobulls Mediatech Pvt Ltd is not receiving any compensation for this article (other than from Seeking Alpha). Amigobulls Mediatech & Virendra Singh do not have any business relationship with any of the companies mentioned in the article.