Background
With all of the talk of government shutdown, a civil war in Syria, and the government debt ceiling, it's nice to keep things in perspective by taking a look at a blue chip non-cyclical stock. Today's example is Pepsico (NYSE:PEP) - one of the dominant players in the packaged food and drink industry. Are investments like this boring? Yeah, probably a little. But to be honest, I don't always look for exciting in my investment choices. What I do look for is value though and that can be hard to find with the elevated stock prices being quoted today.
According to a presentation on its website from earlier this year, Pepsi now runs 22 different $1 billion brands and 40+ $250 million brands. There's some overlap in some of those brand numbers (ie. Pepsi, Pepsi Max, and Diet Pepsi are all $1B brands) but the point remains that Pepsi has a strong position in a variety of branded products.
No. 1 in Salty Snacks - Lays, Doritos, Cheetos
No. 1 in Hot Cereals - Quaker Oats
No. 1 in Sports Drinks - Gatorade
No. 2 in Juice and Juice Drinks - Tropicana
No. 2 in Carbonated Soft Drinks - Pepsi, Mountain Dew, Sierra Mist, 7up, Mirinda
Source: Pepsi's Presentation at the Barclays Back-to-School Consumer Conference (pdf)
The facts:
| | |
| --- | --- |
| | PEP |
| Current Price | $79.32 |
| Market Cap | $122.5B |
| Yield | 2.85% |
| P/E | 19 |
| Consecutive Years of Growing Dividends | 41! |
Data Source: Morningstar, David Fish's List of Dividend Champions
Peer Comparison
As I mentioned in my previous article, the peer comparison that I complete as a part of my analysis is essentially a forced ranking of my investment target's peers in terms of profitability, leverage and earnings growth. Since Pepsico straddles the beverage and food industries, I've decided to include peers from both areas. An interesting side note is that by looking at both segments, it is easy to see the advantages that come along with selling branded sugar water. Finally, this review is meant to ensure that the investment choices that I make are among an industry's leaders and does not necessarily mean that the "best" of the peers is a desirable investment.
| | | | | | |
| --- | --- | --- | --- | --- | --- |
| | | Profitability | Leverage | Earnings Growth | Total |
| Pepsico Inc | PEP | 3 | 3 | 4 | 3 |
| Coca-Cola Co | | 2 | 2 | 2 | 2 |
| Dr Pepper Snapple Group, Inc. | | 4 | 5 | 5 | 5 |
| Monster Beverage Corp | | 1 | 1 | 1 | 1 |
| General Mills, Inc. | | 4 | 4 | 2 | 4 |
| Kraft Foods Group Inc | KRFT | 6 | 6 | 6 | 6 |
As a reminder, lower is better in the numbers above. The first point worth noting is the strong position of Monster in this list - something perhaps worth looking into further at a later date. It does not really surprise me that Coca-Cola seems to hold a superior position to Pepsi although I do wonder if Pepsi's focus on food in addition to beverage makes it more of a combination of the names at the top of the list with those at the bottom. Kraft probably requires a special not here since there is not really enough longitudinal data since the split with Mondelez (NASDAQ:MDLZ) to give it a firm ranking. At any rate, Pepsi does finish in the top half and while I would usually prefer a better position, the competitive positioning of its constituent brands helps me make the decision to continue the analysis.
Making a Profit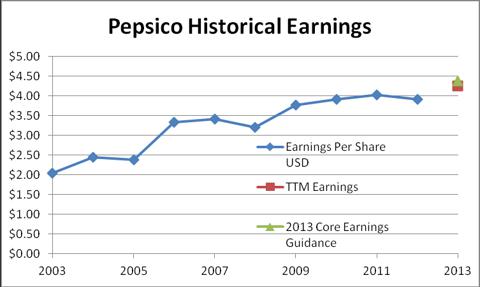 Data Source: Morningstar, Pepsi Earnings Guidance
It should come as no surprise that Pepsi has consistently grown earnings over the last decade. According to Pepsi's Q4 2012 earnings call transcript, the dip in 2012 was due to increased brand investment coupled with high levels of commodity inflation. This is much easier to accept given the earnings forecast for 2013 showing something on the order of 10% growth y/y. At any rate, there is nothing in the Pepsi's earnings history that surprises or scares me.
Cash Flow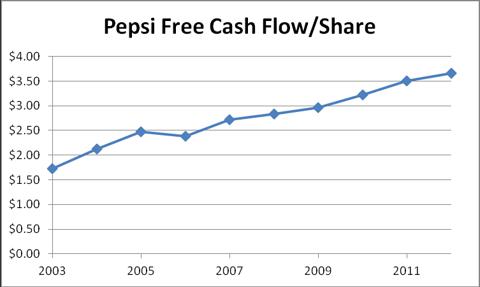 Data Source: Morningstar
A longitudinal look at Pepsi's free cash flow situation is a lesson in value creation. Really there is nothing more to be said here.
Future Growth Prospects
Pepsi's strategic focus is on four main areas - brand building, innovation, execution, and productivity. I have already touched on the brand building aspect and truly believe that Pepsi is an elite organization in this regard. Pepsi also maintains a strong corporate position when it comes to innovation. It is from this area and the line extensions that follow that I believe Pepsi will derive the greater portion of its incremental sales over the coming years. There also appears to be room for growth too as Pepsi increases focus on healthier food choices. All of this being said, I believe that a realistic investor should only expect relatively low levels (single digit) of growth moving forward. Pepsi operates in a number of highly competitive areas where there is more room to fall than there is to climb. In addition, as one of the largest food and beverage companies, it is possible that it will begin to run into the law of large numbers.
Conclusion and Price Target
The point of this article wasn't necessarily to establish whether or not Pepsi makes sense as an investment. I started off this process knowing that it would probably meet most or all of my criteria but also knowing that targets like Pepsi don't fall into the Value investing segment all that often. That being said, I like to keep tabs on companies like Coke and Pepsi so that I can take advantage of temporary drops in price when they come along. I was a bit surprised given the current level of the stock market to find that my dividend discount model valued the stock at $91.52. While I realize there are a number of assumptions that go into this valuation, the fact that the current price is about 13% below this level shows there is probably some safety where it is today. For a security with such a long track record of dividend increases, I look for a 20% factor of safety, which implies an entry point of about $76. I actually take one further step however to avoid overpaying for recent earnings by requiring that an average of the previous 10 years earnings give a PE10 under 20. Strictly speaking this gives an entry point close to $65. Given that we are near the end of the year however, I will use 2013's projected earnings in place of 2003's and get something more along the lines of $69.50. Bottom line, anything under $76 would provide me with an adequate factor of safety while anything under $69.50 enters my value range.
Disclosure: I have no positions in any stocks mentioned, and no plans to initiate any positions within the next 72 hours. I wrote this article myself, and it expresses my own opinions. I am not receiving compensation for it (other than from Seeking Alpha). I have no business relationship with any company whose stock is mentioned in this article.
Additional disclosure: I am not a professional investment advisor or financial analyst; I am writing this article because I feel that investing is not a zero sum game and because I believe that the process of writing and receiving feedback improves my own performance.