As we all know the goal of market analysis is to identify trends and critical turning points that can help us make better investment decisions. However, we typically see these measurements scattered among various professionals but rarely put together in an organized manner. I felt it would help to put together a macro analysis of different aspects of the U.S. economy.
There is a mix of proprietary indicators that I have used over the years plus indicators I have found very accurate and useful from other professionals.
The Big Picture - Shiller P/E
"The Overall Market" (S&P 500)
State of the United States
Inflation/Deflation Model
Tracking the Dollar $
U.S. Unemployment Rates
Interest Rates
U.S. Real Estate
1. The Big Picture - Shiller P/E
In the "decades" timeframe, we are in a Secular Bear Market which began in 2000 when the P/E ratio (using Shiller's Cyclically-Adjusted P/E, or "CAPE") peaked at about 44.
See Fig. 1 for the 100-year view.
If history is a guide, we are not yet done with this secular bear market. The Shiller P/E rose to 24.2 from the beginning of the month's 24.16, and is at its highest since December, 2007.
Even though P/E's are a little more than half what they were at their crazy peak in 2000, they are nonetheless at the high end of the normal range and leave little if any room for expansion. This means that the stock market is unlikely to make gains greater than corporate profit growth percentage, if that. (note: all P/E references are to the Shiller P/E values, sometimes called PE10 or CAPE, which are calculated so as to remove shorter-term fluctuations; see robertshiller.com for details).
In fact, since 1881, the average annual returns for all ten year periods that began with a CAPE at this level have been just 3%/yr. (see Fig. 2)
This further means that above-average returns will be much more likely to come from the active and "tactical" management of portfolios than from passive buy-and-hold. Although a mania could come along and cause P/E's to shoot upward from current levels (such as happened in the late 1920's and the late 1990's), in the absence of such a mania, buy-and-hold investors will likely have a long wait until the arrival of the next secular bull market.
Figure 1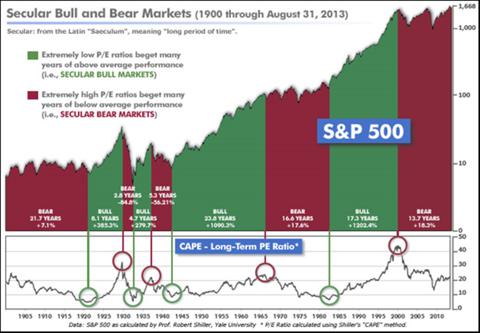 Click to enlarge
Figure 2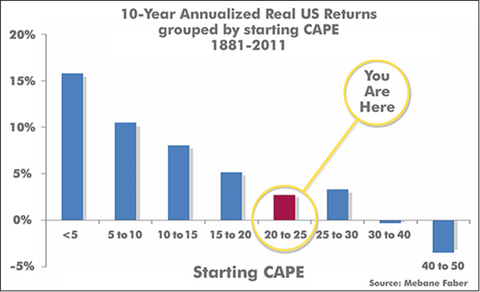 Click to enlarge
2. "Overall" Stock Market - S&P 500
The (NYSEARCA:SPY) still remains in an uptrend and above both the 50 and 200 day moving average.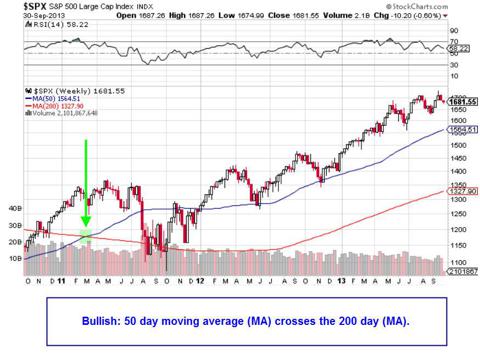 Click to enlarge
Even though the number of stocks on buy signal vs. sell signal is in high risk territory, the NYSE Bullish Percent chart is still in an uptrend. However, this uptrend occurs at a high risk level. This could change shortly with pressure coming from a government shutdown.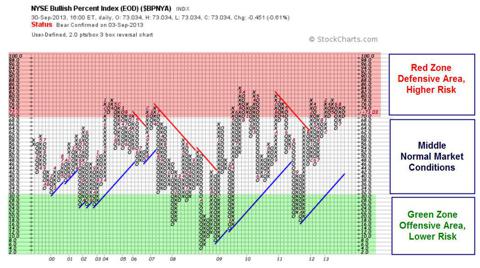 Click to enlarge
3. State of the United States
Clearly this is a disturbing chart because it shows the lack of discipline the federal government has to control spending and the national debt. The United States is very close to hitting $17 trillion on the national debt. The debt is going up almost $1 trillion per year.
The debt scenario is so bad that the Federal Reserve has to implement QE to artificially lower short and long term rates and hold the debt service down on the debt. This is placing extreme volatility in the bond market and the US credit rating is at further risk of being downgraded.
It is what it is and we will likely see higher taxes in the future because this spending and borrowing trend is unsustainable.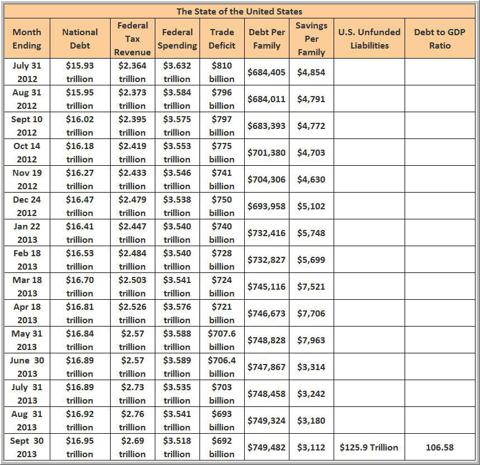 Click to enlarge
4. 4 Star Inflation/Deflation
This model comes from the Van Tharpe Institute. Inflation means stuff becomes more expensive versus deflation where stuff gets cheaper. So 4 stars would be the highest inflation number and -4 would be the highest reading for deflation.
The three ETFs used in this model are (NYSEARCA:DBC), (NYSEARCA:XLB), (NYSEARCA:XLF), and the London gold price.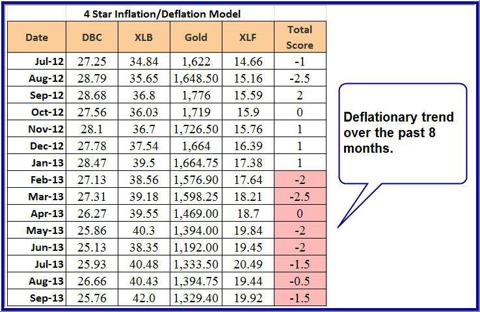 Click to enlarge
Currently, the trend is more deflationary in the 4 star model. 4 stars is the highest inflation score and -4 stars is the highest deflation score in the model.

A money multiplier below 1 is deflationary, as banks are not lending as much as they have in the past prior to the 2008 credit meltdown. The current trend of this chart is deflationary.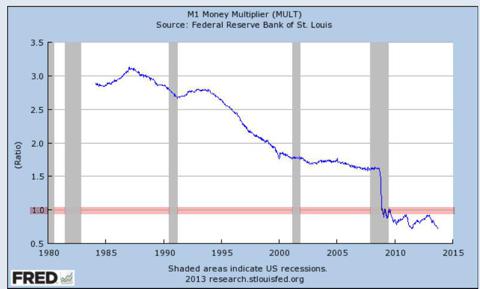 Click to enlarge
5. Tracking the US Dollar $$ (NYSEARCA:USD)
The US Dollar has not shown us much recently and has been stuck in a trading range of around $80-84 for quite a while.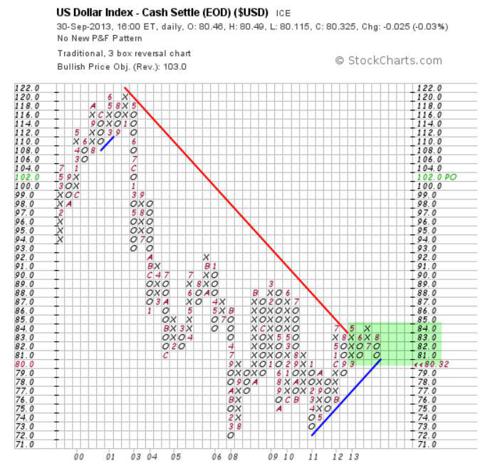 Click to enlarge
6. U.S. Unemployment
Unemployment is a lagging indicator but important to gauge the health of the economy.
U3: Total unemployed, as a percent of the civilian labor force (official unemployment rate).
U6: Total unemployed, plus all persons marginally attached to the labor force, plus total employed part time for economic reasons, as a percent of the civilian labor force plus all persons marginally attached to the labor force.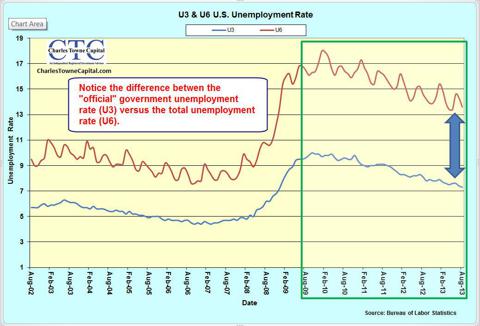 Click to enlarge
7. Interest Rates
Rates have been moving up until the recent pullback caused by the recent decision by the Federal Reserve to not "taper QE." However, the current trend is still unfavorable for interest rates, which is evident in both charts. The first chart is the leveraged inverse 20 year treasury (NYSEARCA:TBT) which has been in an uptrend since May and my market momentum chart which has been "favorable" since September 2007 but is on the move upwards to "unfavorable" status.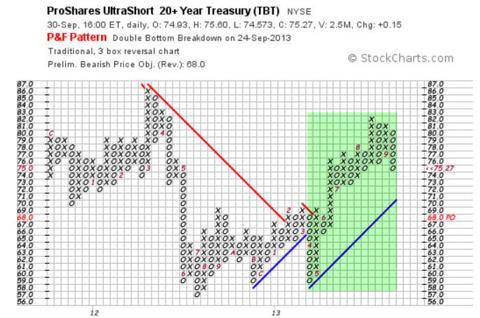 Click to enlarge
Click to enlarge
8. US Real Estate
Sales and price still remain in an uptrend for the overall US real estate market. The refusal to stop QE is a positive for the real estate market which is heavily dependent on cheap financing at this time.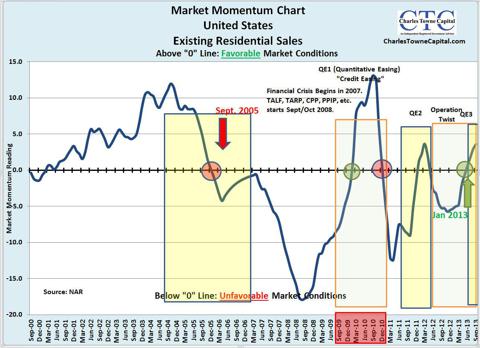 Click to enlarge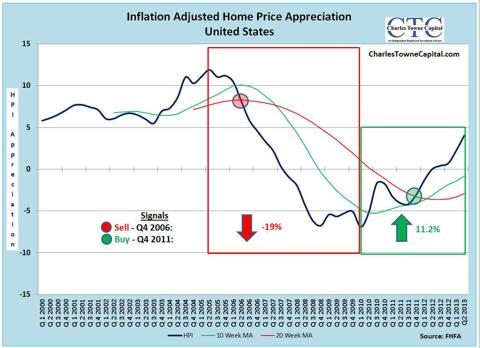 Click to enlarge
Conclusion
The most worrisome part of the macro market view is the state of the US. The current government shutdown, lack of leadership and spending problems in Washington DC could begin to have a domino effect upon other areas I track in this report in the near future. The current view shows the stock market and real estate benefiting from QE in an environment where there has been a deflationary trend over the past 8 months.
Disclosure: I have no positions in any stocks mentioned, and no plans to initiate any positions within the next 72 hours. I wrote this article myself, and it expresses my own opinions. I am not receiving compensation for it (other than from Seeking Alpha). I have no business relationship with any company whose stock is mentioned in this article.
Additional disclosure: Brad Rundbaken is the president of Charles Towne Capital, LLC, a Registered Investment Adviser with the state of South Carolina. Brad Rundbaken, Charles Towne Capital, LLC, and/or its clients may hold positions in the ETFs, mutual funds, and/or any investment asset mentioned above. The commentary does not constitute individualized investment advice. The opinions offered herein are not personalized recommendations to buy, sell or hold securities.