Healthcare has been the hot sector and it's going to get hotter. Once everyone is finished posturing in Washington, they will simply go ahead and do what should have been done at least a week ago: fund the government and fund Obamacare with it. With 72 percent of Americans saying they are opposed to shutting down the government in an effort to block implementation of the healthcare law, anyone who thinks the obstructionist ploys will succeed in getting Obamacare defunded or delayed simply isn't paying attention (or, is paying attention to the wrong voices). Obamacare is here, and it's here to stay.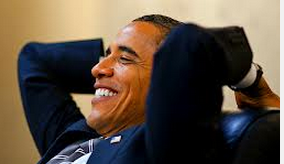 This is not a political statement. This is not an opinion. It's a simple fact. Regardless of your political allegiances, as an investor you should be looking at how to be best positioned for a new normal in healthcare. In this article, I offer some less obvious ideas for the dividend-growth investor.
Dividend Growth Stocks
Let's start with retail. One of the major impacts of the new healthcare law is that many more people will be able to buy the medicine they need. Retailers like Walgreen (WAG) and CVS Caremark (NYSE:CVS) will see increased traffic and increased revenue at their pharmacy counters as the Obamacare policies take effect. Each of these has been well covered here at Seeking Alpha, and at least one of them probably is and certainly should be in every dividend income investor's holdings.
Let's look at a couple of less well covered opportunities for the DG investor. These two emphasize enhanced shareholder value beyond dividends. These are less current income plays than they are income-growth opportunities (that is, capital growth as well as income growth).
One company that's sure to benefit from the new healthcare environment is Amerisource Bergen (NYSE:ABC). ABC is a pharmaceutical service company. It distributes a full spectrum of drugs (generics, branded and over-the-counter) as well as other medical supplies. Analysts are projecting double-digit sales and earnings growth through 2014 at least. ABC was one of the companies that popped out of my shareholder value series emphasizing buybacks and dividend payers (see here and here for details). ABC's board has recently approved another $750M in stock buybacks in addition to the $450M left from the previous buyback program. In addition, the company has been growing dividends at a rapid pace (DGR: 1yr, 30.4%; 3yr, 35.7%, 5yr, 39.8%) while maintaining a 33.2% payout ratio. The company has increased its dividend for each of the last 8 years.
ABC is up 7.9% since I noted it in August, but it still has a lot of room to run as the Obamacare train pulls out of the station. Zacks Investment Research reports 10 analyst opinions of ABC: 5 strong buy, 1 buy and 4 holds. StarMine's Equity Summary Score is a bullish 7.5.
Becton Dickinson & Company (NYSE:BDX) is another less obvious Obamacare play. Becton, Dickinson develops, manufactures, and sells medical devices, instrument systems, and reagents worldwide. The company's BD Medical segment produces medical devices that are used in various healthcare settings. It's up 3.5% since I picked it up in a shareholder value screen, here and here as another company that has been returning value to shareholders through a combination of dividend payments and stock buybacks.
Earnings have beaten consensus estimates 4 consecutive quarters. Dividend yield is 1.98% with DGRs of 10% for 1 year and 11.7% for 5. These increases represent the latest runs from a stream of dividend increases stretching back an amazing 41 consecutive years, a fact that will certainly appeal to investors who place a sustained commitment to dividend growth at the highest rung of their priority ladders. Dividend payout is 25.5%. EPS is expected to grow by 9% for the next 5 years and beyond, so there appears to be little risk of a break in that streak any time soon.
One caution is BDX's Price/Book ratio of 3.7. This is among the very highest in its peer group.
Analysts' opinions, while bullish, are a bit mixed compared to ABC. StarMine Equity Summary is a bullish 7.8, and Zacks Investment Research reports 16 analyst opinions: 5 strong buy, 4 hold, 1 underperform, and 3 sell.
Here are a couple of charts on recent returns for these stocks:
1-Year Total Return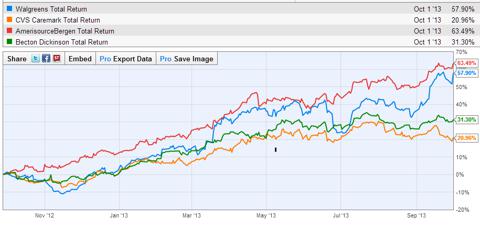 3-Year Total Return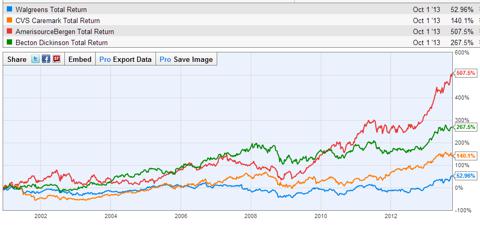 And one on dividend yields:
3-Year Dividend Yields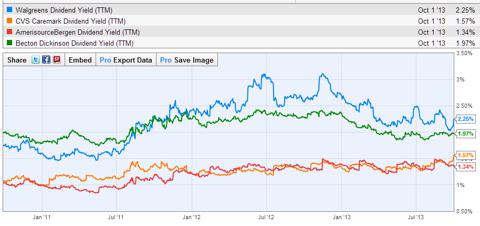 Off The Beaten Path
For a bit of an iconoclastic play, more aggressive income investors might want to consider a couple of healthcare closed-end funds from H&Q: H&Q Healthcare Investors (NYSE:HQH) and H&Q Life Sciences Investors (NYSE:HQL), which are on sale currently. Each is paying about 7.3% distribution yield.
HQH is currently priced at a -3.73% discount to its NAV. This compares to a 52-week average of -2.40% and a 52-week high premium of 5.2%. Its sibling, HQL is priced at a -4.51% discount, below its 52-week average of -0.9%, and well below its 52-week high premium of 8.01%. Performance has been impressive. The funds have combined those 7%+ yields with 26%+ price appreciation after distribution returns (which, of course, factors in those discounts being offered to new buyers).
Neither fund uses leverage to obtain those succulent yields. And each has shown solid performance over the last 5 years, beating their categories on both NAV and market-price returns. HQL has had a total return on NAV of 38.25% for the past year, and HQH has turned in 40.00% total return on NAV. Allowing for discounts to NAV and distribution payouts, market price return has been 31.4% for HQH and 26.0% for HQL. I submit these rank among the best buys currently available in equity CEFs.
Both are more heavily weighted toward biotechnology than any of the above selections, but as the Obamacare tide rolls in, all boats in the healthcare sector should rise along with it.
Biotech
And, in closing, there's one more biotech-healthcare play that, although not a dividend play, deserves at least a brief mention. iShares Nasdaq Biotechnology ETF (NASDAQ:IBB) has had a great run (41.25% YTD and 145% 3-year returns). At this writing, it's pennies below its all-time high, which it has been resetting almost on a monthly basis since 2009. Again, this is not a dividend play, but in my opinion, it is nowhere near finished in its run-up to new all-time highs, and is one of the most attractive growth opportunities in the healthcare sector. It provides safer, diversified exposure to the complex and volatile world of biotechnology stocks, which in my opinion, is the clear future of medicine.
I remind readers that I am not a professional. I am simply sharing my own research here. Obviously, anything a reader finds interesting and worth pursuing in this article will require careful due diligence and full consideration of how the positions might fit his or her goals and objectives.
Disclosure: I am long ABC, CVS, IBB. I wrote this article myself, and it expresses my own opinions. I am not receiving compensation for it (other than from Seeking Alpha). I have no business relationship with any company whose stock is mentioned in this article.
Additional disclosure: I may initiate a position in HQH and/or HQL in the next 72 hrs.