Since 2000, there has been one question that I've heard time and time again from investors: "If you are interested in investing in gold (NYSEARCA:GLD), should you buy the physical metal or should you consider buying shares of mining companies (NYSEARCA:GDX)?" You've made up your mind that investing in gold is for you, but there are many different ways to get in this market. The question is this: who are you and what is your plan?
In my opinion, investors seeking the least amount of risk should only consider buying physical coins and bars that can be held in their hands. I strongly prefer this method over buying the GLD, which carries an expense ratio of .40 percent. I prefer the feeling of actually owning the physical metal in your hand, opposed to owning an ETF.
Investors who are willing to take more risk, for the potential of much greater returns, should consider investing in high-quality mining companies and royalty companies, which I will explain later on. Those looking to take on even more risk should consider the small-cap junior mining companies which have market caps under $500 million or so, or even some of the early-stage exploration companies, which have cash in the bank, solid management teams and great properties in safe jurisdictions.
These miners could provide explosive gains should the price of gold recover and reach the 2011 highs of $1,900 an ounce, as I expect they will over the next few years. Some of these miners provided 300+ percent returns during the period of 2009 - 2011, and I expect some of them to yield the same results on a gold recovery.
There are a few things everyone should understand before they start investing in the miners:
- Investing in miners introduces many risks, including management risk, political risk, lawsuits, etc. Just look at the horrendous performance of Barrick Gold (NYSE:ABX) as an example. This is why I recommend diversifying in a number of miners instead of betting the farm of just a couple.
- Miners tend to outperform gold on the upside and underperform gold on the downside. The gains on an upswing can be great, but the losses on the downside can be brutal, as we have seen this past year.
- Shares of gold stocks can be very volatile and some are not very liquid. You have to be willing to stomach big swings in the share prices of these stocks.
Despite these risks and despite the fact that they have been among the worst performing stocks recently, I still like the miners. I don't expect this bear market in gold and gold miners to continue for much longer; I believe the June lows of $1,180 gold were most likely the bottom. My time horizon for investing in the gold miners is 3-5 years, so I have been buying shares of the miners every chance I can get.
Gold vs. Miners vs. Stocks: Which Has Performed the Best?
During this time of weakness in gold and the gold miners, it is important for investors to take a step back and look at the big picture. Even though it has been a bloodbath this past year or so, with many shares down 50 percent, here are some facts to put things in perspective:
- Gold started the year 2000 at around $300 an ounce. Despite the current weakness in the price, gold is still up over 400 percent since then.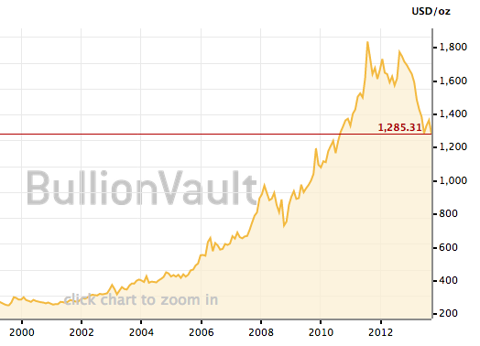 - Gold stocks have still outperformed physical gold over the long run, and many of these companies continue to pay a dividend.
I will use the HUI Gold Bugs index to track gold mining stocks. The HUI contains a basket of unhedged gold stocks including most of the major miners. The HUI is up 443 percent since 2000, slightly edging out physical gold.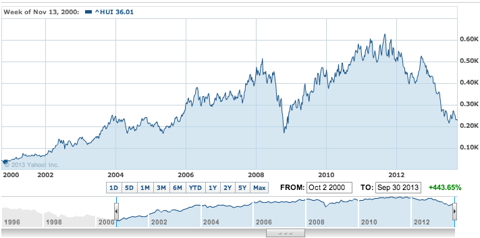 - Has the general stock market outperformed gold or the miners since 2000? Well, the S&P 500 is up just 19.34 percent since 2000. It's not even close!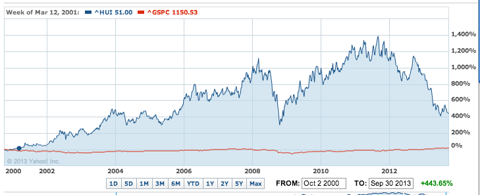 Royalty Companies - The Best Bet Going Forward?
In my opinion, the single greatest way to get exposure to the gold market is through the royalty companies.
The royalty companies have outperformed for a number of reasons, but mainly because their business model is superior to the mining companies. These companies are essentially financing companies for gold miners. For example, a company like Sandstorm Gold will give a mining company that is in the process of building a mine an upfront cash payment of $30 million. For that money, they get the right to purchase 10 percent of the gold produced at that mine for the life of the mine. A Net Smelter Royalty works in a similar way.
This allows these streaming companies to keep their costs very low and profit margins very high. They most often do not have to contribute any more capital after the initial upfront payment and they are not as exposed to inflation as the traditional mining company (example: an increase in the cost of fuel or wages for a mining company). However, they still get all the exploration upside to the mine.
While the HUI is down about 50 percent, the royalty companies have outperformed, as you'll see in the chart below. Sandstorm Gold (NYSEMKT:SAND) is the leader in this group, essentially breaking even since 2011.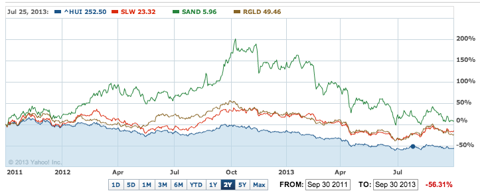 Since 2005, Silver Wheaton (NYSE:SLW) has outperformed everyone with a gain of almost 500 percent. Royal Gold (NASDAQ:RGLD) has doubled in price since then.
To be fair to Royal Gold, since the year 2000, the stock is up 1,500 percent. It started the decade around just $3 a share and now trades near $50 a share with a dividend yield of 1.7 percent.
My favorite play in this sector continues to be Sandstorm Gold because it is a small cap and it possess far more upside than its peers, in my opinion.
(Note: Sandstorm Gold was founded in 2008, Silver Wheaton was founded in 2004 and Royal Gold was founded in 1991).
The Bottom Line for Gold Investors
This is certainly not the time to be selling your gold shares. My best advice is to keep a longer-term perspective when investing in this asset class. Over the next 3-5 years I believe the royalty companies will outperform gold, gold miners and the general market, just like they have done since 2000.
Even though I still believe gold will breakout above $1,500 sometime this year, I could be wrong and it may take much longer for gold to get to that price again. Even so, I continue to add shares of the miners and royalty companies on any dips. Please follow me here on Seeking Alpha for future articles on my favorite plays in this sector.
Disclosure: I am long SAND, SLW. I wrote this article myself, and it expresses my own opinions. I am not receiving compensation for it (other than from Seeking Alpha). I have no business relationship with any company whose stock is mentioned in this article.