Summary
With more than 200 years of experience, Citigroup (C) is one of the most well-known banking institutions in the world. Beginning with about $2 million in capital, the international giant now holds nearly $2 trillion in capital and is quickly approaching the trillion-dollar milestone. Citigroup recently received approval for its Chinese unit to start building branches in Shanghai's new free-trade zone [FTZ], which will make Citigroup one of the first foreign banks able to target businesses in the FTZ.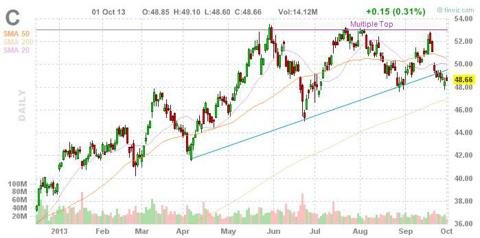 Despite all its advances and growth, Citigroup still has a black cloud of financial issues hovering over it. This includes numerous accusations in 2008, an "account sweeping program" that took customers' money without their knowledge and, most outstanding, a government rescue. Although Citigroup has repaid the loan it received from the government, the $25 billion rescue has left a stain on Citigroup's image.
Citigroup's Value

Citigroup shares recently closed at $48.89, with a high of $49.20 and a low of $48.69. In the past 52 weeks, Citigroup stock has bounced up and down. Although Citigroup is more on the "positive side," its current value is still at a loss. Adding to its woes are potential legal fees. The Wall St. Cheat Sheet recently reported that Charles Peabody, a Portales Partners analyst, revealed that $5 billion in legal costs are not covered by its reserves halfway through the year. Many believe that, like JPMorgan (JPM), Citigroup become a target of regulators. Now that JPM is near a settlement for its alleged transgressions, regulators turn their focus onto Citigroup, which the bank appears to expect.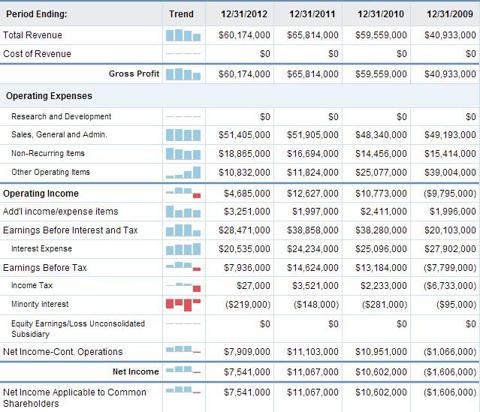 Not all the news about Citigroup is negative. The company reported quarterly revenue growth of 17.2% and an increase in earnings of 42%. Overall, the company had a 49.28% increase in the past 52 weeks. In the most recent quarter, Citigroup had total cash of $760.61B compared with total debt of $552.60B, leading to average total cash per share of $250.12. The company also reported operating cash flow of $55.19B. It is estimated that Citigroup's revenue will rise by $0.22 billion in the next quarter and by a $0.61 billion by end-2014. Sales growth is expected to rise by 3.1% in the next quarter and by only 0.80% by the end of next year. Over the past five years, Citigroup has reported annual losses of 13.59%, but is projected to grow annually by 18.11% over the next five years.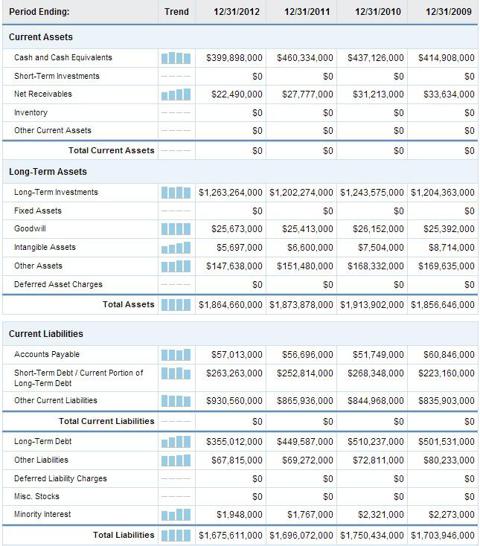 End Result
Although the company's growth rate hasn't changed markedly, it is still headed in the right direction with many analysts still viewing it in a positive light. With almost $2 trillion in capital, it seems unlikely that Citigroup shares will fall anytime soon. Aided by its expansion into China's new FTZ, Citigroup should be able to bounce back from any additional issues that may arise. The only question now is how long that growth will take. The Shanghai free-trade venture is just an experiment, which means it will take time to judge its success. Citigroup has had an annual loss in the past 5 years of 13.59%, but is projected to grow annually by 18.11% in the next 5 years.
Disclosure: I am long C. I wrote this article myself, and it expresses my own opinions. I am not receiving compensation for it (other than from Seeking Alpha). I have no business relationship with any company whose stock is mentioned in this article.