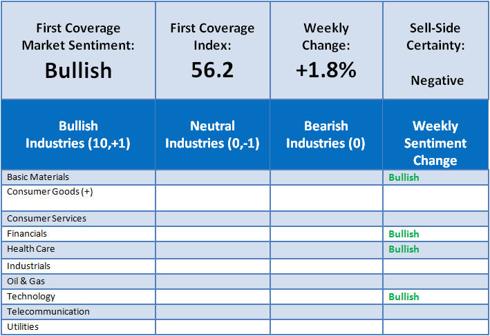 Click to enlarge
Please Fasten Your Seat Belts…
There's a saying that many fliers use to comfort themselves on airplanes around the world, and it's the belief, originated long ago and repeated to this present day, that turbulence, in and of itself, can't bring down a plane…but that doesn't mean it doesn't get the heart racing.
Two weeks ago, investors did their best impression of seasoned fliers who, although they believe that the volatility we're undergoing isn't really serious, were still gripping their assets just a little tighter as they continued to repeat nervously the mantra to their client base that 'everything's going to be alright.'
Well, those nerves, like transient turbulence that arrives to torment passengers out of nowhere and usually disappears just as quickly, seem to have nicely settled down. Market sentiment jumped substantially over the last week and moved all ten industries once more into the bullish camp.
While volatility is nerve wracking when you're in the midst of it, the sell-side continues to gain strength and conviction from another successful recovery from a potential market correction and entered this week strongly advocating that their client base remain long going into the end of the year. This week even allowed a little risk appetite to reappear as industries including Financials and Technology saw significant sentiment boosts.
Unemployment? What Unemployment?
We don't comment on economic indicators and what they mean in regards to the general health of the economy; we're well aware that there are lots of other places to satisfy your daily fix of the Dismal Science. That being said, we will use whatever is at our disposal to demonstrate the tone of the market, and there was no better data point over the last week than the unemployment number last Friday to show how this market is currently thinking.
The official unemployment rate is 10.2%, and unofficially it's as high as 17-18% depending on whom you ask. Either way, it's clearly the worst number in 25 years. How did the investment professionals react to that data point on Friday? They reacted with a shrug and a yawn and a market that posted a slightly positive day.
Seem odd to you? Not to us! As we've been saying for a while now…based on how the sell-side is feeling and what's on the line, it's going to take something much more substantial than crossing an imaginary threshold (10.0%) that we were all expecting to cross anyway to derail this market rally.
Based on the current "sentiment," the love of all ten industries once more and a slight, but undeniable, increased risk appetite, it seems that each episode of volatility that we come through unscathed is making the sell-side bolder, braver and, some would say, brasher.
If we aren't going to end this year on a positive note, it's going to be because something more than turbulence derailed the rally. It's going to be because this rally ran smack dab into something that even the sell-side didn't expect and, then most importantly, couldn't spin in a positive light.
Stocks to Watch
Over the last week, the following stocks had the largest bullish and bearish sentiment shifts amongst the sell-side.
Bullish:

Click to enlarge
Bearish:

Click to enlarge