Kamakura Corporation reported Tuesday that the Kamakura Troubled Company Index ended the month of September at 6.27%, a decrease of 0.17% since last month. The index reflects the percentage of the Kamakura 35,000 public firm universe that has a default probability over 1.00%. A decrease in the index reflects improving credit quality.
As of September 30, the percentage of the global corporate universe with default probabilities between 1% and 5% was 5.26%, down 0.10% from last month. The percentage of the universe with default probabilities between 5% and 10% was 0.63%, down 0.06% from last month while the percentage between 10% and 20% was 0.29%, down 0.02%. The percentage of companies with default probabilities over 20% was 0.09%, up 0.01% from last month. The index hit an intra-month high of 6.44% on September 2nd, while the intra-month low of 5.65% was on September 12th.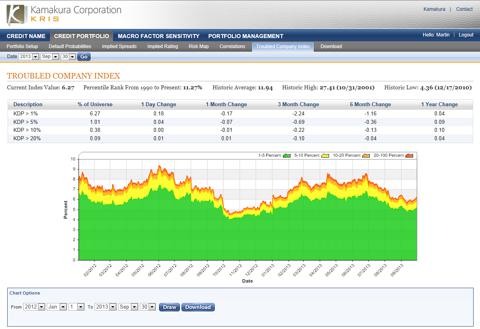 At 6.27%, the troubled company index is at the 89th percentile of historical credit quality (with 100 being best all time) over the period from January, 1990 to the present. Mirabela Nickel Ltd. (OTC:MRBAF) had the world's highest one-month default risk among rated companies at 50.97%. While Mirabela is an Australian company, its primary asset is a nickel mine in Brazil. Among the ten riskiest firms in September, six were European firms and one each were from Australia, Brazil, China and Saudi Arabia. Five of the ten firms had "investment grade" ratings from legacy rating agencies.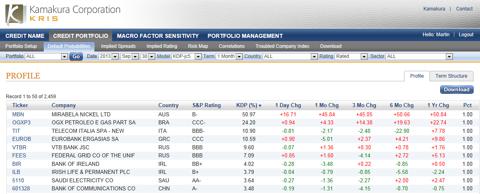 Martin Zorn, President and COO for Kamakura Corporation, said Tuesday, "The markets have moved passed the "taper" worries and are now focused on "shutdown" and "debt ceiling" concerns. Credit spreads are moving in line with the broad market sentiment while the overall troubled company index is very benign from a historical basis. This is the very time that astute risk managers need to be vigilant against complacency and also focus carefully on company specific risk."
The Kamakura troubled company index measures the percentage of more than 35,000 public firms in 45 countries that have annualized 1 month default risk over one percent. The average index value since January, 1990 is 11.94%. Since November, 2010, the Kamakura index has used the annualized one month default probability produced by the KRIS version 5.0 Jarrow-Chava reduced form default probability model, a formula that bases default predictions on a sophisticated combination of financial ratios, stock price history, and macro-economic factors. The version 5.0 model was estimated over the period from 1990 to 2008, and includes the insights of the worst part of the recent credit crisis. The countries currently covered by the index include Australia, Austria, Bahrain, Belgium, Brazil, Canada, China, Denmark, Egypt, Finland, France, Germany, Greece, Hong Kong, India, Indonesia, Ireland, Israel, Italy, Japan, Jordan, Kuwait, Luxemburg, Malaysia, Mexico, the Netherlands, New Zealand, Norway, Oman, Poland, Portugal, Qatar, Russia, Saudi Arabia, Singapore, South Africa, South Korea, Spain, Sweden, Switzerland, Taiwan, Thailand, United Arab Emirates, United Kingdom, the United States, and Vietnam.
Disclosure: I have no positions in any stocks mentioned, and no plans to initiate any positions within the next 72 hours. I wrote this article myself, and it expresses my own opinions. I am not receiving compensation for it. I have no business relationship with any company whose stock is mentioned in this article.
Additional disclosure: Kamakura Corporation has business relationships with a number of firms mentioned in the article.