Everyone loves a good growth story. They are fun to watch, and can be very rewarding for those invested in them. One of the best growth stories out there has been Google (NASDAQ:GOOG). The internet giant has continued to evolve amidst a changing tech landscape, and those holding shares have done quite well at times. Back in July, I asked if it was possible for Google to face an Apple (NASDAQ:AAPL) like fall. Looking back, the day I wrote the article was Google's all-time high share price. Google shares are down about $40 since then, but were down twice that much a month or so ago.
Today, I return to look at Google again. Google has been a great growth story, but those growth numbers are declining again, putting the company at a key point in its history. When Apple hit that point, shares were crushed. Now it is Google's time to prove whether or not the party is truly over.
Growth rates coming down:
As companies mature, their growth rates slow down. That is rather obvious. But for a company like Google, investors are buying the stock because that is all the company offers. Google does not offer a dividend and they are not buying back stock. It all comes down to growth, and the following chart shows Google's GAAP revenue growth going back to 2007.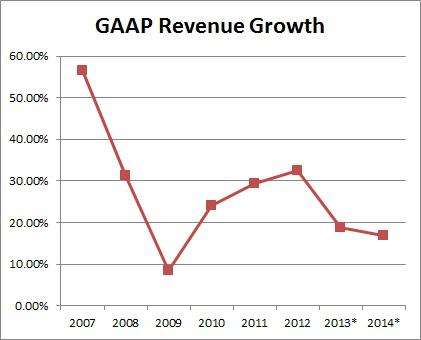 *Projected based on current analyst estimates.
Now the one item that makes the chart a bit misleading is the fact that a lot of the 2012 growth was due to the Motorola Mobility acquisition. In fact, more than a third of it was. In 2012, Google itself grew GAAP revenues by 21.46%. But the company's overall growth was 32.37% thanks to more than $4 billion in GAAP revenues from Motorola. Those revenues started in Q2 of 2012. The acquisition benefit continued in Q1 of this year, because the Q1 of 2012 period had no revenues from Motorola. Through six months in 2013, Google-only GAAP revenues were up about 20.6%. Total company revenues were up more than 25%. That "benefit" ran out in Q2, so from here on there will be no more acquisition bump.
Google is now crossing the key 20% growth threshold, and in fact was under 20% growth in Q2. Additionally, Motorola revenue growth was even slower than Google's, meaning total company growth was even less than Google-only growth. Q3 should paint an even more interesting story, because growth levels are expected to be much lower. Current analyst estimates call for $14.84 billion in GAAP revenues, and Google did $14.10 billion in the year-ago period. However, part of last year's quarter included Motorola Home revenues, a unit that has since been sold off, so we could see an adjustment to last year's Q3 number. But even then, Google probably won't be anywhere near 20% growth. They'll be lucky if they hit 15% growth, and it would not be a stretch to wonder if single digit growth is possible. That would be a scary thought for a company whose stock is reliant only on growth.
Capital return time?
Like many large cap tech names, the profitable Google has seen its balance sheet grow tremendously in recent years. In just the past three years (ending Q2), Google's total asset base has more than doubled from $48 billion to $101 billion. Some key balance sheet statistics are shown in the table below.

*Google did not provide an exact amount for foreign held funds, but on that quarter's conference call said the split was about 50/50.
While Google's total cash pile is up more than $15 billion in the past two years, its domestic amount is basically flat. That's another result of the Motorola Mobility acquisition, which was a payment of more than $12 billion. Even though working capital has gone up, Google's current ratio has come down from its highs, but it is still at no-worry levels. Google's debt (liabilities to assets) ratio has improved in the past year, but is a little elevated from 2010 and 2011 levels.
So with Google's growth rates coming down, there are two ways Google can use its cash resources. The first would obviously be a capital return plan, in the form of a dividend or buyback. The problem here is that when Apple decided to restart its dividend and buy back shares, investors started worrying that Apple couldn't innovate and the growth story was over. Yes, these were the same investors arguing for Apple to pay a dividend and buy back shares, but that's just the double standard Apple is held to. So what about Google? If Google starts paying a dividend, will investors be worried about the growth story? A buyback would be interesting here, because in the past three years, the diluted share count (which is the one used to calculate EPS) has risen from 322.5 million to 338.3 million. Since Google is not buying back stock currently, the share count will continue to rise over time, further pressuring earnings per share. In this year's Q2, earnings per share were hurt by about 22 cents thanks to the share count's rise over the past year. Go back a couple of years, looking at the full year numbers, and the impact is in dollars and not cents.
Making more large acquisitions?
Perhaps it is time for Google to go back out on the acquisition trail. The company certainly has the financial flexibility to make either a small or large acquisition, as I showed above. An acquisition should help with the slowing revenue growth problem, whereas a dividend or buyback would not do that. In fact, returning capital to shareholders might be a sign that they have no better way to use the money. That was one complaint of Apple, and is part of the reason why Apple shares went from $705 to $385.
So who could Google possible acquire? Well, Google will come up as a potential suitor for parts of or all of BlackBerry (NASDAQ:BBRY). The Canadian device maker is in big trouble after another terrible quarter, and is looking to make some sort of deal. While it would be unclear how Google would initially use some of BlackBerry's phone line, I'm sure there are more than a few patents Google would love to own. Google's low-end Android lineup in the emerging markets is one reason why BlackBerry has struggled, so a takeout of BlackBerry would only strengthen Google's presence in that segment. Apple's failure to address the emerging markets segment with its new phone lineup led Apple shares to decline post iPhone launch, but Apple has rallied thanks to a huge opening weekend blowout in iPhone sales.
The other notion is that Google could target someone related to the social media space as a sign of the changing times. I have been one that has suggested Google acquire Zillow (NASDAQ:Z) at times, although now that Zillow has gone from $23 to $87 (and as high as $103), it probably would be a stretch. Zillow's market cap is over $3 billion, and that's before any takeover premium, for a company that is only expected to do about $270 million in revenues during 2014. On a price to sales basis, a more prudent buy would be Groupon (NASDAQ:GRPN). While the daily deals site might cost $9 billion to $10 billion, it's expected to do about $3 billion in revenues next year. A Groupon acquisition wouldn't be as much of a valuation stretch as it would be to acquire Zillow or a number of others.
Valuation still seems excessive:
I wouldn't be as worried about Google overall if the stock traded for a more reasonable amount. However, as you can see from the table below, Google trades for a huge premium to others in this space. The table below shows price to sales and price to earnings valuations based on each name's currently expected fiscal year estimates. Apple's "2013" below ended in September 2013, and Microsoft's "2013" below ends in June 2014. Google uses a calendar year.

The other important item to note is that Google's P/E number above is based on non-GAAP estimates. Google provides GAAP earnings per share, then takes out some expenses and other items, and gives a non-GAAP figure as well. Analyst estimates are based off the non-GAAP numbers. If you were to use GAAP figures for Google, the P/E value would be significantly higher, as the net income value would be much lower.
So when Google fetches an 80% premium on price to sales or a 60% premium for P/E (before adjusting for GAAP), I have to take a step back. This valuation is not going to stick forever. It's hard to pay a huge growth company valuation for a company that's no longer a huge growth company. Apple and Microsoft also have dividends and buybacks to consider, and Google only offers shareholders continued dilution. If Google's growth drops into the low to mid teens, this valuation will come down, and it could be quite significant.
Final thoughts:
What happens when a high growth company sees its revenue growth start to slow down? Well, we are probably about to find out with Google. The tech giant saw a nice boost in revenue growth thanks to the Motorola Mobility acquisition, but that benefit is now over. Shareholders will soon find out how quickly Google's growth is slowing. How will Google respond? Will it be another major acquisition, or some sort of capital return plan? Apple went with the capital return plan, but it wasn't enough in the short term. Now it is Google's chance to do something. Google can be considered a short candidate for now due to the extreme premium the stock trades at, but you have to be careful shorting any name in this Fed-propped up market. It may not be wise to short Google until it tests its highs again. When it comes to Google, we're about to find out what happens when a high-growth company doesn't produce high growth while trading at a premium valuation.
Disclosure: I have no positions in any stocks mentioned, and no plans to initiate any positions within the next 72 hours. I wrote this article myself, and it expresses my own opinions. I am not receiving compensation for it (other than from Seeking Alpha). I have no business relationship with any company whose stock is mentioned in this article.
Additional disclosure: Investors are always reminded that before making any investment, you should do your own proper due diligence on any name directly or indirectly mentioned in this article. Investors should also consider seeking advice from a broker or financial adviser before making any investment decisions. Any material in this article should be considered general information, and not relied on as a formal investment recommendation.