Last month, Philip Morris International (NYSE:PM) surprised many by announcing a larger than expected dividend hike of 10.6%. Dividend growth has always been a hallmark of former parent Altria Group (NYSE:MO), and Philip Morris has not disappointed in that regard. In my earlier article, I had speculated that this increase was mostly a reward for long-term shareholders due to Philip Morris' YTD poor performance. However, Philip Morris may also be attempting to telegraph stronger second half 2013 results. In addition, Philip Morris has recently made transactions in large developing countries, which may be a driver for 2014 volume growth.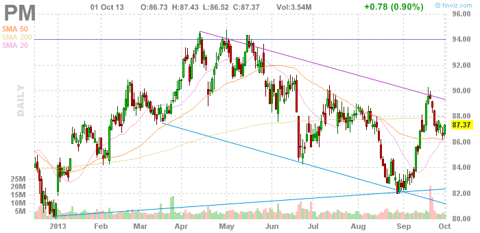 Dividend boost may be a sign of second half strength
Philip Morris has had a forgettable 2013, underperforming the S&P 500 by over 20%. The company has been plagued by many issues, including volume pressures in key Asian markets, a strong dollar, a weak Euro, and a rotation out of high-yield names.
As a result, I had originally thought that Philip Morris raised its dividend aggressively to placate shareholders for its lackluster performance. However, on further thought, I think this is only partly the case.
In a recent conference call, Philip Morris made it very clear that 2013 would be a back loaded year:
We are confident that we can deliver robust financial results in 2013. As you know, we have indicated that we expect a better second half of the year with a particularly strong fourth quarter.
While the company declined to update its guidance, it did provide some color into some key markets. In particular, volume declines in Europe appear to be moderating, with recent results outperforming Philip Morris' internal expectations. The unemployment situation in Europe, which is quite frankly terrible, appears to have settled in. Tobacco consumers in that region were down-trading to lower quality products or even illegal untaxed products. However, these trends seem to have reversed due to lower prices and more favorable taxes.
Regarding Asia, Philip Morris noted several interesting tidbits. As I noted in a previous article, the company was forced to lower prices aggressively in the Philippines due to volume pressures resulting from a change in taxes. Basically, a local competitor is selling product at economically unsustainable levels, forcing Philip Morris to lower prices to maintain market share. With a few exceptions, Philip Morris is seeing market share increases in Asia. However, several mature markets in the area, such as Japan, are seeing lower volumes due to pricing pressures from Japan Tobacco and a shift towards menthol products.
Philip Morris shores up its presence in key International growth markets
Make no mistake that Philip Morris is first and foremost a growth stock with an international focus. As fellow SA contributor Bill Maurer noted in a recent article, Philip Morris has typically traded at a premium when compared to domestic peers such as Altria, Reynolds American (NYSE:RAI), and Lorillard (NYSE:LO). However, this premium has evaporated in recent months due to Philip Morris' struggles.
On September 30, the company announced a $625M transaction to purchase 49% of United Arab Emirates based Arab Investors-TA. As a result, this deal will give Philip Morris a 25% economic interest in a joint venture which distributes Marlboro and L&M brands in Algeria. Combined, these brands have the second largest market share in the country among branded tobacco products. The company noted that this transaction is expected to be accretive to earnings in 2014. Algeria, with the 4th largest GDP in Africa, is a key growth market for Philip Morris, with estimated cigarette volumes of over 30B units.
Philip Morris' recent move should be seen as a positive event. This is the second large international expansion for Philip Morris this year. In May, Philip Morris announced that it would buy out 20% of its Mexican subsidiary it doesn't own for $700M. This transaction is expected to be accretive to earnings as of Q4 2013. Both of these deals are in key growth areas and should be accretive to 2014 earnings.
Conclusion
Things are definitely looking rosy for Philip Morris for the second half of 2013. For Q3, I suspect the company may surprise to the upside, mostly due to the confidence shown in the recent conference call and by its larger than expected dividend boost. Looking forward to 2014, we can see that Philip Morris has made two major transactions that should boost results.
Considering its current yield and valuation, Philip Morris appears to be attractively priced. I would however wait for the current turmoil in Washington regarding the Government shutdown and the ACA to dissipate, as it may cause market volatility.
Disclaimer: The opinions in this article are for informational purposes only and should not be construed as a recommendation to buy or sell the stocks mentioned. Please do your own due diligence before making any investment decision.
Disclosure: I am long PM, MO. I wrote this article myself, and it expresses my own opinions. I am not receiving compensation for it (other than from Seeking Alpha). I have no business relationship with any company whose stock is mentioned in this article.