This is an update to the latest rankings for the 25 BDCs that I cover and a follow up to "BDC Rankings: September 2013" taking into account the latest developments, pricing and analyst ratings as well as revised earnings estimates and outlooks. I have also included the highlights for the recent changes and the rankings for my four BDCs portfolios. Over the next few weeks there will most likely be volatility in the BDC industry as discussed in "The Debt Ceiling Debate And Interest Rates" and I see this as an opportunity to buy BDCs for the long term. These are the five general criteria I use to evaluate BDCs:
Profitability (dividend coverage, NAV and EPS growth)
Risk (portfolio quality, rate sensitivity, diversification, volatility)
Payout (sustainable, consistent, growing)
Analyst Opinions (outlook, price targets)
Valuation (NAV, P/E, growth rates)
The table below does not actually contain whole numbers and the totals might be different (by 1) due to rounding: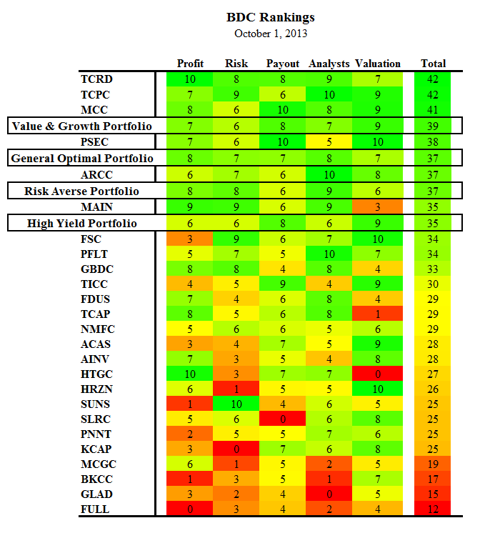 Highlights:
TCP Capital (NASDAQ:TCPC) remained high in the rankings and recently announced a public offering of 3.8 million shares for total gross proceeds of approximately $59.9 million not including the underwriters option to purchase up to an additional 15%. The offering is expected to close on or about October 1, 2013 and will not affect my Q3 projections in "TCP Capital: Still Overlooked?" but I will revise my EPS projections for Q4 and include them in the next rankings.
I have included my new projections for Medley Capital (NYSE:MCC) discussed in my "Medley Capital: Can It Continue To Cover Dividends?" as well as slightly reduced the valuation category to a 9 out of 10 due to a recent (and much needed) increase in share price.
Prospect Capital (NASDAQ:PSEC) moved up in my profit and analysts categories due to rising analyst EPS projections and recommendations that I had anticipated in "Prospect Capital: Time To Buy?" as well as an increase in the valuation category due to lower share price performance compared to the other BDCs.

Ares Capital (NASDAQ:ARCC) moved higher in the rankings due to the recently announced closing of its public offering of 12.65 million shares raising approximately $214.2 million in net proceeds which will be accretive to its NAV per share and used to reduce outstanding borrowings at variable rates, as well as give the company a market cap close to $5 billion. The offering was priced below the trading price at the time and as discussed in "Ares Capital: Buy On The Dip?" this is an opportunity to buy one of the 'safer' BDCs that it is currently a component of my "Risk Averse" and "General Optimal" portfolios.
Main Street Capital (NYSE:MAIN) fell slightly in the rankings mostly due to the continued climb in stock price since the recent public offering of 4 million shares. They also announced that the underwriters have fully exercised their option to purchase 600,000 additional shares at price of $29.75 per share compared to its NAV per share of $18.72.
Fifth Street Finance (NYSE:FSC) also announced that it has closed a public offering of 17.6 million shares at a public offering price of $10.31 per share for total gross proceeds of approximately $181.9 million. The pricing was below the trading price at the time moving it higher in my valuation ranking (due to the lower price) and the transaction was accretive to its NAV per share. FSC is a component in my High-Yield BDC Portfolio.
TICC Capital (NASDAQ:TICC) is also part of my High-Yield BDC Portfolio and has recently risen in the valuation category mostly due to poor price performance since the latest rankings and is now trading near its NAV per share of $9.75 and at some of the lowest P/E multiples in the industry which is why I added it to the Value & Growth BDC Portfolio. However I do have some concerns regarding dividend coverage and currently its projected EPS of $0.28 is just below dividends of $0.29 per share.
American Capital (NASDAQ:ACAS) has recently had a few analysts raise EPS projections over the coming quarters but it is still projected to come in with earnings for the year that are well below the previous year. The company continues to struggle with non-performing loans as discussed in "American Capital: Is It Time To Get Out?" and its quarterly NAV per share growth continues to slow which is why many analysts have been downgrading as shown in the chart below with a consolidated view of the ratings from a number of independent research providers:

This is only one of many sources that I use for the analysts category which is why ACAS still has a 5 out of 10.
Apollo Investment (NASDAQ:AINV) continues to rank low due to its high volatility ratios, lower than average amounts of senior debt and insider ownership, but has been rising due to dividend coverage of its current 9.7% yield.
Solar Capital (NASDAQ:SLRC) has dropped in the ranks due to its disappointing quarter and reduced quarterly dividend, and was removed from High-Yield BDC portfolio.
PennantPark Investment (NASDAQ:PNNT) has fallen considerably in the rankings due to lower EPS projections that are currently short of covering dividends as well as lowered analyst recommendations.
BlackRock Kelso Capital (NASDAQ:BKCC) moved up in the rankings mostly due to poor price performance dropping 8% in the last six weeks giving it a yield of almost 11% but it is still not projected to cover dividends anytime soon. I am anticipating a dividend reduction in the coming quarters.
Investors should only use this information as a starting point for due diligence. See the following for more information:
Disclosure: I am long MAIN, PSEC, TCPC, ARCC. I wrote this article myself, and it expresses my own opinions. I am not receiving compensation for it (other than from Seeking Alpha). I have no business relationship with any company whose stock is mentioned in this article.