Financial markets expected no rate cut from the Reserve Bank of Australia (RBA), and they got no rate cut. However, for whatever reason, expectations for a rate cut for the November meeting represent an increase in odds. Whereas the odds were only 10% for a rate cut to 2.25% going into the RBA October decision, the odds are currently 27% for a rate cut during the November meeting.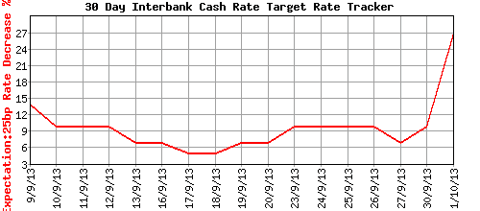 Australian 30-Day Interbank Cash Rate Target Rate Tracker
Source: Australian Stock Exchange (NYSE:ASX)
I am surprised because the latest decision on monetary policy from the RBA said absolutely nothing new and broke no fresh ground. If anything, it provided relief that the RBA avoided any hint of any intentions to lower rates in the near future. The RBA expects the Australian economy to continue growing below trend in the near-term, global growth should pick up next year, inflation is on target (medium-term), and savers continue to "respond" to lower rates of return on low-risk investments. The RBA also again noted that "a lower level of the currency than seen at present would assist in rebalancing growth in the economy." The RBA did not hint at any direct action to drive the currency lower, but the risk is of course always present that it will think of creative ways to encourage markets to cooperate.
In the immediate wake of the announcement, the Australian dollar (NYSEARCA:FXA) rallied a bit. As with many of these immediate, quick-trigger responses in the wake of minor news, the pop is in the process of reversing. Weaker than "expected" economic data in building approvals and the Australian trade balance seem to have encouraged the reversal at the time of writing.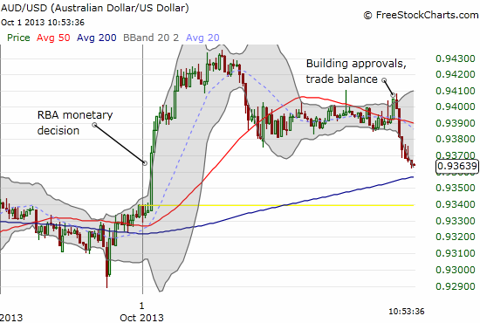 The Australian dollar rallied in the wake of the decision leave rates alone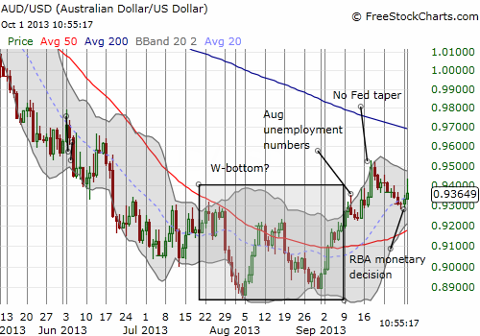 A W-bottom remains well-intact, supported by an up-trending 50-day moving average
Source: FreeStockCharts.com
On balance, we have potentially conflicting signals. The small increase in odds for a rate cut in November imply incremental pressure on the Australian dollar, even if it is to slow the currency's ascent. The rally after the statement suggests a growing comfort with the possibility that the RBA has come to the end of its latest rate-cutting cycle. Until the next decision, I will continue to monitor the rate tracker for clues.
Be careful out there!
Disclosure: I have no positions in any stocks mentioned, and no plans to initiate any positions within the next 72 hours. I wrote this article myself, and it expresses my own opinions. I am not receiving compensation for it (other than from Seeking Alpha). I have no business relationship with any company whose stock is mentioned in this article.