With shares of Facebook (NASDAQ:FB) up roughly 100% over the past six months, it seems apparent that the company has finally figured out how to turn its 1 billion users into revenue. At the company's last earnings release, it announced that it had booked $656 million in ad revenue, 41% from mobile. Facebook is figuring out how to customize ads for specific users. This effort - aided by advances in hardware, like the fingerprint scanner of Apple's (NASDAQ:AAPL) new iPhone 5S - will help the company to continue to expand.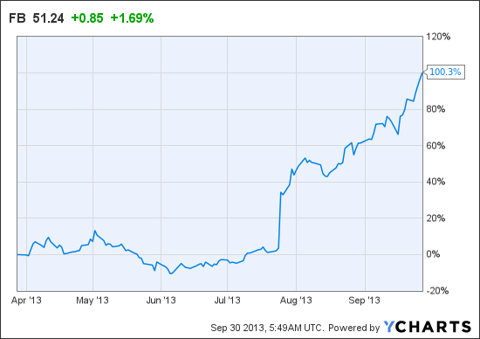 In the video below, I discuss how Facebook has become the first legitimate competitor to Google's (NASDAQ:GOOG) dominance in the ad space. There is general consensus amongst advertisers, that the future is in mobile and in the ability to target specific consumers when they are in relative proximity to specific businesses. Facebook has a wealth of important information that can aid advertisers in hitting the potential buyers they want, but turning this information into revenue has been a challenge. If this problem can be solved, as evidence suggests it is being solved, the potential earning power of Facebook is unlimited.
In the video, I also explore why even at historic highs, Facebook might make sense for your portfolio because of the heights I believe it is capable of reaching if given a chance.
Disclosure: I have no positions in any stocks mentioned, and no plans to initiate any positions within the next 72 hours. I wrote this article myself, and it expresses my own opinions. I am not receiving compensation for it (other than from Seeking Alpha). I have no business relationship with any company whose stock is mentioned in this article.