Rackspace Hosting, Inc. (NYSE:RAX) and Akamai Technologies, Inc. (NASDAQ:AKAM) are both successful firms operating IT services and security solutions in the cloud, providing computing power, front-end operations for corporate websites, and pure and hybridized cloud options for firms who want to take advantage of in-house IT and outsourced support and security for the same services.
Companies in the Clouds
Rackspace Hosting, Inc. and its fanatics are emblematic of a committed corporate culture that continues to innovate, specifically when employing the resource known as open source encoding. To remain competitive against behemoth Amazon (NASDAQ:AMZN), Rackspace created a large infrastructure of 98,884 servers to support cloud computing, and relied on open source development of code from firms who would then end up using Rackspace servers as a means to handle their increasing workloads. This model allows RAX to upsell and provide value added services AFTER the firm has adopted the RAX open source language OpenStack to operate their respective IT services.
Lanham Napier and his crew have indicated with corporate guidance that they expect near term growth and net profit of 13% to be resurgent, but not immediately. This means the stock could run lower, into the $45 range. The longer term guidance RAX have provided indicates that they could see margins staying roughly flat, if not rising slightly again, and that the slowed pace of growth experienced in Q1 and Q2 of 2013 have been symptomatic of the infrastructure development and investment the organization has undertaken. The gamble might pay off, but for now its a questionable investment at these price levels, and could complete the chart below, approaching the valuation I have computed for the stock.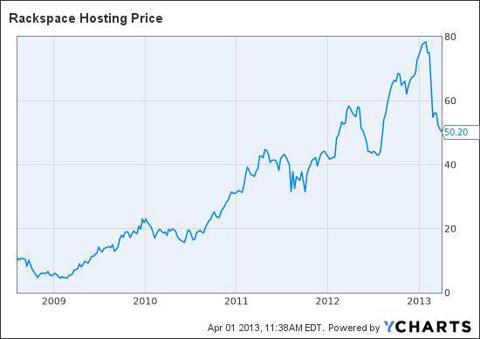 Click to enlarge
The capable, yet less visible, Akamai, Inc., has been able to offer scalable benefits associated with offloading services from client infrastructures, allowing clients to have fewer hard assets in place while providing an ongoing revenue stream for Akamai. This translates into 125000+ servers operating dedicated, hybrid cloud and true cloud servers to provide IT and, increasingly, security services, in a vast array of companies across a widely diversified group of industries. Notable firms under the umbrella of the Akamai Intelligent Platform include BMW, AMD, Apple (NASDAQ:AAPL), Microsoft (NASDAQ:MSFT), NASA, The BBC, The NFL, The U.S. Department of Defense, Red Bull, IBM, Travelocity, The U.S. Securities and Exchange Commission, Urban Outfitters (NASDAQ:URBN), and Yahoo.com (NASDAQ:YHOO).
These firms, well poised in their respective fields, seem to be capable of providing long term revenue streams for AKAM well into the foreseeable future, and are being joined regularly by new contracts from companies large and small alike. The security services that Akamai provides are one of their most lucrative revenue streams, comprising almost 50% of their total gross as they have handily overcome the lack of public awareness of this service. This appears to be a service, like most of their offerings, that is coupled an expansion of the global economy and a diffusion of internet access and cybersecurity, as the firm is seeing growth of 105% in China, and a robust 22% and 15% in Europe and N. America respectively. The revenue and profit growth of Akamai in the past quarter clearly indicates that the company has room to run in the remainder of the year.
The Long and Short of Cloud Companies
The way to play the cloud this quarter: short Rackspace with a price target around $45, or buy Akamai on any significant pullback and any price below $52 as there are murky skies in Rackspace's future, and there appears to be a great chance of continuing sunshine, albeit with clouds, for Akamai.
Disclosure: I have no positions in any stocks mentioned, but may initiate a short position in RAX over the next 72 hours. I wrote this article myself, and it expresses my own opinions. I am not receiving compensation for it (other than from Seeking Alpha). I have no business relationship with any company whose stock is mentioned in this article.