The United Kingdom country-specific exchange traded fund continued to weaken Friday, moving toward its first weekly loss since August, after a Bank of England governor pointed to an end to stimulus.
The iShares MSCI United Kingdom ETF (NYSEARCA:EWU) is up 12.2% year-to-date.
U.K. stocks weakened following BOE Governor Mark Carney's comment that no further stimulus will be required due to the scope of the economic recovery, reports Sofia Horta e Costa for Bloomberg.
"My personal view is, given the recovery has strengthened and broadened, I don't see a case for quantitative easing and I have not supported it," Carney said in a Yorkshire Post article.
While an end to stimulus may be bearish for stocks, the BOE's statement is bullish for the British pound sterling currency, which hit an eight-month high against the U.S. dollar Friday and extended a fourth weekly gain, the longest run in a year, reports David Goodman for Bloomberg.
The CurrencyShares British Pound Sterling Trust (NYSEARCA:FXB) is 1.6% lower year-to-date.
"This sits with the tone we've seen recently from the Bank of England, where there was an absence of very dovish rhetoric," Jane Foley, senior currency strategist at Rabobank International, said in the Bloomberg article. "The message is that there may be further asset purchases should the recovery stall but the data suggest that things are returning to normal. The market has quashed most of its hopes that there could be more QE."
iShares MSCI United Kingdom ETF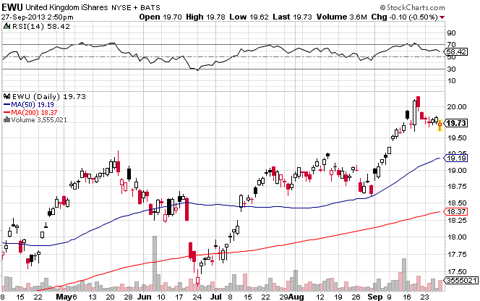 Max Chen contributed to this article.
Disclosure: I have no positions in any stocks mentioned, and no plans to initiate any positions within the next 72 hours. I wrote this article myself, and it expresses my own opinions. I am not receiving compensation for it. I have no business relationship with any company whose stock is mentioned in this article.
Additional disclosure: Mr. Lydon serves as an independent trustee of certain mutual funds and ETFs that are managed by Guggenheim Investments; however, any opinions or forecasts expressed herein are solely those of Mr. Lydon and not those of Guggenheim Funds, Guggenheim Investments, Guggenheim Specialized Products, LLC or any of their affiliates.