Infosys (INFY), the third largest player in the Indian IT service industry in regards to revenue, has been implementing turnaround initiatives headed by Mr. N.R. Narayana Murthy, who was reinstated as executive chairman in June this year. Regarded as the face of the growing Indian IT industry, Infosys has been suffering from a slowdown in revenue growth and a decline in its operating profit margin, which has decreased from 34.57% in fiscal year 2010 to 28.58% in fiscal year 2013. Infosys' failure to keep pace with the growing IT industry and losing market share to its competitors, prompted Narayana Murthy to develop a strategic roadmap to revive the company's fortunes in three years on the eve of its first direct meeting with investors.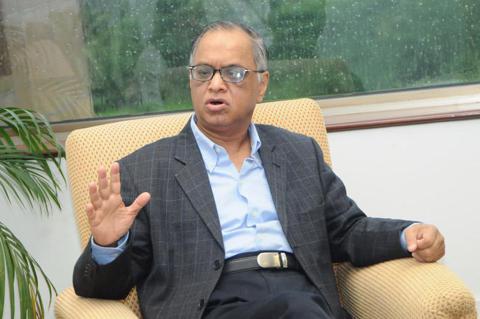 Click to enlarge
In Image: Narayana Murthy, Photocredit: chaikoffe
Return of visionary leader
Since the arrival of Narayana Murthy in June, Infosys' stock price has appreciated 20%, which denotes the positive investors' sentiment regarding Narayan Murthy's turnaround prospects. During the first direct meeting with its investors as an executive chairman after span of nearly 8 years, the following were the issues and expected initiatives discussed by Infosys' chairman:
| | |
| --- | --- |
| Issues | Strategy |
| Less focus on winning large outsourcing deal, which accounts 63% of the company's revenue | Aggressively focusing on winning large deals and maintaining market share |
| Higher cost base | Cost rationalization to improve margins by managing on-site costs, which have increased to 46% of Infosys' cost in fiscal year 2013, from 36% in fiscal year 2012. Also, improving employee utilization rate. |
| Low level of employee confidence | Boosting employee moral by changing compensation and reward mechanism |
| Other | Improving sales efficiency and increasing automation |
Focusing on the cost optimization strategy, the company is planning to reduce onsite employees that work in the client's country. When compared to its peers, Infosys has a higher onsite cost and a lower employee utilization rate of 88%, which denotes the inefficiency in onsite operation. Employee utilization rate is the actual billed employees, compared to total available employees. Therefore, the greater the employee utilization rate the greater the revenue generation opportunity.
Although the company has not made any official announcement, news reports indicate it may result in job cuts in marketing and strategic global outsourcing divisions. Both these divisions have an overlapping function, which provides room for a reduction. Apart from that, the company is planning to shift some of its onsite function offshore, sending the work back to India, for completion. Doing work offshore has a higher gross margin than onsite operation; it saves expenses like visa application cost. According to analysts, making onsite operations efficient improves the company's margins by 1.5% to 2%. Therefore, this important initiative will lay the foundation for Infosys' revival initiatives. Infosys has been struggling with a declining operating profit margin due to growth in its onsite cost.
We believe this move is not only cost advantageous, but it will also help the company hedge against the upcoming headwind of the U.S. Immigration bill, which is awaiting approval in the House of Representatives. This bill is a threat for the Indian IT industry, which depends on exports for most of its revenue. As per the bill passed in the Senate, companies that have over 75% of their US workforce relying on H-1B or L-1 visas would be barred from receiving additional visas by 2015. Also, these companies would have to reduce their visa-dependent workforce to 50% by 2017. This will result in higher costs for the companies as each would have to recruit local employees, which are much more expensive to hire than Indian employees.
Infosys, which derives 62% of its revenue from North America, has already started hedging this negative impact by increasing offshoring components in its contracts, opening the company's domestic development center in the same time zone as the client, and recruiting local employees in the client's region.
The U.S. Immigration bill is the most hyped topic, and it will decide the future course of IT companies like Infosys. The company is making efforts to offset this upcoming threat, and we believe that its initiative will reduce the negative impact of the bill if it is passed.
This initiative will set a base for the company's cost reduction strategy. Infosys is currently undergoing a lot of management change, including the departure of key personnel like Ashok Vemuri (head of global sales and North America operations), Sudhir Chaturvedi (Vice-president and financial services head for the Americas), and Basab Pradhan (global sales head). These high profile exits will affect the company's revival initiative; all these employees had plenty of experience in their respective fields. Therefore, it will create a leadership gap in the organization. We believe its impact will be short term, and with passage of time, Infosys will fill these gaps so that it doesn't hinder the company's growth prospects.
Peer Analysis
Once regarded as the second biggest Indian IT company in terms of revenue, Infosys lost its position to Cognizant (CTSH), which experienced its highest revenue growth rate of 20.1% year over year in 2012, as per global research firm Gartner. Apart from Cognizant, Infosys has been losing its market share to Tata Consultancy Services (TCS.BO) and HCL Technologies (HCLTECH) as well.
| | | | |
| --- | --- | --- | --- |
| Comparison Metric | Infosys | Tata Consultancy Services | HCL Technologies |
| Revenue growth rate (FY 2013) | | | 22.40% |
| Net income growth rate (FY 2013) | 13.17% | 33.65% | 62.30% |
After comparing the fiscal results, Infosys has lagged behind its rivals in getting revenue growth in their last fiscal year. Also, its bottom line growth was below its competitors, denoting that the company is suffering from an increasing cost base, which is affecting its financials. Infosys has a dollar revenue growth guidance of 6%-10% as compared to the industry's projected growth of 12%-14% in fiscal year 2014. This indicates that the company will grow slower than the expected industry growth.
Conclusion:
Infosys is currently in a revival phase, and it will take time to boost the company's top line growth. The company has some upside development like depreciation of the rupee vs. major currencies, which will positively affect the margin; a 1% drop in the currency boosts the operating margin of IT exporters by 0.40%.
We believe that this stock is currently undervalued, and with the turnaround initiative in place, Infosys' will generate significant value for investors in the future. Since June, the company has been reducing the gap between the stock and benchmark CNX IT index performance, which denotes an upward trend resulting from positive market sentiment towards Infosys. The figure shown above is the year to date performance of Infosys and CNX IT index.
Disclosure: I have no positions in any stocks mentioned, and no plans to initiate any positions within the next 72 hours. I wrote this article myself, and it expresses my own opinions. I am not receiving compensation for it (other than from Seeking Alpha). I have no business relationship with any company whose stock is mentioned in this article.
Additional disclosure: Fusion Research is a team of equity analysts. This article was written by Rohit Gupta, one of our research analysts. We did not receive compensation for this article (other than from Seeking Alpha), and we have no business relationship with any company whose stock is mentioned in this article.