Last month, I wrote that it has been a fascinating year for fixed income as we had potentially reached an inflection point where post-crisis lows in interest rates driven by extraordinary monetary accommodation were finally giving way to normalization. In September, we saw another minor market inflection point as the long awaited September 18th Federal Open Market Committee meeting failed to produce a "taper," or a decrease in the level of asset purchase by the Federal reserve to lower market interest rates and stimulate economic growth. In this evolving market environment, this series is meant to give Seeking Alpha readers tip on how to tactically position their portfolio in the short-run as we digest economic data points and the machinations of the central bank.
We are now ten months into my monthly series on fixed income momentum strategies. While Treasury and investment grade corporate bonds have produced negative total returns year-to-date, the momentum strategies have continued to demonstrate how they have generated long-run alpha, tactically positioning in less rate-sensitive credit classes. Negative total returns in high quality fixed income have been produced by the move higher in interest rates, driven by the pull forward of market expectations around the ultimate terminus of quantitative easing. While less rate-sensitive asset classes, like speculative grade high-yield bonds, have outperformed on a relative basis, the swoon in high-yield bonds in June was the worst monthly performance for speculative grade credit since the U.S. credit rating downgrade in August 2011. In spite of these rocky returns for the individual asset classes, these strategies have continued to prove their worth, which is readily demonstrable in the long-run studies of these strategies detailed in the article.
In this series, I have highlighted momentum strategies across asset classes that have produced excess returns per risk borne, or alpha, over long time intervals. Momentum switching strategies between 1) Treasuries and high-yield bonds; 2) investment-grade bonds and high-yield bonds; 3) between the highest quality (Ba/BB) and lowest quality speculative grade bonds (Caa/CCC); and 4) between short-duration and long-duration bonds have historically produced elevated risk-adjusted returns. This is the tenth edition in the series, and will examine September returns and implications for October portfolio positioning. I believe that this article is timely given the wide discussion about whether we have reached a market inflection point in various fixed income markets as yields have rebounded from historical lows and have headed sharply higher over the past several months. Even as yields have bounced off of their local highs, fixed income returns continue to be highly variable as the end of quantitative easing draws near. I hope this series provides Seeking Alpha readers with a thoughtful discussion about how to tactically position their bond portfolio in this market environment in the short run, and provides thoughtful tools to drive alpha in the long run.
The purpose of this series of articles is to demonstrate the long-term success of these strategies, and give Seeking Alpha readers with differing risk tolerance tips on how to employ these strategies themselves to improve the performance of their respective fixed income portfolios. These are useful strategies for Seeking Alpha readers, especially those who allocate dollars to their investment plan on a subscription-like basis like 401(k) investors making automatic payroll deductions. These switching strategies can be used to adjust periodic allocations to capture the momentum effect and improve portfolio returns, especially in tax-deferred accounts.
September returns were positive for various fixed income classes as interest rates declined after the Fed's policy inaction. Treasuries had produced negative total returns for the four preceding months. While rising interest rates produce negative total returns for current bondholders, they also enable higher yields on future bond purchases due to the inverse nature of bond prices and yields, and this article will discuss where short-term opportunities in fixed income may exist.
Tailoring Your High-Yield Allocation
Treasuries and High-Yield Corporate Bonds
The most basic momentum strategy in fixed income is between Treasury bonds and high-yield bonds. The monthly strategy switches between the two asset classes, owning the asset class that performed the best in the trailing one month.
In difficult market environments, Treasury bonds rise in value as a flight-to-quality instrument while risky assets sell off as credit spreads widen. In improving economic environments, speculative grade credits improve while Treasury bonds often weaken due to rising inflation that lowers real returns.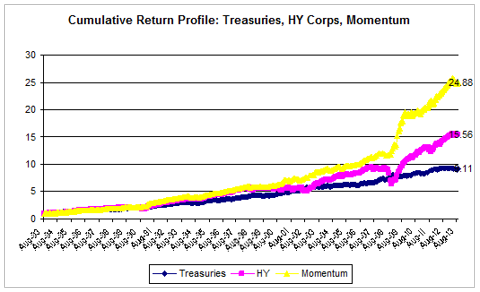 Click to enlarge
(Click to enlarge)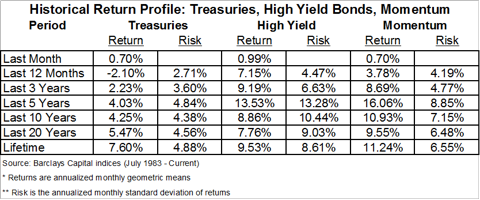 Click to enlarge
(Click to enlarge)
The long-run alpha demonstrated in the table and chart above was achieved by the simple process of owning either the Barclays Treasury Index (replicated through GOVT) or the Barclays U.S. Corporate High Yield Index (replicated through JNK) based on which index had outperformed in the trailing month, and holding the outperforming index forward for an additional one month.
For Seeking Alpha readers to understand how extraordinary the returns of these strategies have been, I included the fact sheet of the Blackrock High Yield Fund this month for reference. This is a Morningstar 5-Star fund, and in the top Lipper quartile over all trailing horizons. Over the past five years, the momentum strategy has bested this fund (stats through 6/30, excluding fees) by nearly six percent per annum, a level of outperformance roughly equal to the entire current yield to worst on the asset class. Over the trailing ten years, the momentum strategy bested the fund by roughly 2.65% per annum. The fact sheet also details a three year annualized standard deviation of monthly returns of 6.79%, which is consistent with the high yield benchmark, and meaningfully higher than the risk metric on the momentum switching strategy detailed above (4.77%). This BlackRock fund is run by some of the best managers in the business at a firm with over a trillion dollars of fixed income assets under management. I just described a simple momentum strategy that could be replicated with two fixed income ETFs that has historically strongly outperformed in both absolute and risk adjusted terms a top-rated fund with $10 billion of assets under management.
The momentum strategy suggested holding Treasuries in September given their relative outperformance in August versus Treasuries. Treasuries modestly underperformed high yield in August (by 12bps), suggesting that investors own Treasuries in September over high-yield bonds. High-yield bonds (+0.99% in September) modestly outperformed Treasuries (+0.7%) in September, which suggests that fixed income investors would want to own high-yield bonds in October.
Investment Grade Corporate Bonds and High-Yield Corporate Bonds
For Seeking Alpha readers with a higher risk tolerance, momentum strategies are also available between investment grade corporate bonds and below investment grade corporate bonds. Below is the historical performance of this strategy.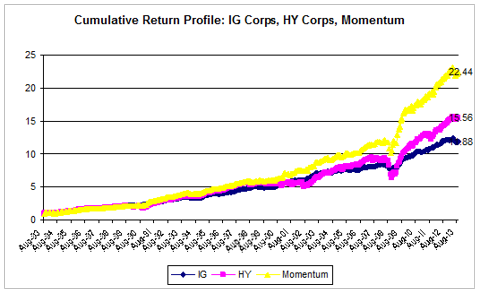 Click to enlarge
(Click to enlarge)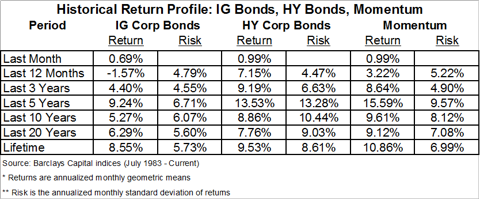 Click to enlarge
(Click to enlarge)
Investors should be cognizant of the fact that while adding investment grade corporate bonds instead of Treasuries increases the credit risk of this trade; historically, investors would not have been compensated with incremental returns. The lower correlation coefficient between Treasuries and high-yield bonds over the sample period (r=0.05) than between investment grade bonds and high-yield bonds (r=0.53) demonstrates that the individual return profiles move together less often, creating a more efficient switching strategy. Investors who have decided to eschew Treasuries altogether given historically low rates (which was not a bad idea in the past several months) may still be interested in an IG/HY momentum portfolio, which has still generated average returns in excess of speculative grade credit alone, but with risk more closely reminiscent of an IG portfolio. While the IG/HY momentum strategy marginally underperformed in 2012 on an absolute basis, it did produce alpha when adjusting for risk. Over the last three years, investors who employed this particular momentum strategy would have nearly doubled the average annual return of holding investment grade bonds with roughly the same risk as measured by the standard deviation of monthly returns. Historically, this trade has produced returns equivalent to a high-yield fund levered by an additional 15%, but with variability of returns of only 70% of that equivalent return profile.
In September, investment grade bonds (+0.69%) modestly underperformed high-yield bonds (+0.99%). This return profile suggests that high-yield bonds will further outperform investment grade bonds in October.
BB-Rated Corporate Bonds and CCC-Rated Corporate Bonds
For Seeking Alpha readers with an even higher risk tolerance, toggling between the highest and lowest rated cohorts of the high-yield segment of the market based on momentum has also produced alpha over long time intervals. This trade has been the stalwart of my fixed income momentum series in 2013, correctly predicting the outperforming leg in each month, and generating a total return of 9.1% so far this year.
While there are no specific exchange traded funds that target BB or CCC-rated bonds specifically, funds regularly publish the ratings distribution of their investments. Understanding positive momentum in high-yield bonds should help Seeking Alpha readers know when to dip down in quality to higher-yielding single-B and triple-C rated bonds. More importantly, understanding momentum will help investors miss big negative swings in performance of these risk sub-sectors when credit losses begin to eat into portfolio returns. Below is the historical performance of a momentum switching strategy between BB and CCC-rated bonds.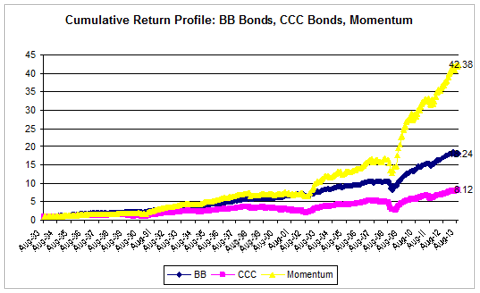 Click to enlarge
(Click to enlarge)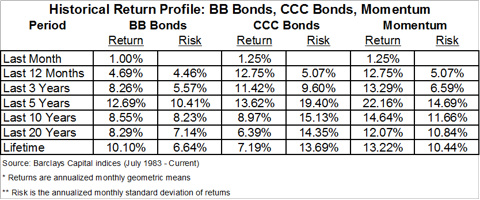 Click to enlarge
(Click to enlarge)
Historically, this momentum switching strategy would have outperformed owning high-yield outright by roughly 370bps per annum. Investors should also note from my article in late January that BB-bonds tend to outperform CCC-bonds over long time intervals due to their lower default rates, so earning alpha by going to the bottom of the credit spectrum must be done tactically. Said differently, the incremental default risk of the lowest rated cohorts, which manifests itself in weak economic environments, more than offsets the higher average coupon on lower rated bonds on average over time.
Despite the long-run higher average total returns by BB-rated bonds demonstrated in the table above, CCC-rated bonds have now outperformed their higher rated BB-rated cohort for ten consecutive months. The return differential between CCCs (+1.25%) and BBs (+1%) was just a quarter of a percentage point, which was roughly entirely a function of then higher coupon carry on the lower rated securities.
Seeking Alpha readers following this strategy should position themselves in bonds and bond funds with higher levels of credit risk in October as the most speculative portion of the high-yield bond market continues to outperform. The ten consecutive months of outperformance by CCCs is nearing the all-time record of eleven months experienced after markets bottomed in March 2009. Momentum investors should continue to overweight the most speculative grade cohort, but spread compression between CCCs and BBs may be reaching a point where relative value is greater in the higher quality rating cohort.
Adjusting Your Portfolio Duration
Intermediate Duration Treasuries and Long Duration Treasuries
All three of the aforementioned trades have used momentum to opportunistically time entry points to increase or decrease credit risk. The trade below demonstrates that momentum is also useful in timing bets on another key component of fixed income returns: interest rates.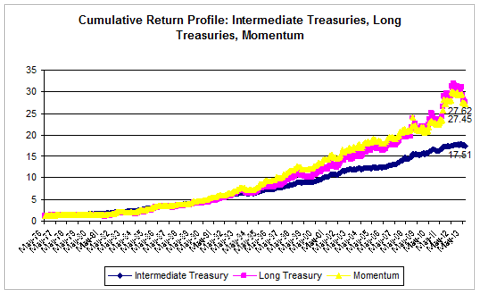 Click to enlarge
(Click to enlarge)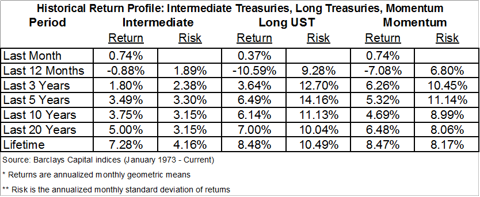 Click to enlarge
(Click to enlarge)
This strategy is meant to demonstrate the efficacy of using relative trailing returns to help fixed income investors position on the yield curve. While this momentum strategy has not outperformed on an absolute basis over the entirety of the 40-year sample period, the momentum switching strategy has produced alpha. The average annual return of the momentum strategy is only 0.01% lower than the long Treasury-only strategy, while exhibiting only about three-quarters of the volatility.
As I wrote recently, the long end of the Treasury curve is a tough place to invest given ultra low expected real returns and trailing volatility that mirrors that of the S&P 500 (NYSEARCA:SPY). Given the sharp rate sell-off this summer, momentum that suggested holding the intermediate portion of the curve relatively outperformed again in September although both the intermediate portion of the curve and the long portion produced positive total returns. The intermediate portion of the curve outperformed on the Fed's decision to not taper, which most directly benefited the belly of the curve as investors further extrapolated a continued low Federal Funds rate for a longer time period from the Fed's dovish stance. Fixed income investors should continue to favor shorter duration securities in October.
Summary
September's returns would signal that fixed income investors would want to continue to avoid long duration asset classes in October, favoring asset classes with higher credit spreads and shorter durations. Even with fixed income asset classes producing positive returns in September for the first time since late spring, this theme remains the same. Investors will continue to look towards future Federal Open Market Committees, with the long-awaited decision on whether to taper quantitative easing likely to continue to drive fixed income performance. As I write this version of the article, we are embroiled in the first government shutdown in seventeen years, and likely to see a contentious debt ceiling standoff by the end of the month. If the government shutdown or political uncertainty leads to a fiscal drag, expect the Fed to continue to be accommodative as an offset. While these momentum strategies will see some volatility as Federal Reserve governors fine tune their communication with markets and ultimately gradually reduce the amount of monetary accommodation, the long-run strength of these strategies is undeniable, and I hope they serve as a tactical portfolio allocation tool for readers.
Author's Postscript
This series focuses on Treasuries and corporate bonds, but any readers interested in momentum strategies involving emerging market bonds or tax exempt municipal bonds, two asset classes that have come under significant pressure due to fund outflows in recent months, should respond to this article, and I will try and incorporate this research into a future version of this article.
Disclosure: I am long SPY. I wrote this article myself, and it expresses my own opinions. I am not receiving compensation for it (other than from Seeking Alpha). I have no business relationship with any company whose stock is mentioned in this article.