Annaly Capital Management (NYSE:NLY) has been slammed with the rest of the mREITs on the increase in rates and fears of a Fed exit. Rates will increase over the next couple of years and the company's book value could remain under pressure but the overall business model is sound and the worst of the rate-related pain is over. The shares have provided above-market returns since 1997 and the recent weakness presents a great opportunity for a position in a long-term winner.
A company with a history of success
Annaly Capital Management borrows in the short-term market and uses these proceeds to buy mortgages with long-term durations. The company's policy is to invest at least 75% of assets in high quality, which it defines as rated in the top two categories or backed by the U.S. government or an agency. In fiscal 2012, approximately 93% of the company's investments were fixed-rate with 40% hedged against a rise in interest rates.
The quality of investments held by the company means there is not much risk of default but the return on assets is also fairly low. To make money, Annaly borrows against its assets and uses leverage to increase its overall return. The company generally uses less leverage than other mREITs and reduced its debt-to-equity to just 6.5 times by the end of the last fiscal year.
Revenue has increased at a compound annual rate of 26.5% over the ten years to 2012 and the company has paid a dividend every quarter since 1997. The company has cut its dividend in half to $0.35 per share from $0.69 per share in 2009 but has kept the yield between 10% and 15% over the last six years.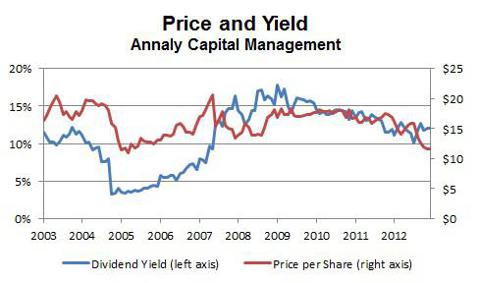 Lower book values possible but near end of cycle
The company saw its book value drop by 14% in the second quarter to $13.03 per share. The portfolio of Agency MBS was reduced by 15% over the period while the commercial real estate portfolio was increased to $1.0 billion. The net interest spread on mortgages in the second quarter was 0.98% and should continue higher in the third quarter which will help to support core revenue.
The chart for Annaly and the rest of the mREITs looks pretty painful and begins just before Bernanke confirmed in May that the Federal Reserve would look to begin tapering its asset purchases. The rise in rates has lowered book value and caused investor panic. Since these firms leverage their balance sheets, they have had to sell off assets at depressed prices to be able to support leverage ratios.
Seeking Alpha contributor Regarded Solutions makes a good case for, "one huge head-fake," from the Fed tapering hype and wonders if it may be a good time to buy Annaly Capital. While I do not agree that Fed tapering may not occur or will be handled very slowly, he makes a compelling case for the shares.
I think the Fed will start tapering in its December meeting and will end its program around the third quarter of next year. This would give them a little under a year to see how the economy reacts before they will probably start thinking about increasing short-term rates.
Even if tapering occurs and rates continue to increase, we have seen a huge moderation in the pace of the increase and subsequent book value losses in the third quarter. This was primarily due to three reasons that should continue into next year and support shares of mREITs.
1) Companies have positioned their portfolios much more defensively with lower duration and fewer fixed-rate assets.
2) As rates rise, people do not prepay their loans and this has decreased extension risk for the mREITs.
3) The pace of increase in rates, with the 10-year treasury shown below, has decreased substantially since the end of the second quarter. The 10-year is just 0.21% higher than where it started the quarter at 2.49%, against an increase of 63 basis points in the second quarter.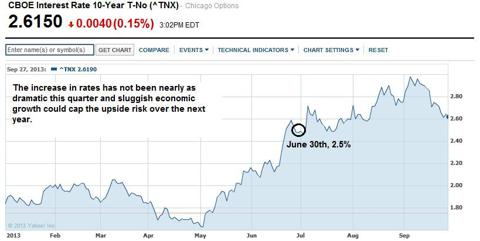 Given the relatively benign increase in rates over the quarter compared to the second quarter slaughter, I am looking for a drop in book value of less than 3% in the third quarter. This would be a sigh of relief compared to the previous quarter's drop and could drive a rebound in sentiment for Annaly.
Price multiples for selected mREITs, shown in the graphic below, are mostly below book value. Annaly Capital Management trades for 0.9 times book, almost a 20% discount to its five-year average of 1.1 times. Of the larger companies, only PennyMac Mortgage Investment Trust (NYSE:PMT) trades above book value with a price 1.2 times its assets.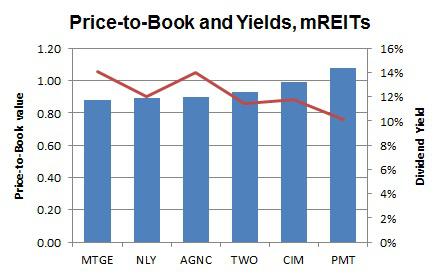 Of the mREITs, Two Harbors Investment (NYSE:TWO) is also a holding of mine. In a rare note of optimism, Maxim Group came out in favor of the hybrid mREITs on some of the issues I have raised in this article. Two Harbors invests in non-agency mortgages so is not quite as exposed to rising home prices and the company tends to use less leverage on its balance sheet. American Capital Mortgage (NASDAQ:MTGE) is also a pick of Maxim's on its hybrid agency and non-agency portfolio. I like Two Harbors a little better because it diversifies my agency-backed Annaly Capital, though American Capital Mortgage is trading at a hefty discount to book and pays the highest yield.
Look for share repurchase and insiders to support the shares near-term
In a significant vote of confidence, four insiders have purchased more than $2.4 million in shares just in August alone. CEO Wellington Denahan bought more than 180,000 shares and has increased her position to more than $13.8 million.
The board authorized the repurchase of up to $1.5 billion on October of last year, of which $397 million had been repurchased as of December 2012. This leaves approximately $1.1 billion or 95 million shares authorized for repurchase. While the company did not repurchase shares in the second quarter, I believe the strong insider buying may signal strong repurchase activity over the last few months.
Widening spreads and a commercial asset diversification to drive long-term growth
While the long-end of the yield curve may rise, the Fed will probably keep short-term rates near zero until well into 2015. Book values will probably remain under pressure but spreads will widen meaning interest earned on new loans will increase.
Over the longer horizon, slower economic growth will keep a cap on rates and the current fear will ebb out of the shares. Even on his view that rates for the 10-year treasury could rise to 3.1%, Jeff Gundlach of $57 billion DoubleLine Capital told Reuters in late August that he would be a buyer of Annaly around $12 a share. Adjusting for dividends, the shares have returned an annualized 14.8% since 1997 which is well above returns on the general market.
Annaly bought the remaining 88% in Crexus Investment Corporation in January for $872 million. Commercial mortgages typically offer higher yields than Agency MBS so the increasing allocation to Crexus should drive higher profitability and revenue. Commercial loans were just $1 billion of the company's $99 billion portfolio in the second quarter and should provide substantial growth and diversification in the future.
The investment in commercial loans could approach 25% of the company's portfolio eventually and would significantly diversify risk and improve returns. With the bloodshed in the shares this year, I do not think this benefit is yet priced in and could help the stock return to premium pricing over the next couple of years.
Adding to my Long-term Growth and Dividends Portfolio
I am using the heightened fear in the sector to add Annaly Capital Management to my Long-term Growth and Dividends Portfolio. As a long-term investor, I am willing to wait out the weakness in book value given the fundamental strength in the company's business. Even if the dividend is cut further, it will most likely remain above 10% which is a decent return even without the prospect of capital appreciation down the line.
A benefit of adding Annaly to an equity portfolio is its low correlation with the general market, shown in the graphic below against the S&P500. In each of the last two recessions, shares of the mREIT held up fairly nicely against much larger losses in stocks.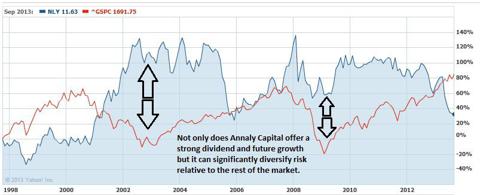 Portfolio holdings are shown below with Peabody Energy added last week on strong long-term demand for coal and competitive pricing at current natural gas prices. I will probably add a position each week for a total of ten holdings and then update monthly.

If you subscribe to the Buffett adage, "Be fearful when others are greedy and greedy when others are fearful," then now is definitely the time to look at mREITs and Annaly Capital Management. Despite near-term pain and weakening book values, the business model is valid and the company is in no real danger. Buy the shares at these depressed levels, enjoy a strong cash yield and wait for better prices in the future.
Disclosure: I am long NLY, TWO. I wrote this article myself, and it expresses my own opinions. I am not receiving compensation for it (other than from Seeking Alpha). I have no business relationship with any company whose stock is mentioned in this article.