By David Russell
McKesson (NYSE:MCK) has been moving straight up since April, and now the options action is turning negative.

Our Depth Charge tracking program detected money flowing into the December 60 puts, which traded 5,199 times against open interest of only 360 contracts. Big institutional-sized transactions priced for $0.70 to $0.75.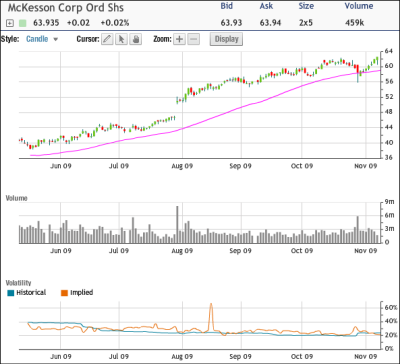 MCK, which is up slightly to $63.94 in morning trading, has risen 55 percent in the last six months. The provider of services to the medical industry reported better-than-expected earnings on Oct. 27 and raised its guidance for fiscal 2010.

The shares traded Tuesday at their highest price since January 2008, when MCK suffered a bearish reversal. Chart watchers may consider this level a natural point of resistance for the stock.
MCK needs to fall at least 7 percent for the puts to turn a profit.

Overall options volume in the name was 68 percent greater than average today. Puts exceeded calls by a bearish 57-to-1 ratio.

The downside trades in MCK come a day after an investor sold 1,000 January 85 calls on related company Cerner and bought 1,000 January 95 calls for a net $1.75. That call-spread transaction reflected a belief the shares have limited upside from the $79.19 level where they were trading at the time. CERN is up 0.56 percent to $80.01 today.

(Chart courtesy of tradeMONSTER)