Intel (NASDAQ:INTC) currently dominates the desktop processor market, which is confining Advanced Micro Devices (NYSE:AMD) to the low-end budget market. The heavy competition in the computer processor market constrains AMD's ability to operate profitably. Competition in the discreet graphics market is just as heavy. Nvidia (NASDAQ:NVDA) enjoys a healthy profit margin for discreet graphics cards. At best, AMD may only be on par to Nvidia in the PC graphics card market. As it stands now, AMD's future appears gloomy, with competition everywhere. Yet the company is innovating and also made some strategic moves that implies tremendous upside for the chip company. AMD is set to dominate the console market, is making huge advancements in the embedded chip market, and is introducing system-on-chip ("SoC") designs on its road map. For these reasons, by 2014, AMD could be worth more than the $2.9 billion market capitalization that it is trading at now.
1) Moat in Console and PC Market
AMD fell steadily from 2006, and was stuck in a range since 2008. After bottoming earlier this year, investors began to accumulate shares in the company, due to excitement that AMD would supply the chips for Sony's (NYSE:SNE) PlayStation 4 and Microsoft's (NASDAQ:MSFT) Xbox One.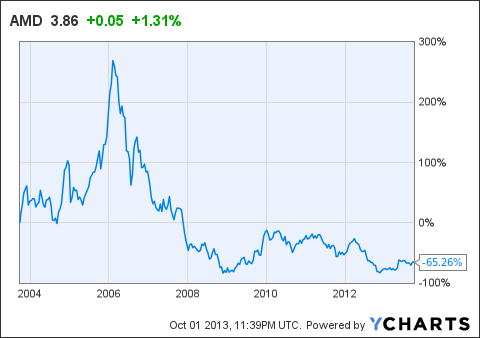 AMD is now in the driver's seat. It now effectively squeezes NVIDIA and Intel out of console market because it sets the chip design for the sector. This arrangement indirectly gives AMD an advantage in the PC gaming market. By supplying a similar architecture for consoles, AMD is also free to rekindle the focus of game development back to the PC market. Games developed on current consoles first needed to be ported back to the PC.
To address the lack of access to low level GPU functions on the PC, AMD introduced Mantle. Mantle allows access to the driver at a much lower level. Mantle could therefore replace DirectX and give game makers more high performance access to the graphics chip: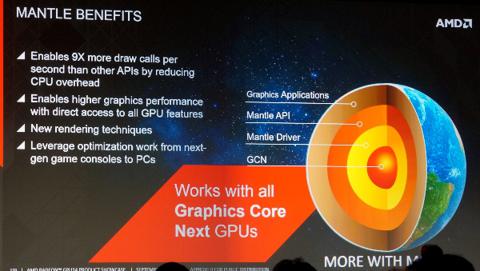 2) Embedded Chips
Bald Eagle is an energy efficient chip that will be in AMD's 2014 road map. The 4-core chip consumes only 35 watts under the x86 architecture. The chip conforms to the GCN, or Graphics Core Next, architecture.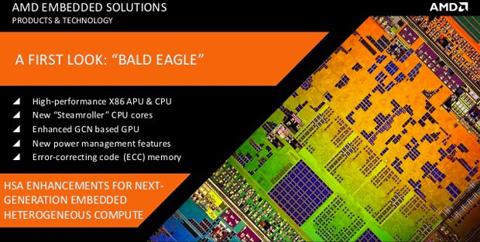 Source: AMD
If a device needs more graphics power, AMD will make Adelaar available. This chipset is a dedicated chipset that has 2GB of memory and includes GCN.
AMD said its transformation in embedded solutions will be done in three steps. The company already reduced costs between Q3/2012 and Q1/2013, aims to be free cash flow positive, and is setting out to be a leader in the server and graphics market in 2014 and beyond: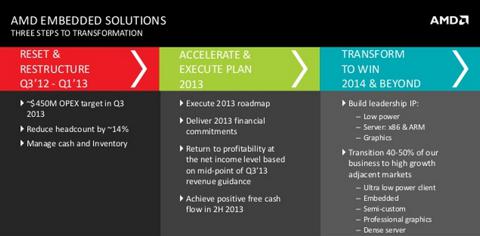 3) System-on-Chip
Hierofalcon was designed to target data centers, and may carry as many as 8 ARM Cortex-A68 cores. An upgrade to Jaguar x86 cores is available with Steppe Eagle. The latter solution is GCN-based and is set to be available by the first half of 2014.
Comparative Analysis
Nvidia is up 16.6% in the last year, while Intel shares are flat. Intel provided a weak outlook for 2013, and speculation is rising that PC sales will not only drop this year, but will not be helped by any back to school demand.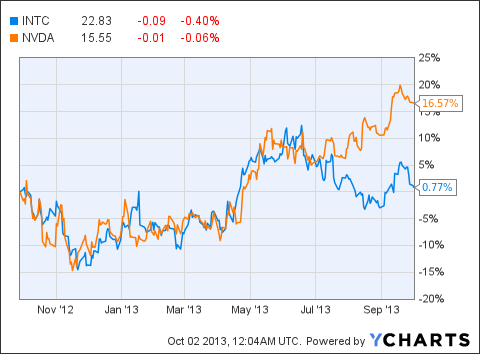 AMD does not pay a dividend, while Intel and NVIDIA both pay a dividend that yields 3.9% and 1.9% respectively. AMD is the smallest company, as measured by market capitalization:
| | | | |
| --- | --- | --- | --- |
| NAME | PRICE | YIELD | MKT CAP |
| AMD | 3.86 | | 2.78B |
| Intel | 22.83 | 3.9 | 113.74B |
| NVIDIA | 15.55 | 1.9 | 9.00B |
Source: Yahoo Finance
Financials
AMD improved its balance sheet by reducing its long term debt over the last four years. Accrued expenses also declined:
| | | | | |
| --- | --- | --- | --- | --- |
| | 12/31/2009 | 12/31/2010 | 12/31/2011 | 12/31/2012 |
| Long Term Debt | 4,252.00 | 2,188.00 | 1,527.00 | 2,037.00 |
| Accrued Expenses | 795 | 698 | 550 | 489 |
$ millions USD
Source: Kapitall.com
Earnings were uneven, but steady sales growth in the console market should help even out profits starting next year.
| | | | | |
| --- | --- | --- | --- | --- |
| | 12/31/2009 | 12/31/2010 | 12/31/2011 | 12/31/2012 |
| Diluted EPS | 0.45 | 0.64 | 0.66 | -1.60 |
| Diluted EPS Before Non Recurring Items | -1.55 | 0.49 | 0.50 | -0.16 |
Source: Kapitall.com
Conclusion
AMD is building a moat in new businesses, while setting out to strengthen its competitiveness in its main PC graphics market. As sales grow, thanks to pent up demand for the new consoles, AMD will benefit tremendously. Microsoft and Sony are releasing the first console refresh in over 7 years. This highly anticipated release will give AMD a much-needed area for growth. Neither Nvidia nor Intel will be competitive threats to AMD here. This suggests that AMD will be a better stock performer in the months ahead.
Disclosure: I have no positions in any stocks mentioned, and no plans to initiate any positions within the next 72 hours. I wrote this article myself, and it expresses my own opinions. I am not receiving compensation for it (other than from Seeking Alpha). I have no business relationship with any company whose stock is mentioned in this article.