By Carl Howe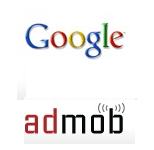 Google's acquisition of mobile Internet advertising network Admob for $750 million just signals that it intends to reprise its desktop Internet strategy on the mobile Internet. Google (NASDAQ:GOOG) already had an aggressive strategy to develop and deploy mobile Internet services such as search, news, and mobile Web reformatting. After all, Google is already the dominant mobile Web search destination among consumers and its news service tied Yahoo (NASDAQ:YHOO) in our 2009 Best of the Anywhere Web evaluation of news sites. What Admob adds is the ability to monetize that development with what is probably the largest mobile Internet advertising network today.
I liken this development to that of building a new city. Google is providing free roads and power for a new mobile Internet metropolis. How does Google make money from that? Google/AdMob just happens to own most of the billboard space in that city.
All I can say to this acquisition is that Google still seems to be a couple steps ahead of everyone else in its Internet strategy. Google just acquired some of the best advertising real estate on the mobile Internet. Everyone else is now looking for something in the neighborhood—but not nearly as good.