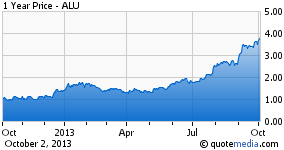 Alcatel-Lucent (ALU) has a lot of great things going for it, except for its value. In the last month, the French telecommunications company has been announcing a variety of global development projects, from upgrades to the data cable connecting the U.S. and Asia to building a network that will boost South Korea's phone infrastructure. Other interesting large-scale capital projects are in the works in Canada and China.
Company officials are counting on a concerted push away from hardware solutions to more cloud-based technologies and improved access, a philosophy that has some investors excited and others concerned. There is even a name for it - The Shift.
CEO Michel Combes said earlier this week that the Shift will "enable the high-performance networks of tomorrow, supporting service providers, webscale companies and large enterprises to meet consumer and business demands." It is already working with more than 500 providers like AT&T (NYSE:T), Verizon (NYSE:VZ), and offering its service router platforms globally.
Share prices have been on the rise for 2013, and have nearly tripled in value since last year at this time. However, since last fall's price was right around $1 a share and it's currently trading at around $3.50, the growth is a bit relative.
Optimists among us may say the company is just beginning to climb from rock bottom, therefore it could be a perfect time to invest more at a low price then sit back while the price starts shooting up. But longtime tech watchers know this is an excellent theory, but that not every stock performs this predictably - there's always a possibility that a slight up-tick may reverse itself.
Basics Media published a recent analysis praising Alcatel-Lucent's potential and discussing some of its upcoming projects, but concludes with a recommendation to be cautious. While the author doesn't encourage investors to buy a whole lot of new shares right now even though the price is temptingly low, he doesn't quite urge people to sell their shares either.
Instead, he said it might make more sense to watch to see how the company performs in the next two years and if these current ventures and partnerships help burn away some of its large debt and establish a defined path toward more solid cash flow.
One of the areas that may help put Alcatel-Lucent on a better path is its involvement in an upgrade to the Asia America Gateway, a submarine cable between the U.S. and Asian coastal communities from Malaysia to the Philippines.
A group of operators plans to add more multiple terabit capacity to the 20,000 km-long pipeline to accommodate more data needs in the countries along the route.
This upgrade will use Alcatel- Lucent's advanced coherent technology, which cable officials said will be able to handle increased data loads and future upgrades. The move will also strengthen the quality of the signals between both continents, and make it easier for users on both ends to access cloud features.
One major service provider already exploring this shift is China Mobile (NYSE:CHL), which selected Alcatel- Lucent's TD-LTE Radio Access Network to be part of the upcoming release of its 4G network.
China Mobile has been running trials of the network in parts of the country, but now plans to expand its delivery to a larger area, including adding 207,000 TD-LTE stations by the end of the year. The Alcatel-Lucent portion will be 11 percent of the entire plan. TelecomTiger said China is now considered the world's largest market for mobile data service, and has been growing more than 50 percent each year.
Alcatel-Lucent is also assisting SK Telecom (NYSE:SKM) create a variety of LTE services in South Korea. The provider is the country's largest mobile operator.
MarketWatch said his effort will link SK Telecom cell sites, support a variety of data traffic providers, improve the quality of IPTV service, and offer customers more mobile services. It will include its 7750 Service Routers, the 5650 Control Plane Assurance Manager programs and the 5620 Service Aware Manager programs.
Overall, the company has a lot of excitement ahead of it, especially as it continues to find strategic partners to help with the heavy lifting. It's clear that customers want more bandwidth, and hopefully Alcatel-Lucent can hang on to see some of these new products help galvanize the company.
Disclosure: I have no positions in any stocks mentioned, and no plans to initiate any positions within the next 72 hours. I wrote this article myself, and it expresses my own opinions. I am not receiving compensation for it (other than from Seeking Alpha). I have no business relationship with any company whose stock is mentioned in this article.