This still-forming great financial tempest has cleared the horizon; its impact on the United States and those living in a dollar-based world will dominate and overtake the continuing economic and systemic-solvency crises of the last eight years. The issues that never were resolved in the 2008 panic and its aftermath are about to be exacerbated. - John Williams, www.Shadowstats.com
A little more than three weeks ago I laid out my case for why I expected auto sales to drop off considerably in the fourth quarter this year and why it is indicative of an economy that is increasingly growing weaker: The Tanking Economy/Auto Sales. When you combine weaker auto sales with what I believe is a housing market that is rolling over, it creates the opportunity to make money on an overvalued stock market that has been wafting on a flood of Fed liquidity but that is not supported by fundamental factors.
Auto sales for September were released yesterday. On a seasonally adjusted, annualized basis, U.S. total vehicle sales fell to 15.21 million in September compared to the 15.6 expected. Domestic vehicle sales came in at 11.66 million vs. 12.1 expected. The 11.66 domestic vehicle annualized sales rate is the lowest since November 2012. The drop in total vehicle sales from August to September was a sharp 5.4% from August. General Motors (NYSE:GM) led the decline in sales, with its September sales plunging 11% and its dealer inventory ballooning up to 82 days from 64 days.
The September auto sales drop is being "rationalized" by analysts with the argument that Labor Day fell later this year and so August had more relative selling days than September. But this does not make sense because the "seasonal adjustments" are implemented to account for this. Furthermore, auto sales missed the Wall Street consensus estimate - the biggest miss of estimates since January 2009 - and presumably Wall Street analysts had the number of August selling days factor built into the estimates. The fact is, the economy is much weaker than is being reported by Wall Street and the financial media and the September auto sales reflect this.
In further confirmation of my view that the economy is starting to tank, I just came across the YTD gaming revenue numbers for Las Vegas and the State of Nevada through July. Especially troubling was the fact that gaming revenues for The Strip declined 14.4% year over year. When I traded junk bonds in the 1990s on Wall Street, one of my sectors was casino bonds. Gaming revenues are considered by economists to be a very accurate indicator of consumer economic health, as gambling is driven almost completely by disposable income and consumer confidence. You can see from the numbers linked above the last time the Las Vegas Strip had a big double-digit decline in revenues (-25.9%) was in 2007. Recall that 2007 preceded the big housing market and financial collapse in 2008. To me the Vegas gaming numbers are potentially a very ominous signal for our economy.
Before I get to the stock market, I wanted to show a chart of the US Dollar Index (USDX). In a sense, the U.S. dollar represents the "stock" of the United States. The Government has been promoting a "strong dollar policy" of sorts ever since Nixon closed the gold window in 1971. But right now the chart of the USDX is in a very bearish formation: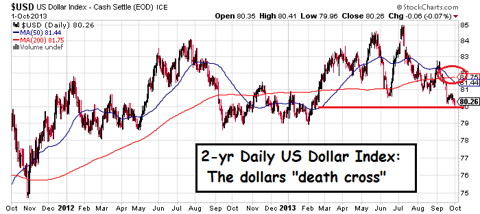 As you can see, the dollar is clinging to the 80 level for dear life right now. To make matters worse technically, the dollar's 50 day moving average (dma) has crossed below its 200 dma - a so-called "death cross" (red circle) - just a few days ago. This is a very bearish technical signal. In a stock market that is dominated by technically-oriented computer-program trading, it is likely that hedge fund computers are selling and/or shorting the USDX into any trading strength. If the dollar loses the 80 level, it will undoubtedly unleash an avalanche of hedge fund and foreign investor selling. Notwithstanding that, the weakening dollar for me indicates that investors globally are losing confidence in the U.S. economy.
On this basis, and on the fundamental data analysis I presented above and in previous articles, I see a lot of downside risk to the stock market. It seems that my view is being confirmed by U.S. companies and their CFOs. It was reported yesterday that companies are warning about 3rd quarter earnings at the second highest rate since 2001. For me this further confirms my view demand for goods and services is declining. Perhaps even more ominous is that fact that nearly 50% of CFO's polled in a Duke University business outlook survey think that the stock market is overvalued. I don't think I can ever recall any upper-level corporate manager describe his stock as "overvalued." Keep in mind that this valuation view is coming from the executive cohort that has the best view of corporate cash flows before they get polished up and presented to the world.
Based on these fundamental, technical and corporate insider signals, I believe the stock market is trading at a level that does not reflect economic reality. This being the case, I see significant downside risk for the stock market and an opportunity to make a lot of money from shorting the broad stock market indices and high beta individual stocks. To take advantage of this from a trading perspective, I recommend shorting the SPDR S&P 500 ETF (NYSEARCA:SPY) or buying long-dated put options on it. I also like the ProShares UltraPro Short S&P 500 ETF (SPXU - 3x inverse the SPX). Or if you really want to leverage up the trade you can buy call options on SPXU. In terms of individual stocks, my preference is to short select homebuilders. Currently I'm short DR Horton ((NYSE:DHI) - beta of 1.58) and KB Homes ((NYSE:KBH) - beta of 2.35). General Motors (beta of 1.7) is also an attractive short here - it went into bankruptcy in 2009 and required a Government bailout. I think it will go "bk" again with no bailout.
The biggest risk to my view is that the Fed reverses course and decides that it needs to increase its money printing by implementing "QE4." I'm not alone in thinking this could happen and the effect on the economy from the Government shutdown would be the perfect excuse. But having cited that risk, I think we'll see a significant early/mid-fourth quarter sell-off in the stock market before the Fed considers this option.
Disclosure: I am short DHI, KBH. I wrote this article myself, and it expresses my own opinions. I am not receiving compensation for it (other than from Seeking Alpha). I have no business relationship with any company whose stock is mentioned in this article.