Precious metals are staging an impressive rebound today after yesterday's drubbing that, once again, was initiated by a massive sell order that caused prices to plunge and stop loss orders to be executed, exacerbating the decline.
This came at the market open, after the government had shut down at midnight the night before, and was not the response that most gold (NYSEARCA:GLD) investors expected. For reasons detailed here a week ago, a government shutdown and a looming debt ceiling crisis should clearly have been bullish for gold, but that was not the case yesterday in the opening minutes of trading.
Frank Tang at Reuters reported that "an unusually large trade in the New York futures market" played a key role in the early morning carnage yesterday as depicted in red in the Kitco graphic below.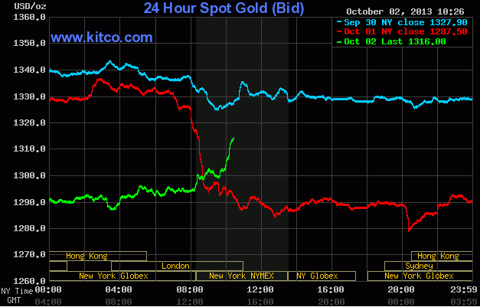 Once again, with metal prices hovering above an important technical level - in this case, $1,300 an ounce - all it took was a massive sell order to overwhelm buyers. This quickly took the gold price down about $25 and then led to further selling as stop-loss orders were tripped.
By the end of the day, the gold price had fallen by about $40 an ounce and it was a similar situation for silver (NYSEARCA:SLV) that dropped more than five percent from its level Monday night until half-way through the Tuesday trading session as shown below.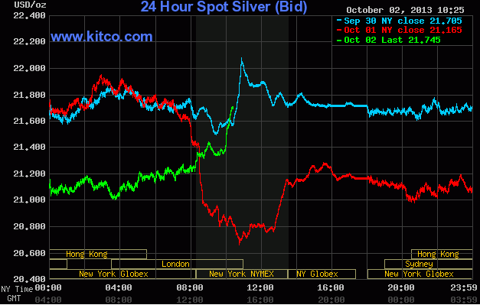 Rumors of a distressed hedge fund and end of quarter/start of quarter portfolio adjustments were heard amongst gold futures traders, but a more likely explanation for the move lower was simply "sell the news" of a government shutdown finally arriving.
Today, traders are clearly "buying the news" that a debt ceiling crisis looms.
To be sure, the arrival of a government shutdown didn't trigger the safe-haven response that some traders had expected yesterday as the U.S. dollar was steady and equity markets rose. Those developments are consistent with a falling gold price, but that still doesn't explain why such a large sell order was executed in the opening minutes of trading.
Put simply, that smacks of market manipulation as any "normal" seller would want to get the best price for his gold position, one that would definitely not be the result of quickly running through open buy orders at successively lower prices.
Of course, it doesn't help that Commodities Futures Trading Commission Commissioner Bart Chilton reportedly told precious metals investors that, during the government shutdown, regulators won't be looking at the gold market.
The good news for gold bulls is that today is another day.
The U.S. Dollar Index has now broken below a critical support level of 80, making a fresh seven-month low in the process while threatening a multi-year low. Recall that the trade-weighted dollar often moves opposite the gold price and this relationship is clear to see today.
Moreover, equities are now being sold around the world and safe haven assets such as U.S. Treasuries are again in high demand. It's no wonder that precious metals are on track to recoup all of yesterday's losses (the gold price has risen more than $10 an ounce just since I began writing this article).
Investors and traders are clearly looking ahead to the debt ceiling debate in the U.S. that, given the intransigence now seen on both sides in Washington, suddenly looks a lot more dangerous than it did yesterday when the government began a partial shutdown and the price of risk assets rose.
We are likely to have a wild couple weeks ahead in financial markets, that is, between now and October 17th when the debt ceiling must be raised in order to forestall another potential crisis.
The key difference between a government shutdown and a debt ceiling crisis is that the U.S. has some pretty well established procedures for dealing with the former, but not the latter.
It is this uncertainty that is now driving safe haven demand and, until elected officials in Washington show the world some indication that we're not heading toward another crisis, that demand is likely to continue.
Disclosure: I am long GLD. I wrote this article myself, and it expresses my own opinions. I am not receiving compensation for it (other than from Seeking Alpha). I have no business relationship with any company whose stock is mentioned in this article.
Additional disclosure: I also own gold and silver coins and bars.