In the first part [Click Here] of this article, we compared Royal Gold (NASDAQ:RGLD) and Franco-Nevada (NYSE:FNV) in order to try and determine which presented the best risk adjusted rate of return. Of course there is no real conclusion as each individual will incorporate his/her own inputs regarding the price of gold, oil, risk, etc. We were able, however, to help individuals make more educated assumptions via comparing each companies asset portfolio. This comparison obviously isn't in a vacuum as the success of a mine depends greatly upon the companies which operate these mine(s), which was also discussed.
We more or less came to the conclusion that while Royal Gold has more growth on a percentage basis going forward, Franco-Nevada arguably has a better and much more diversified asset base. Furthermore, because Franco-Nevada owns more streaming interests, it has more leverage to the gold price. We will now throw streaming giant Silver Wheaton (NYSE:SLW) and Sandstorm Gold (NYSEMKT:SAND) into the mix in order to help individuals help make more qualified assumptions and determine which of the four streaming companies presents the best risk adjusted rate of return.
Silver Wheaton hardly needs and introduction as it pioneered the streaming concept in 2004, by ex-CEO and current CEO of Goldcorp, Ian Telfer as well as Nolan Watson (who was very involved with structuring of the financing of its deals). Silver Wheaton arguably has the best asset base in this niche, owning streaming interests on very low costs operations (>85% in the lowest cost quartile in 2013 and maintaining that after its coming growth spurt from 2014 through 2017-2018), which are operated by some of the best companies in the world [Glencore-Xstrata (OTCPK:GLCNF), Vale (NYSE:VALE), Barrick (NYSE:ABX), Goldcorp (NYSE:GG), El-Dorado (NYSE:EGO), Primero (NYSE:PPP), Capstone (OTCPK:CSFFF), Lundin (OTC:LUNCF) and Hudbay (HBY)]. In other words, its streaming assets can withstand any part of the commodity price cycle. Currently, roughly 44% of its attributable silver production comes from primary gold mines, 31% from copper mines, 19% from zinc mines, 4% from nickel mines and 2% from silver mines.
The aforementioned growth spurt will be driven by the following:
2014: Increased production at Sand Dimas, increased production at Penasquito as it accesses a water source in 2h 2014, startup at Constancia and marginal production growth at Sudbury and Salobo.
2015: Full production at Penasquito, full year at Constancia, further production increase at San Dimas as it will be required to sell the first 6m oz. Ag produced and 50% in excess of that to Silver Wheaton.
2016: Another production increase from San Dimas at it completes phase II of its expansion from 2,500 tpd to 3,000 tpd. Startup at Rosemont, startup at Pascua Lama (2H 2016), increased production at Sudbury, increased production at Salobo.
2017-2018: Reduced production from 777 and Cozamin as Silver Wheaton's gold stream at 777 is cut in half and Cozamin's streaming contract ends. This will be more than offset by a full year of production at Rosemont and full year production at Pascua-Lama. Potential for Navidad to commence production.
San Dimas (Primero ~ Mexico) ~ 5.8 - 5.9m oz. in 2013, 6.3-6.5m oz. in 2014-2015 and 7m oz. thereafter.
Penasquito (Goldcorp ~ Mexico) ~ 5.4-5.6m oz. in 2013, 6.2-6.4m oz. in 2014, 7m oz. in 2015 (marginally increasing each year until 2020-2021, when it reaches peak production of 36m oz. or 9m oz. attributable, then gradually declining to 7m oz. annually).
Pascua-Lama (Barrick Gold ~ Chile/Argentina) ~ 1-2.5m oz. in 2016, 5-7m oz. in 2017 and 9m oz. in 2018.
Salobo (Vale ~ Brazil) ~ 40k oz. Au in 2013, 45k oz. in 2014, 45k oz. in 2015, 60k oz. in 2016 and 70-75k oz. thereafter.
Rosemont (Augusta Resources ~ USA) ~ 1m oz. Ag and 5k oz. Au in 2016, 2.9m oz. Ag and 15k oz. Au in 2017 and thereafter.
Silver Wheaton Is definitely on the hunt to acquire an additional stream or streams in the current environment. Although Silver Wheaton has roughly 900m-1b in capacity at the end of Q3 (OCF + $48m received from exercised warrants), it will could turn to the equity markets should it find an accretive asset or asset(s) to acquire. Given the environment, chances are Silver Wheaton will only look to acquire large Tier II assets or another cornerstone asset. Randy Smallwood has said it is trying to work something out with Glencore-Xstrata on its very large copper asset, Las Bambas in which it will pay Glencore-Xstrata upfront for a precious metals stream, which will then will be sold to a third party (per the agreement when Glencore acquired Xstrata). This strategy will be beneficial for all parties involved as Glencore will be able to sell such a large and advanced project more easily by bringing in more potential buyers.
Silver Wheaton is also perfectly situated to acquire a stream on Bear Creek's (now fully permitted), Corani mine. Based on the current mine plan, Corani will produce over 12m oz. in the initial 5 years, declining to roughly 9m oz. thereafter. However, given the massive reserve and resource base, Corani could be expanded by up to 50% or more in the years ahead. Bear Creek and Silver Wheaton's mgmt. are very close and Silver Wheaton owns roughly 14.5% of the company. Bear Creek is unlikely to go to market to raise the capital investment needed as it will result in extremely significant dilution, making stream financing mutually beneficial. Silver Wheaton would likely be able to acquire a 20-30% stream for less than it would otherwise cost as it could transfer the equity it owns in the company to Bear Creek to be retired.
Personally, I think a great asset to acquire a streaming interest in is Silver Standard's Pitarilla project, which will commence construction in 2014. Despite Silver Standards very robust balance sheet, Pitarilla's required capital investment needed to reach production will likely be $800m +/-. That being said, Silver Standard would be best off selling a 15-25% stream for $250 - $450m. Again, this would be a mutually beneficial arrangement as Silver Standard would be able to concurrently construct its San Luis gold-silver project in Peru. Pitarilla's PEA outlined 15m oz. Ag production for the first 18 years, falling to 10m oz. for the following 14 years.
Yauliyacu (Glencore ~ Peru): 2.5m - 4.75m oz. annually.
777 (Hudbay ~ Canada): 820k oz. Ag and 68k oz. Au until end of 2016, at which time the gold stream will be cut in half.
Sudbury (Vale ~ Canada): 30-35k oz. Au in 2013, 30-40k oz. Au in 2014-2015, increasing to 50k oz. Au thereafter.
Constancia (Hudbay ~ Peru): 2.4m oz. Ag starting in 2015, declining to 2.2m oz. Ag in 2019.
Zinkgruvan (Lundin Mining ~ Sweden) ~ 2.2m - 2.4m oz. Ag.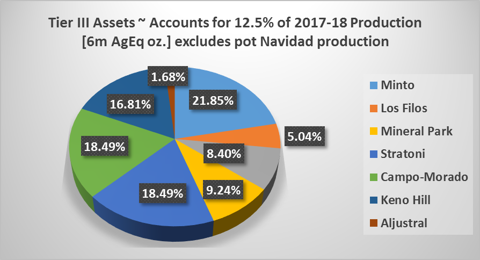 Valuation: NAV & DCF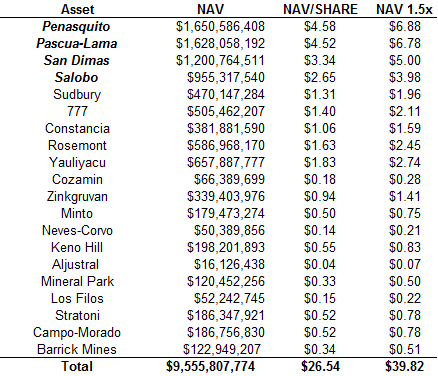 Sandstorm Gold :
this smaller yet rapidly growing streaming company has made numerous accretive transactions following its inception in 2009. The company is also ideally positioned to acquire one or more new cornerstone assets given its cash and marketable securities of roughly $110m at the end of Q3 and $100m fully undrawn revolver. Furthermore, Sandstorm has an additional $42m cash injection coming in April 2014 as its deep in the money warrants are exercised.
Although it will definitely make additional acquisitions sooner rather than later, this will only add to the rather significant organic growth which will be driven by the following:
2014: Full year production at Bachelor Lake, increased production from Aurizona as the phase I expansion will be complete, marginal production from Serra Pelada, marginal increase in production from St. Elena. Full year of production from Premier Royalties and increased production from Black Fox.
2015: Increased production from Bachelor Lake at its mill will be expanded by 50% by Q1 2015, increased production from Serra Pelada as gold production increases as a result of increase recovery rate and increase AuEq production as Sandstorm's 35% platinum stream kicks in starting Q3-Q4 2014. Increased production from Ming as it increases mill capacity in order to focus on its gold rich zones.
2016: Increased production in 2H 2016 as Aurizona completes its phase II expansion which will at the very minimum double production, Coringa, Prarie Creek and Mt. Hamilton royalties increase production and potential start of production from Deflector.
2017-2018: Full year of production at Aurizona operating at its new design capacity.
Aurizona (Luna Gold ~ Brazil): 14.5k oz. in 2013, 21.25k-22.1k oz. in 2014-2015, 28k oz. in 2016 and 42k-51k oz. in 2017 and beyond. Phase I expansion is nearing completion and significantly increase production starting in 2014. The phase II expansion will likely be undertaken in late 2014-late 2015, with completion to reached in mid-late 2016.
Serra Pelada (Colossus Minerals ~ Brazil): 2-2.2k oz. Au and 2-3k oz. Pt in 2014, 3.1k oz. Au and 10-14k oz. Pt. in 2015 and beyond. Each ounce of platinum will be sold at $200/oz. and gold at $400.oz. The 1.5% gold stream and 35% platinum stream. applies to 100% of production, not just Colossus' 75% interest.
Bachelor Lake (Metanor ~ Canada): 5-6k oz. Au in 2013, 11-12k oz. Au in 2014 and 16-18k oz. Au in 2015 and beyond.
While Sandstorm resembles Royal Gold , regarding the fact it has just a few cornerstone assets which will comprise a significant percentage of 2017-2018 production. This will likely change with an acquisition of a 4th and possibly 5th cornerstone asset in 2014. At this point in time, it looks more probable that Sandstorm will just acquire one large asset in addition to converting one or more of the ROFR's into streams in 2014 as three of four will commence construction.
St. Elena (Silvercrest ~ Mexico): 6.6k - 7.1k oz. Au in 2014 and beyond.
Ming (Rambler ~ Canada): 3.4k oz. Au in 2013, 4.2k oz. Au in 2014 and 4.6-5k oz. Au in 2015 and beyond.
Black Fox (Brigus Gold ~ Canada): 7.9k oz. in 2013 and 8.8-9.4k oz. in 2014 and beyond.
Note: Excluded are its Summit stream, Ann Mason royalty and most importantly its Entree Stream on the massive Oyu Tolgoi Mine. The latter is worth noting as Rio isn't having political setbacks and in addition to the open pit operation, has begun developing an underground mine. Rio has said it may move mining on the Heruga and Hugo North areas ahead of schedule as they possess some of the highest grades on the property. The earliest year Sandstorm could begin receiving deliveries (which will average 35-45k AuEq oz. annually for a prolonged period of time) is 2018, however, the more likely scenario is to assume 2021-2023 or so.
Valuation: NAV & DCF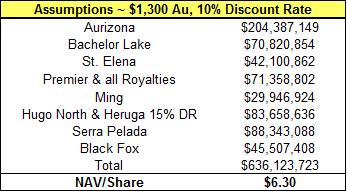 *excludes $100-$110m in net cash.
While Sandstorm Gold appears to be the most attractive in terms of valuation, it deserves a higher discount rate as its asset base is smaller than the others (which we applied a 10% discount rate to, 7% for Silver Wheaton, 8% for Franco-Nevada and 9% for Royal Gold). This is obviously very subjective, so it is likely most individuals will rank these differently. I presented my view of what discount rates should be used and while Sandstorm Gold's may seem low on a relative basis, remember that it doesn't apply any value (at least in a DCF) for what could and likely will be another cornerstone asset in its Entree Stream on Oyu Tolgoi.
Conclusion: Depending on each individuals risk appetite, the ideal risk/reward ratio will determine the best investment in the streaming space.
Silver Wheaton ~ Either Franco or Silver Wheaton is best for the more conservative investor. The determining factor between these two for investment purposes is really whether an investor prefers silver over gold and vice versa.
Franco-Nevada ~ Far and away the most conservative gold royalty/streaming company relative to Royal Gold and Sandstorm Gold.
Royal Gold ~ More risk than Franco-Nevada but also more reward.
Sandstorm Gold ~ Again, more risk but the upside potential on a percentage basis is higher than the others.
Disclosure: I am long SLW, SAND, FNV, RGLD. I wrote this article myself, and it expresses my own opinions. I am not receiving compensation for it (other than from Seeking Alpha). I have no business relationship with any company whose stock is mentioned in this article. I own RGLD Calls and SAND warrants as well