Those who have read my previous articles know that there's no question in my mind that gold will set a new all-time high in 2014. There's also no question in my mind that gold mining stocks will double in value from their June lows to their eventual peaks next year.
The only question I have is whether now is the last chance to buy cheap gold mining stocks before they double in 2014. I think it is and have acted accordingly. Even if I'm wrong in the short term, it shouldn't matter in the end.
The following is the one-year chart for senior gold mining fund (NYSEARCA:GDX). The red line is the 50-day moving average and the green line is the 200-DMA.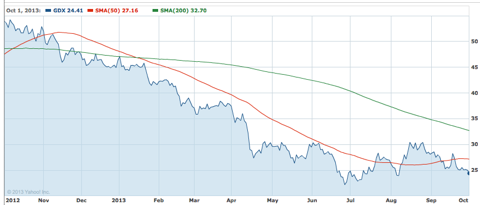 GDX rebounded 40% within two months of its June low and has broken through its 50-day moving average three times now. Barring any further manipulation of the gold market, I believe the 13-year bull market in gold has resumed and that the next major move will be higher, towards the 200-day moving average. Based on Tuesday's closing prices, that would represent a gain of more than 30%, likely within the next few weeks.
Funds I bought this week for myself and clients include GDX, junior gold mining fund (NYSEARCA:GDXJ), gold exploration fund (NYSEARCA:GLDX) and silver mining fund (NYSEARCA:SIL).
The emerging markets funds we bought as they were bottoming in late August are already well off of their lows, which is another reason I'm so confident about gold mining stocks today. Gold mining stocks are often the first to rebound, with emerging markets following behind by several weeks. The fact that emerging markets were not setting new lows on Tuesday makes me even more bullish on the gold mining sector.
There appears there could be some manipulation going on again in the gold sector, however even if gold and mining prices dip lower in the next week or so, they are sure to be higher at some point in 2014. How much higher? I believe prices will at least double from Tuesday's lows. A retest of the 52-week highs for all of the above funds would exceed this target.
Disclosure: I am long GDX, GDXJ, GLDX, SIL. I wrote this article myself, and it expresses my own opinions. I am not receiving compensation for it (other than from Seeking Alpha). I have no business relationship with any company whose stock is mentioned in this article.