EMC (EMC) can be classified as a relative underperformer. EMC earned a negative return of 6% over the most recent 1-year period, +26% over two years and +122% over five years: In every single measurement period, EMC lagged its peers consistently holding the red light. In terms of peer comparison, I benchmark EMC against SanDisk (SNDK), Western Digital (NYSE:WDC), Seagate Technology (NASDAQ:STX) and NetApp (NASDAQ:NTAP). Since EMC is lagging, I am going to take a closer look at its long-term performance and valuation.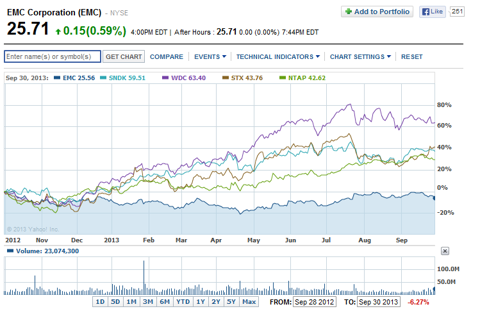 Click to enlarge
Industry consolidation and revenue growth
EMC offers data storage, information security, analytics, cloud computing and other data related business services with many Fortune 500 companies being EMC's clients. EMC's Emerging Storage and Security service lines will be the most interesting going forward as annual growth rates are likely to exceed those of rather traditional, saturated markets in Content Management or Professional Services. In any case, the industry is highly competitive and revenue growth often comes from acquisitions. The break-down provided below reveals that EMC's incremental revenue growth originates from their acquisitions rather than their core business. In the last four years, EMC has spent $9.1 billion on acquisitions and is a significant driver of industry and market share consolidation.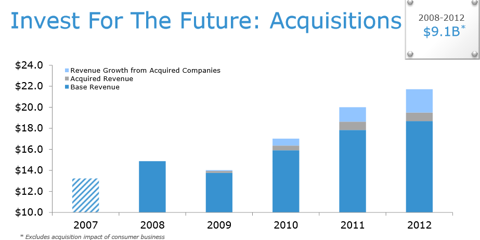 Click to enlarge
Significant improvement in long-term performance
Despite EMC's relative underperformance to the peer group, EMC's long-term financial results have considerably improved over the last five years. The average annual growth rates for EMC's P&L items and cash flows are above-average: From 2007-2012 EMC increased revenues at an average annual rate of 10%, EPS at 14% and free cash flows at a staggering 18%. At the same time, EMC was able to deliver meaningful margin expansion. The details of EMC's performance are provided below: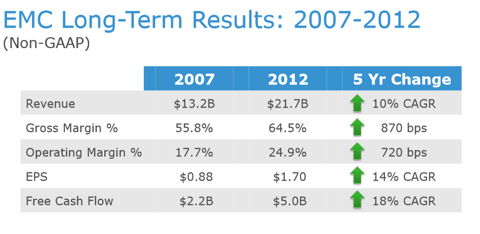 Click to enlarge
Shareholder remuneration
EMC invests free cash flow in acquisitions and share repurchases. EMC earned a total free cash flow of $18.1 billion from 2008-2012 which compares to $13.8 billion in non-GAAP income. EMC invested 50% of its generated cumulative free cash flow in acquisitions and 43% in share repurchases. Over the last five years, EMC repurchased $7.6 billion worth of shares. A break-down of EMC's yearly repurchasing activity is provided below: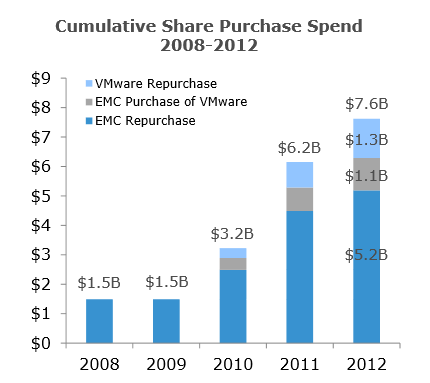 Peer group valuation
Investors can still buy EMC, as well as the sector, at discounted growth prospects: The peer group manages to trade at an average 10.50 earnings multiple and 1.89 sales multiple. NetApp commands the highest P/E ratio at 13.70. EMC trades at just a 16% premium to the average P/E ratio despite exhibiting superior free cash flow generation and commitment to shareholder remuneration via significant share repurchases. A comparative overview of the most relevant valuation metrics is provided below:

Click to enlarge
Conclusion
EMC is an accolade-winning data-storage provider with an above-average long-term growth record. Thompson Reuters named EMC as one of the 100 most innovative companies in the world. EMC has not only demonstrated competitive advantages in terms of innovation but also has the ability to translate those advantages into free cash flow. Further, cash flow is utilized to purchase incremental revenue growth and remunerate shareholders in form of share buybacks. Given EMC's historic cash flow and EPS growth rates, I believe the market undervalues the company at a low multiple of 12 times earnings. Long-term oriented investors who like cash flow strong firms in the tech arena with attractive growth prospects might want to consider an investment in EMC. When the market returns to valuing the fundamentals (value-adding M&A activity, free cash flow profitability, share buybacks), EMC could reasonably well trade at a multiple of 15 times earnings with continuous share buybacks supporting the share price.
Disclosure: I have no positions in any stocks mentioned, and no plans to initiate any positions within the next 72 hours. I wrote this article myself, and it expresses my own opinions. I am not receiving compensation for it (other than from Seeking Alpha). I have no business relationship with any company whose stock is mentioned in this article.