Shares of consumer goods companies are sought after because of their high-margin products that translate to substantial operating cash flows. Procter & Gamble (NYSE:PG) manufactures products that have gained worldwide recognition. Brands like Gillette, Rejoice, Bounty etc. can be found on supermarket and convenience store shelves around the world. Products can often demand a brand premium when the company succeeds in establishing a psychological and emotional connection between the consumer and the care product. Once a product has gained customer acceptance, regular repeat purchases may follow which lead to customers buying only Gillette or Ariel products for the rest of their lives. The switching propensity, the desire to exchange care products for substitutes, is relatively low and brand loyalty is high. The beauty of PG's business, or any other consumer goods company for that matter, is that once a product has been accepted, a significant stream of profits can follow. In more technical terms: The ratio of capital expenditures as a percent of operating cash flow is likely to be low.
As profitability is being driven by operating cash flows, scale gains in importance. Many care product segments in Western markets are saturated. Growth therefore needs to come from either emerging markets or new product lines.
Procter & Gamble's business is relatively low risk as it faces fairly constant demand for its products. After all, people have to regularly wash their dishes and shave their beards independent of the state of the economy. Despite the fundamentally attractive business economics for Procter & Gamble (low capex intensity, premium-priced products, low switching propensity), the stock does appear to be overvalued. I characterize a good investment based on what I can get out of it relative to what I have to pay. Currently, PG trades at $76 per share demanding rich multiples on both an earnings basis and a free cash flow to equity approach. Investors who seek a stable dividend stream that is secured by sufficient operating cash flow might very well find that PG is a suitable investment. They need to know, however, that they pay a substantial premium to the underlying intrinsic value. Since the dividend prospects are not too exciting, investors are better advised putting their investment dollars somewhere else.
Share performance
Procter & Gamble shareholders over the last five years had not much reason to be happy: the stock has returned 7%. A clear signal that the market does not think further multiple expansion is justified. Unilever (NYSE:UL), on the other hand, another large-cap personal products manufacturer from the UK, returned 38%. Colgate-Palmolive (NYSE:CL) crushed the sector performance and earned shareholders 59%. Avon Products (NYSE:AVP) faced challenges of its own and is down 46%.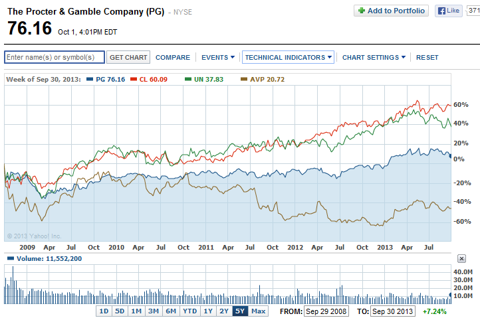 Click to enlarge
Free cash flow to Equity Valuation
In 2013 Procter & Gamble increased operating cash flow by 12% to $14,873 million compared to $13,284 in the previous year. The investing cash flow, considering capex, proceeds from asset sales and net acquisition spending, came in at ($4,569) million in 2013 and ($1,205) million in 2012 yielding core free cash flows of $10,304 million in 2013 and $12,079 in 2012. Acquisitions spending might or might not change going forward, but since it represents the purchase of assets in one way or another other, I am going to have net acquisition spending included in the free cash flow to equity calculation. Capex as a % of operating cash flows stood at 31% in 2013 and 9% in 2012. Capital expenditures as a % of operating cash flows for the consumer goods industry are not as high as for the basic materials industry for instance as Procter & Gamble can capitalize on an established, high-margin consumer product portfolio which is not as capex intensive as other product offerings. As a result, free cash flows are of higher quality as they consist of recurring operating cash flows to a larger degree.
In 2012 and 2013 the change in short-term debt nearly cancelled out: In 2013 $3,406 million in cash borrowings compared to $3,412 in net reductions in 2012. For purposes of analyzing free cash flow to equity I assume that cash flow streams available to common shareholders will be unaffected by short-term changes to the capital structure. In 2013 the change in long-term debt amounted to ($1,421 million) compared to $1,436 in 2012 leaving the two-year net change in borrowing activity at a marginal $15 million. Net debt changes do not drive Procter & Gamble's FCFE.
Assuming Procter & Gamble can earn just the average core free cash flow of 2012/2013 in 2014, which stands at $11,192 million, the free cash flow to equity would yield around $4.00 per share. PG currently trades at 76.16, which gives the stock a very rich P/FCFE ratio of 18.64. To be on the conservative side and to take account for continued restructuring costs, I estimate that PG can earn $4 in core FCFE per share with growth rates trickling down to a long-term sustainable growth rate of 3% in 2017 and after. The result is an intrinsic value of $58 per Procter & Gamble share representing about 24% downside. Even at an intrinsic value of $58/share, substantially lower than the current share price of $76, the P/FCFE ratio of 14.50 makes PG everything but a bargain.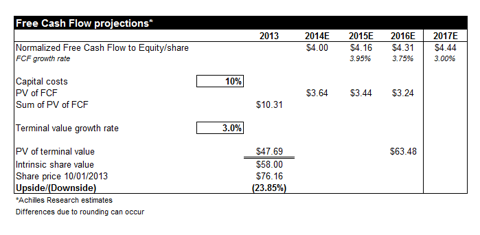 Click to enlarge
Consumer goods sector demands premium
Procter & Gamble trades at 16.3 times forward earnings, which is a healthy premium considering the relatively moderate operating cash flow growth prospects. PG repurchased $1 billion worth of stock during the most recent quarter. Instead of repurchasing shares at 2.4x sales or 3x book value the company should actually increase its dividend and contribute to adding shareholder value by increasing the dividend yield. A comparative table regarding capitalization values and valuation metrics is provided below:

Click to enlarge
Conclusion
Procter & Gamble's market valuation contains a rich multiple based on earnings and based on free cash flow. Investors who seek stable income streams and look for sustainable dividends can find those traits in PG's shares. However, they pay a hefty premium for what seems to be a mediocre dividend yield. Investors purchasing PG should not expect too much upside in the stock price as multi expansion from this level is rather unlikely. Over the past years shareholders have already experienced the limited upside of PG stock in the form of nearly flat returns. Since the valuation remains high from a FCFE and earnings perspective, investors better park their investment dollars somewhere else.
Disclosure: I have no positions in any stocks mentioned, and no plans to initiate any positions within the next 72 hours. I wrote this article myself, and it expresses my own opinions. I am not receiving compensation for it (other than from Seeking Alpha). I have no business relationship with any company whose stock is mentioned in this article.