There is little doubt that the key to long-term growth in smartphones lies in China. Much is made of the pending agreement between China Mobile (NYSE:CHL) and Apple (NASDAQ:AAPL) to sell iPhones in China as a potential catalyst for Apple stock to move higher. SA author Bret Jensen published a bullish article October 2, 2013, pointing to a China Mobile deal as one of four catalysts to move Apple stock upwards in combination with interest from activist investor Carl Icahn, the successful launch of the iPhone 5S and 5C and improving investor sentiment. Bret usually gets it right but on this one I disagree with him, at least as far as China is concerned.
The launch of the new iPhones is history. No doubt it will sell a lot of phones. But whatever the outcome it is in the market now. Mr. Icahn's interest is a side show and investor sentiment while fickle will follow results. The real meat in this hamburger is the China market and the China Mobile deal if it ever happens.
As it stands, Apple is losing in China and losing big time. Even Microsoft Windows phones are outselling iPhones in China by a three to one margin. As I mentioned in a previous SA article, the China market is being won by home grown suppliers.
The conventional wisdom has been that feature phones make up the bulk of China's market and that smartphone penetration will lead to higher iPhone sales. That ship has sailed. In August 2013, Counterpoint research reported that smartphones made up over 90% of the 30 million phones sold that month in China.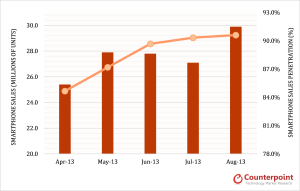 So where is Apple in that surge of demand for smartphones? It captured 1% of them, according to Counterpoint Technology Market Research. Nokia's Lumia line took 3%. Huawei took 6%. ZTE won 7% and each of Coolpad and Lenovo took 11%. Samsung was the big winner of the major brands with a 15% share. But importantly 45% of the China market went to "others."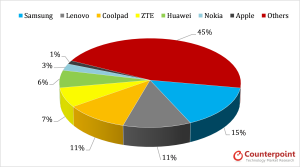 It is more than a straw in the wind that "others" held 45% of China's August 2013 smartphone sales. The "others" are a lot of names most North Americans have rarely heard of. Xiaomi, Gionee, OPPO and K-Touch, for example.
And the emergence of new suppliers is not limited to China. In India, we see Micromax, Karbonn, Lava, Maxx and Intex. In Indonesia you see names like Smartfren, Cross and MITO. In Malaysia they are joined by Ninetology and S-CSL and in the Philippines by Cherry Mobile and MyPhone. Thailand and Vietman host i-Mobile, GNT, Q-Smart, Masstel and Mobiistar.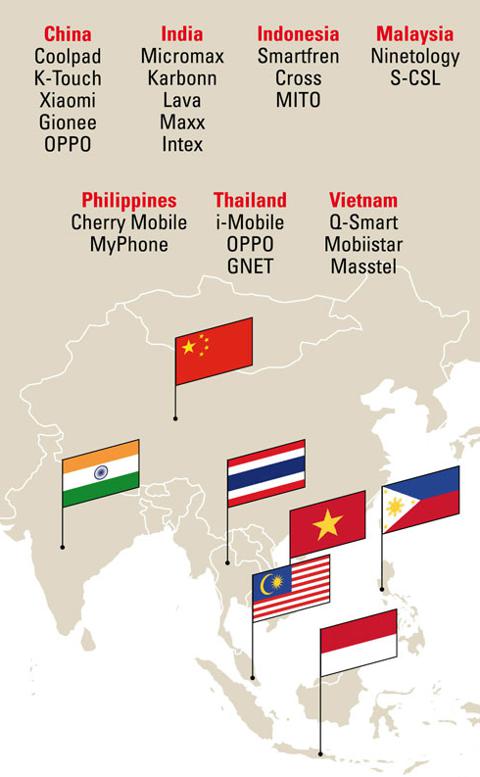 Apple can haggle for months with China Mobile in its long desired strategy not only to enter China in a big way but also to do so at prices and margins consistent with its self-image as a premier product. No doubt they will enjoy some success. But the pundits who think this will result in massive new volumes of iPhones are dreaming big. There is a lot of competition in China as well as the rest of Asia, and Apple's long delay in getting itself established there will simply make it hard to do later.
There is no doubt a China Mobile deal would be helpful to Apple in China. Most believe it will happen and I have no reason to doubt it. But it is not a panacea and there remains a risk they will not come to terms.
I suppose there are those who think Apple's current 1% market share in China is an opportunity on the basis that it can only go higher.
Regretfully, that is not the case. It can become irrelevant. And, it my view, it just might.
I am short Apple.
Disclosure: I am short AAPL. I wrote this article myself, and it expresses my own opinions. I am not receiving compensation for it (other than from Seeking Alpha). I have no business relationship with any company whose stock is mentioned in this article.
Additional disclosure: I am short Apple calls at a $500 strike